COVID
How local doctors and experts are reacting to the reversal of airline mask mandates
"We've again put those with least means to protect themselves at greater risk."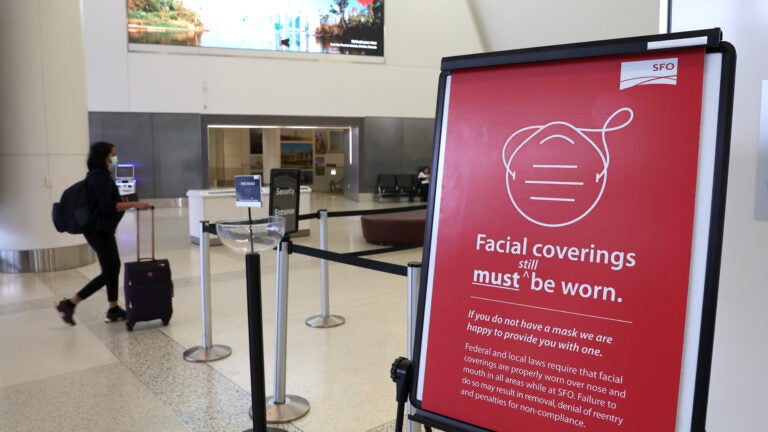 A federal judge struck down the national mask mandate on airplanes and other forms of mass transit on Monday, and as a result, major airlines and airports quickly began dropping mask requirements that have been in place for nearly two years.
The rapid change in policy left some passengers excited to take off their masks and others hesitant in the face of the latest rollback of COVID-19 precautions.
While there was divided reaction among the broader public, many doctors and experts are, for the most part, on the same page with their reactions to the development, weighing-in on the change on social media in the hours after the annoucement.
Dr. Jeremy Faust, a physician at Brigham and Women's Hospital, expressed concern on Twitter about United Airlines' announcement ending the requirement.
"When I bought my tickets for me, my wife (who is pregnant), and our unvaccinated 4-year-old, I assumed you would continue to have a mask mandate," Faust tweeted. "Now you cancel it and we will have to board our return flight under your new no mask required policy?! Thanks so much."
He also called it a "huge gamble with the lives of the vulnerable."
Taking a similar approach, Dr. Abraar Karan, an infectious diseases fellow at Stanford who did his residency at the Brigham and Women's Hospital, called the change a "costly mistake."
Dr. Atul Gawande, a surgeon at Brigham and Women's hospital, was on a plane when the news broke and said though he kept his mask on for fear of being infected with COVID-19, it was "fascinating" to see policy applied in real time.
">50% of passengers and crew dropped their masks, including many passengers who appeared age 70+," Gawande tweeted. "With weekly cases in Boston at ~300/100K, and 3-5X that unconfirmed, our packed plane of ~250 likely has at least 1 case. Kept my mask on. Just don't want to get sick."
In Delta's original announcement of the change, the airline called COVID-19 an "ordinary seasonal virus," which raised red flags for Gregg Gonsalves, an associate professor in infectious diseases at the Yale School of Public Health.
"I don't care what you think about masking, but @Delta's comment that #SARSCOV2 has transitioned to become an "ordinary seasonal virus" is just bonkers, has no basis in science and is outright misinformation misleading their customers (of which I am one!)," Gonsalves tweeted.
Delta has since updated its statement to no longer include that language.
Several doctors didn't directly address the change in policy but expressed worries about future implications.
Dr. Megan Ranney, the academic dean at the Brown University School of Public Health, said she was frustrated by the ruling striking down the mask mandate.
"My biggest worry? What this means for future respiratory pandemics & new variants," she wrote.
Dr. Ranu Dhillon, who works at Brigham and Women's Hospital, highlighted that the ruling applies to more than just planes — it also affects buses, trains and other public transportation.
"Planes are an issue but bigger concern may be on public transport," Dhillon tweeted. "Especially [with] current gas prices, many low-income families rely on public transport while also living in crowded, multi-gen households. We've again put those with least means to protect themselves at greater risk"
Dr. Michael Mina, an authority on COVID-19 testing and the chief science officer for eMed, took a different approach and called for increased testing before flying.
He said it might be time to "double down" on rapid testing rules before travel.
"Make the testing free," he wrote on Twitter. "Put the tests at the entrance of airports and train stations. Doesn't matter which manufacturer, as long as it performs well. This doesn't need to be an expense incurred by the individual."
Newsletter Signup
Stay up to date on all the latest news from Boston.com