COVID
Dr. Ashish Jha weighs in on risks of the new XBB.1.5 COVID subvariant
The subvariant of Omicron is now spreading around the country, and is dominant in New England.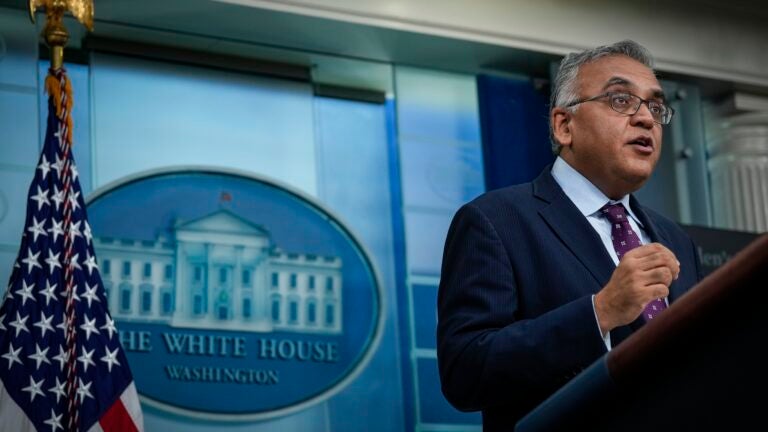 Top public health experts are sounding the alarm about a relatively new COVID subvariant. That includes Dr. Ashish Jha, the White House COVID-19 Response Coordinator.
Jha took to Twitter Wednesday to inform the public on XBB.1.5, a subvariant of Omicron that appears to be spreading rapidly all over the country. The rise of XBB.1.5 has been "stunning," he wrote.
The XBB.1.5 subvariant was responsible for 40.5% of new COVID infections in the U.S. from Dec. 25 through Dec. 31, according to most recent CDC data. The second-most common subvariant, BQ.1.1, was responsible for 26.9% of new infections over that time.
The XBB.1.5 subvariant spread rapidly throughout December. It was responsible for just 1.3% of all new COVID infections from Nov. 27 through Dec. 3, according to CDC data. The next week, it jumped to 3.7%. It rose to 9.9% the following week, and to 21.7% during the week before Christmas.
The subvariant is particularly common in New England. During the last week of 2022, XBB.1.5 was responsible for 75.3% of cases in the region, up from 55.9% the week before.
Jha said that XBB.1.5 is likely better able to avoid existing immunity than other variants and subvariants, including the others that stemmed from Omicron. Jha added that the subvariant is also likely more inherently contagious. Whether or not it is more dangerous to those that get infected is still undetermined, Jha said.
XBB.1.5 likely poses a greater risk to those that were last infected by COVID before July and those that have not yet received the newest, bivalent booster shot. The new vaccine is the best way to shield oneself from the impacts of XBB.1.5.
Current COVID tests should work just as well detecting XBB.1.5 as other variants, Jha added. Free tests can be acquired at www.covid.gov/tests.
The doctor stressed the importance of wearing masks in crowded indoor spaces, testing before large gatherings or interactions with immunocompromised people, and keeping up-to-date with booster shots.
"Together, we can keep the disruption of XBB.1.5 to a minimum," Jha wrote. "Am I concerned about XBB.1.5? Yes. Am I worried this represents some huge set back? No."
Newsletter Signup
Stay up to date on all the latest news from Boston.com