COVID
Parent group wants mask mandate back at Boston Public Schools
"We simply do not understand why UMass-Boston cares more about their students, staff, and families than Boston Public Schools cares about theirs."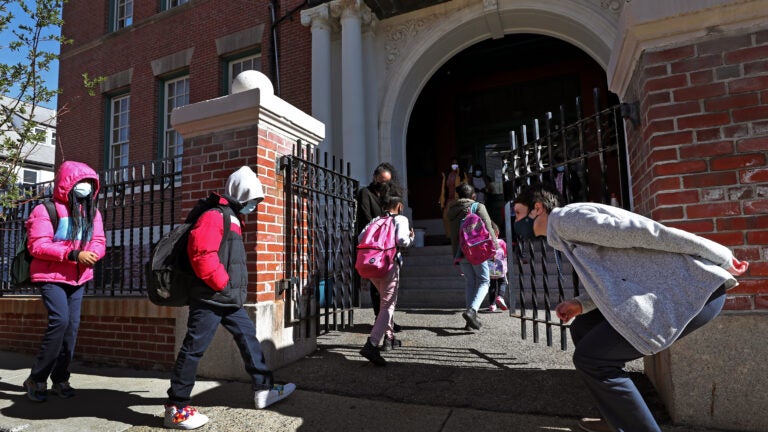 A group of Boston Public School families is calling for BPS, Mayor Michelle Wu, Superintendent Mary Skipper, and the City of Boston to reimplement an indoor mask mandate in public schools following Suffolk County's entrance into the CDC's "high transmission" COVID category this past Friday. Suffolk County and other parts of Massachusetts entered the "high transmission" category as the prevalence of Omicron variant XBB 1.5 increased.
The call from the group, called BPS Families for COVID Safety (FamCOSa), comes as the University of Massachusetts-Boston reinstated an indoor mask mandate on Monday, Jan. 9.
"We are grateful that UMass-Boston has taken this step, based on the CDC guidance," said Sarah Horsley, BPS parent and co-founder of FamCOSa, in a statement released Sunday. "The UMass Boston student body is one of the most racially and economically diverse of any college in Boston. Boston Public Schools has a similar student population, which is also majority Black and brown and low-income. Why don't Mayor Wu and Superintendent Skipper follow UMB's lead and truly prioritize equity?"
Boston Public Schools does not require students and staff to wear masks indoors except in specific situations. Mask-wearing remains optional but recommended, except in school health offices, as is required by the Massachusetts Department of Public Health. Additionally, per BPS policy, mask-wearing is mandatory if a student or staff member exhibits symptoms while in school, if a student or staff member has been exposed to someone who has tested positive within the past 10 days, if a student or staff member is returning from isolation during the 10 days after their first positive test, and during classroom-wide clusters or school-wide outbreaks.
However, Boston Public Schools did change their masking expectations through a post-winter break temporary masking protocol in an effort to curtail COVID transmissions. BPS said it asks and expects staff and students to wear masks indoors from Wednesday, Jan. 4 to Friday, Jan. 13, for a total of eight school days. However, per policy, no one will be disciplined or sent home for refusing to wear a mask during the masking protocol period.
According to FamCOSa's statement, anecdotal reports from parents, students, and staff found that many students and staff are not wearing masks indoors despite the current surge and masking recommendation.
"We simply do not understand why UMass-Boston cares more about their students, staff, and families than Boston Public Schools cares about theirs," said Suleika Soto, BPS parent and co-founder of FamCOSa, in the statement. "It is past time for BPS and the City of Boston to take the health and safety of our school communities seriously and institute required universal masking during the current surge."​​
However, currently, infectious disease experts do not have a consensus on the effectiveness of mask mandates.
Shira Doron, an infectious disease physician at Tufts Medical Center, believes COVID should be treated like other respiratory illnesses. "We really do need to sort of move away from focusing on one virus and really step back and look at health in general," Doron told the Boston Globe. Instead, Doron encourages one-way masking, frequent testing, and staying home when feeling sick.
On the other hand, Julia Raifman, assistant professor at Boston University's School of Public Health, supports the idea that mask mandates are effective in reducing the spread and harm from COVID. She told the Globe that evidence from a study on school districts in the Greater Boston area in the New England Journal of Medicine demonstrates how lifting mask mandates were associated with higher COVID transmissions.
"What's key to universal mask policies is source control and making sure the person with COVID is not spreading COVID into the air, and that's why we do see that everyone wearing masks together is effective," Raifman told the Globe.
Boston Public Schools did not respond to the Globe's request for comment.
Newsletter Signup
Stay up to date on all the latest news from Boston.com