COVID
How long will your COVID booster last? It depends, says new MGH research
Protection from Pfizer and Moderna boosters can last more than a year in healthy people, the model predicted.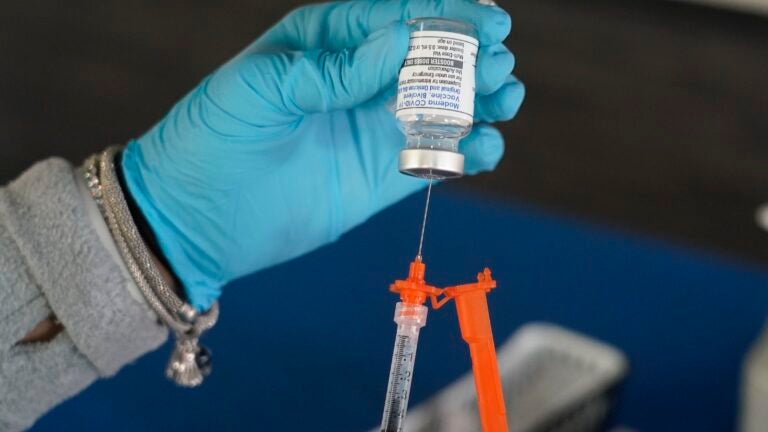 How often should you get a COVID-19 booster vaccine? Researchers at Massachusetts General Hospital have designed a mathematical model that could help provide an answer.
Produced in collaboration with the University of Cyprus, the model can predict how effective COVID-19 boosters are in the long-term for different patient populations, including healthy people and those with suppressed immune systems.
The resulting article was published in the scientific journal Proceedings of the National Academy of Sciences of the United States of America (PNAS) earlier this week.
Understanding the limits of immunity from vaccines is vital to pandemic response efforts, the authors noted.
"The large unvaccinated population, incomplete vaccine response in immunosuppressed patients, and waning immunity following vaccination all contribute to the persistence of the [COVID-19] crisis," they wrote.
How it works
The model incorporates different COVID-19 variants — including hypothetical ones — as well as original and bivalent forms of the vaccine, according to an MGH press release. It also takes some patient factors into consideration, including interactions between the virus, immune cells, and tumor cells in people who have cancer.
"Since the beginning of the pandemic, one of the mysteries of COVID-19 is why some patients have severe disease while others are virtually asymptomatic," said Lance Munn, co-corresponding author from MGH. "We can use the model to reproduce this result, and to identify the underlying biological mechanisms."
While the model predicted that a booster dose of either the Pfizer or Moderna mRNA vaccines can provide healthy individuals enough protection to last more than a year, immunosuppressed patients may see the effect fade faster.
The research suggested that those patients should get boosted more frequently — around four to six months, Munn told Boston.com in an email interview.
The model will be able to adjust that timeframe as new variants pop up, he confirmed, adding, "this is the power of mathematical modeling."
"Once we have more information about how new mutations affect the viral-host interactions, we can predict how well our current vaccines will work," Munn said.
What's next?
"We continue to compare the model predictions with clinical data and tweak it to improve its accuracy," he explained. "Currently, we are simulating treatments with antiviral drugs to determine the best way to administer these in vaccinated and unvaccinated patients who test positive for COVID-19."
In addition to giving researchers further insight into how the virus works, the model — once fully validated — will hopefully be used to help inform treatment decisions in COVID-19 or other infectious diseases, Munn said.
Newsletter Signup
Stay up to date on all the latest news from Boston.com