COVID
Long COVID is keeping significant numbers of people out of work, study finds
"A lot of people can't afford to not work and so they're working when they really shouldn't be, continuing to work while they're sick."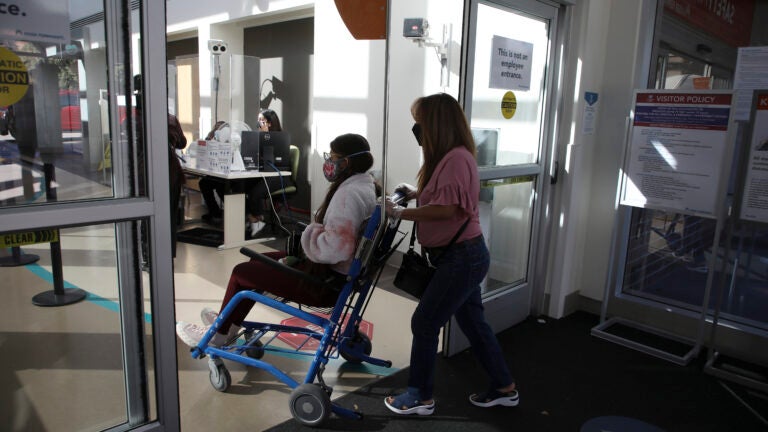 Long COVID is having a significant effect on America's workforce, preventing substantial numbers of people from going back to work while others continue needing medical care long after returning to their jobs, according to a new analysis of workers' compensation claims in New York state.
The study, published Tuesday by New York's largest workers' compensation insurer, found that during the first two years of the pandemic, about 71% of people the fund classified as experiencing long COVID either required continuing medical treatment or were unable to work for six months or more. More than a year after contracting the coronavirus, 18% of long COVID patients had still not returned to work, more than three-fourths of them younger than 60, the analysis found.
"Long Covid has harmed the work force," said the report, by the New York State Insurance Fund, a state agency financed by employer-paid premiums. The findings, it added, "highlight long Covid as an underappreciated yet important reason for the many unfilled jobs and declining labor participation rate in the economy, and they presage a possible reduction in productivity as employers feel the strains of an increasingly sick work force."
The report, which analyzed COVID-related claims from patients exposed to the virus at work, filed between Jan. 1, 2020, and March 31, 2022, and paid by the agency, provides a snapshot of the problem. The agency, one of the 10 largest workers' compensation insurers in the country, found that nearly one-third of 3,139 COVID-related claims it paid met its definition of long COVID.
Patients received coverage from the fund if they had a positive coronavirus test and the agency or a workers' compensation board determined that they had a high risk of having been exposed to the virus while at work, typically in environments like hospitals, grocery stores or transit systems. The report classified a case as long COVID if, after infection, a patient required medical treatment for 60 days or more or lost 60 or more days of work.
"It's a pretty conservative estimate," said Gaurav Vasisht, executive director and CEO of the insurance fund. "It's not capturing people who may have gone back to work and didn't seek medical attention and may still be suffering, so you know, they're just toughing it out."
During the time frame of the report, claims for the 977 people the fund designated as having long COVID cost about $17 million out of the approximately $20 million paid to all COVID patients, officials said, adding that the proportion for lost wages was slightly greater than for medical treatment. But Vasisht cautioned that the dollar amounts provided only a partial picture because it was unclear how long people would need medical care or time off for long COVID.
He added that the cost to patients went beyond money. "The longer you're out of work, the harder it is for you to get back to work, and that can stigmatize patients," Vasisht said. "It could be highly disruptive to their family and professional lives."
Long COVID is defined by public health authorities as a constellation of symptoms that linger after the initial infection or that emerge weeks later and can include breathing problems, fatigue and brain fog. The Government Accountability Office estimated that long COVID has affected 7.7 million to 23 million people in the United States.
Katie Bach, a nonresident senior fellow at the Brookings Institution who was not involved in the report, said the study showed that "we have a group of people who got long COVID and at least up until now have been unable to get back to work, and it is a nontrivial number of people."
She said the report reflects only a slice of the workforce: employees with workplace exposure to the virus who are knowledgeable enough about workers' compensation to file claims. It might include employees who are younger or sicker than the overall working population, while also missing other workers with long COVID, said Bach, whose own research suggests that about 500,000 people in the United States are not working because of long COVID.
The New York report also found some optimistic signals. Since the pandemic's first wave in early 2020, long COVID cases decreased as a percentage of workers' compensations claims and of COVID-related claims. The decrease coincided with the advent of vaccines, which studies suggest reduce the risk of long COVID, and with new coronavirus treatments, supporting the idea that if people can avoid becoming severely ill from their initial infection, they are less likely to experience long-term symptoms.
Still, Vasisht said the agency continued to receive claims for workers with long COVID, especially after surges in infections. The report also suggested that more employees than reflected in the data might have met the criteria for long COVID claims. The vast majority of all COVID-related claims, more than 83%, were filed by essential workers — in occupations like health care, law enforcement and security services. But only 29% of their claims met the definition for long COVID, while 44% of nonessential workers met that definition.
That could be because "essential workers might not have been able to stay home from work beyond the required quarantine period," the report said. And health care workers might have "self-treated their symptoms" rather than seeking medical care, the report said, adding "essential workers may have long Covid rates higher than the data suggests, creating a blind spot for policymakers."
"A lot of people can't afford to not work and so they're working when they really shouldn't be, continuing to work while they're sick," Bach said. She said that the experience of people with similar post-viral conditions like myalgic encephalomyelitis and chronic fatigue syndrome suggests that some people who work despite their long COVID may have harder recoveries. "When people who have a condition whose hallmark symptoms are fatigue and brain fog go into work, they're not going to be as productive and they're probably reducing their odds of improvement," she said.
And because 40% of claimants with long COVID returned to work within 60 days of becoming infected while still receiving medical treatment, Vasisht said employers might receive "more requests for reduced hours or other accommodations."
The study also found that doctors only used a specific long COVID diagnostic code in 30 cases, even though the code was added to the International Classification of Diseases in October 2021. "Physicians are underutilizing the ICD code," said Vasisht, adding that he believed his organization "can do a lot of good by conducting outreach to the physician community and letting them know about the research on long COVID and also about the existence of this ICD code."
Other findings were consistent with previously identified long COVID patterns, including results of two 2022 studies that analyzed different workers' compensation data sets. The most common long COVID symptoms included shortness of breath, fatigue, weakness, and cognitive and memory problems.
Women appeared to be at greater risk than men, as were people who became sick enough from their initial infection to be hospitalized and those with previous conditions like lung disease, hypertension, obesity and depression. Adults older than 60 were less likely to resume working than younger employees, which might indicate that some long COVID patients are retiring early, adding to labor shortages, Bach said.
Overall, said David Cutler, an economics professor at Harvard who has researched the cost of long COVID and was not involved in the study, "The report shows that even if COVID deaths are down, COVID is not over, and it won't be for some time."
This article originally appeared in The New York Times.