COVID
As COVID-19 pandemic continues, Boston public health officials remain focused on messaging
"This is living with COVID, this has to become part of our normal life."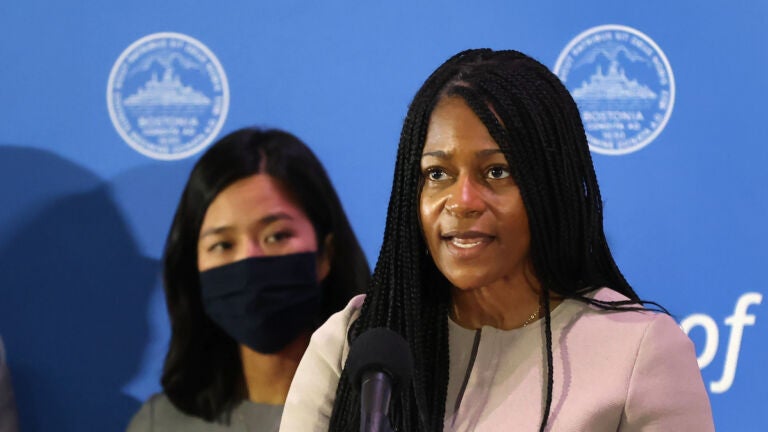 Dr. Bisola Ojikutu and her colleagues at the Boston Public Health Commission are cautiously optimistic.
Though COVID-19 continues to be a concern as the pandemic enters its fourth year, Boston and the surrounding areas have seen a steep drop in the levels of the virus in local wastewater, indicating that the surge in cases seen earlier this month is receding. At the same time, hospitalizations related to the virus in the city have been decreasing.
But even with that optimism, the city's commissioner of public health and executive director of the Boston Public Health Commission stressed that she and her colleagues continue to emphasize that the strategies they've been advocating for throughout the pandemic to prevent spread of the virus — masking in public indoor settings, getting vaccinated and boosted, and testing — should still be employed.

"People should still be using and utilizing the mitigation strategies that we've been consistently recommending," Ojikutu said.
As the pandemic continues, the city is focused on getting more people boosted against the virus and encouraging the public to use its free testing sites.
Ojikutu posited that one of the reasons the city's case rates were lower during this latest wave compared to last year's omicron surge is that fewer people are using the city's PCR testing sites, instead opting for at-home rapid tests, which aren't captured in the city's data. (However, the amount of virus in the city's wastewater was also lower than last January, she noted.)
But also, some people aren't testing at all, she said.
"We're trying to continue to mobilize that and get people to continue to use both our testing sites and to use rapid antigen testing sites," she said. "So we as a city have committed to increasing access across our city, because there are inequities in access. And we have these five standing testing sites where you can not only get your COVID vaccine and booster, you can also get your flu vaccination, which has also been a challenge this winter. And then we're offering rapid test kits and standing PCR tests."
All of those things are being offered for free, Ojikutu stressed, and nobody checks any identification. In addition, the city is offering participants getting their COVID-19 vaccination or booster a $75 gift card.
All those measures, she said, are in an effort to help improve both where the city is today in the pandemic and prepare for whatever could still occur.
After all, she acknowledged, new variants could still emerge that could cause more severe illness.
"We are doing our best to not only think about what's happening today, but thinking about what's going to happen in the future and kind of preparing people so that they have vaccine induced immunity," Ojikutu said.
The communication strategy is also about keeping COVID on people's minds, reminding the community that the virus is still out there, that it can still cause severe illness, hospitalization, and death for individuals, particularly those who are unvaccinated, unboosted, older, or medically vulnerable.
"We just want to make sure that people are aware of what is happening," she said. "And armed with information, they can make some decisions. So that's how we're approaching our COVID response at this point."
In the face of the public's pandemic fatigue, which Ojikutu said crosses communities and groups, achieving those goals can be a challenge.
To counter the public's COVID weariness, the city has made an effort to use other trusted messengers to communicate information about the virus and its trends, such as community organizers and faith leaders, to try and keep people engaged.
The way information is relayed also matters, she said.
Ojikutu, who posts regularly about the city's COVID data on her Twitter account, said she tries to be as transparent as possible, both in stating the positive and outlining what work remains.
"This is living with COVID, this has to become part of our normal life," she said. "But we are in a different place than we were. We're not in a dire, emergency situation like we were either last year in the peak of the omicron surge or previous years before we had vaccines available. Keeping that in mind, I want people to understand that it's better just to be armed with the data and to relay it in a way that's friendly to the lay population, that's clear."
That way people can utilize the information and make decisions about how they want to incorporate, or not, the recommended strategies into their lifestyle.
But there's also no doubt the efforts to incentivize people into continuing to get vaccinated and boosted have been key, she said.
Early on, the city didn't have as many incentives for getting people to participate in vaccination drives. But as the dollar amount has increased, Ojikutu said the response was clear. The higher dollar amount incentives overcame people's pandemic fatigue.
"We've been very successful with getting people, with people responding to incentives," she said.
The city is no longer using the thresholds it previously set for determining when an indoor mask or indoor proof of vaccination mandate would be triggered, Ojikutu said.
The change was made based on a number of factors, including that the city has been incorporating wastewater measurements — and launching its own surveillance program — to understand the level of spread in Boston and its neighborhoods.
It's also that "we're at a different place" in the pandemic, Ojikutu said, with a better understanding of the virus, more natural immunity, and boosters available.
But she didn't rule out the possibility that mask mandates could be used again in the future should the need arise.
"I think the public should one, be aware of where we stand in terms of our data, and to understand what our recommendations are at each point, which we try to communicate clearly," Ojikutu said. "And in terms of requirements for indoor masking or proof of vaccination, I think that we have to consider all the tools in our toolbox, and those are tools in our toolbox. And if a situation occurs where we feel like it is absolutely necessary for that to happen in the City of Boston, then we will make that recommendation and we will be discussing that with city hall and Mayor [Michelle] Wu."
Newsletter Signup
Stay up to date on all the latest news from Boston.com