COVID
Boston's COVID-19 numbers continue downward trend after holiday surge
Over the past two weeks, the city's viral wastewater measurements, hospitalizations, and cases have all decreased.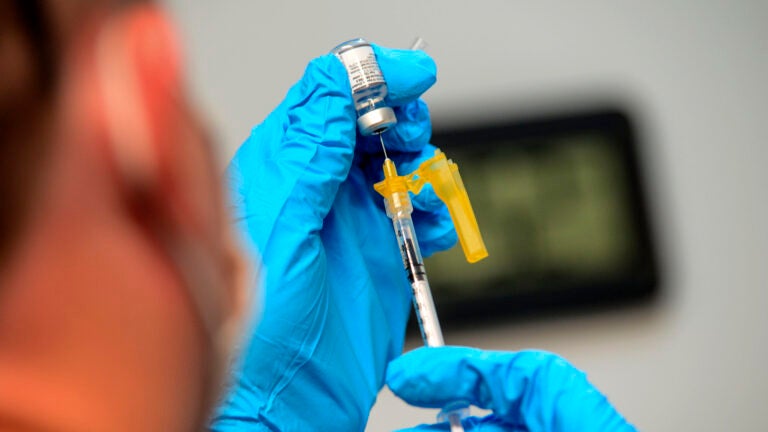 Boston's COVID-19 metrics appear to be getting better after an end-of-year surge spurred by holiday travel and family gatherings.
COVID-19 particles in the city's wastewater fell by nearly 48 percent over the past two weeks. Of 11 tested Boston neighborhoods, seven are now below the citywide average for wastewater particles, the Boston Public Heath Commission, or BPHC, said in a statement.
The commission also said the XBB variant accounted for 83 percent of sampled viral particles. And according to the CDC, since Jan. 28, over 90 percent of New England's infections can be attributed to the variant as well.
Boston's hospitalization metrics are also looking favorable, officials said. Through Feb. 6, the city had 179 new hospitalizations related to COVID, a 7.6 percent decrease from weeks prior.
"This trend decreased by 8 percent over the past seven days and by 15 percent over the past 14 days," officials said.
While Boston did see a 1.4 percent increase in positive cases per day through Feb. 5, officials are calling the increase a "stable trend." And over the past two weeks, Boston has observed a 16 percent decrease in new COVID cases per day.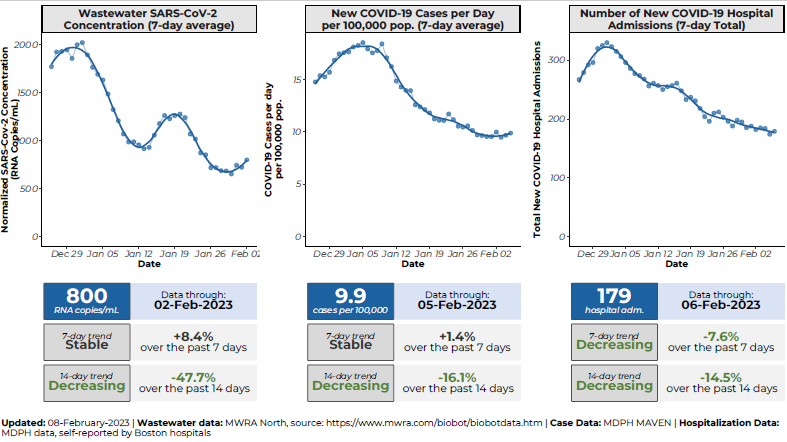 As of Jan. 30, 88 percent of Bostonians are fully vaccinated, and the BPHC is continuing to try to boost that number — offering free vaccines through the end of the year.
"Offering free COVID-19 vaccines has been an indispensable part of our pandemic response in Boston and will become even more important as the national public health emergency ends," Dr. Bisola Ojikutu, the city's public health commissioner, said in the statement. "Equity-focused, public health policies like this are why we have been able to significantly reduce pandemic related racial and ethnic health disparities in Boston."
Newsletter Signup
Stay up to date on all the latest news from Boston.com