COVID
After a summer lull, wastewater indicates COVID is coming back
With back-to-school season and cooler weather on the horizon, Boston health officials said the increase in COVID-19 levels is worth noting.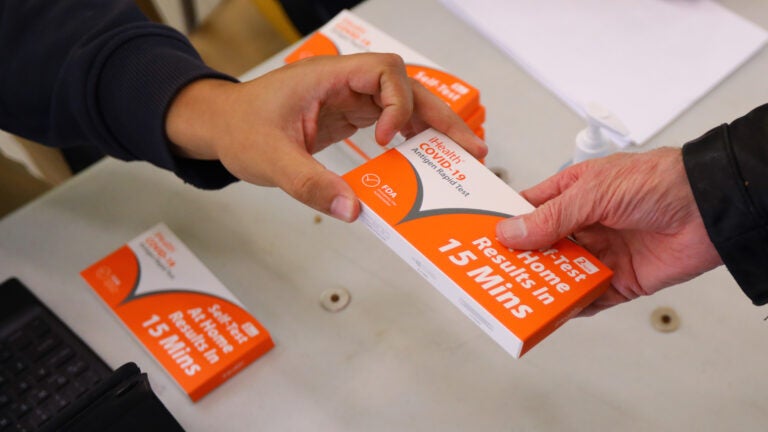 As summer winds down, the concentration of COVID-19 in Greater Boston's wastewater appears to be on the rise.
Data from the Massachusetts Water Resources Authority, which tracks wastewater from eastern Massachusetts at the Deer Island Treatment Plant, shows virus levels climbing slightly from July into August. Wastewater levels can be an early warning sign that COVID-19 is spreading, according to the Centers for Disease Control and Prevention.
At the same time, Massachusetts Department of Public Health dashboards show an upward trend in COVID-19 cases and hospitalizations, though the numbers are still far lower than they were over the winter.
Still, public health officials around Greater Boston are taking note.
The Cambridge Public Health Department reported earlier this month that the city had seen some COVID-19 clusters at nursing homes, as well as an increase in reported COVID-19 cases.
Likewise, the Boston Public Health Commission reported last week that the average level of COVID-19 particles in the city's wastewater increased over the past few weeks. While not cause for immediate concern, the increase is worth noting given the cooler temperatures, cold and flu season, and new school year on the horizon, the commission said in a news release.
Speaking on WBUR's "Radio Boston" last week, former White House COVID-19 Response Coordinator Dr. Ashish Jha addressed comparisons between COVID-19 and a perennial virus like influenza.
"The way I think about it is COVID is not like the flu; COVID is like COVID," said Jha, dean of the Brown University School of Public Health. "Flu tends to be extremely seasonal. We're seeing COVID cases rising in August — that's not typical of the flu. So COVID, we're probably going to see a couple of waves a year."
Jha noted that there are better treatments available for COVID-19 than there are for the flu. Similarly, he said the mortality rate for people who receive treatment and are up to date on their vaccines is lower for COVID-19 than it is for flu.
The rise in COVID-19 levels comes as a new variant — EG.5, or eris — emerges as the strain of the summer, now making up an estimated 20.6% of cases in the United States, according to the CDC.
"The big thing I would say to folks is this is completely expected," Jha said on "Radio Boston."
He added: "The virus is continuing to evolve, we are going to see newer and newer variants every three to six months, and the question when I see a new variant is, 'Is it a lot more contagious? Is it more deadly? Are our treatments going to work? Are our vaccines going to work?' When I look at those questions against EG.5, I'm not super concerned."
Jha said he doesn't believe COVID-19 constitutes an emergency at this point, but instead an ongoing issue. He also emphasized the importance of vaccination and treatment.
"I think of this as, it has now become one of the respiratory viruses that we need to deal with; it'll be around forever," he said. "We have to manage it, manage it smartly."
Newsletter Signup
Stay up to date on all the latest news from Boston.com