Crime
5 indicted on charges related to human trafficking schemes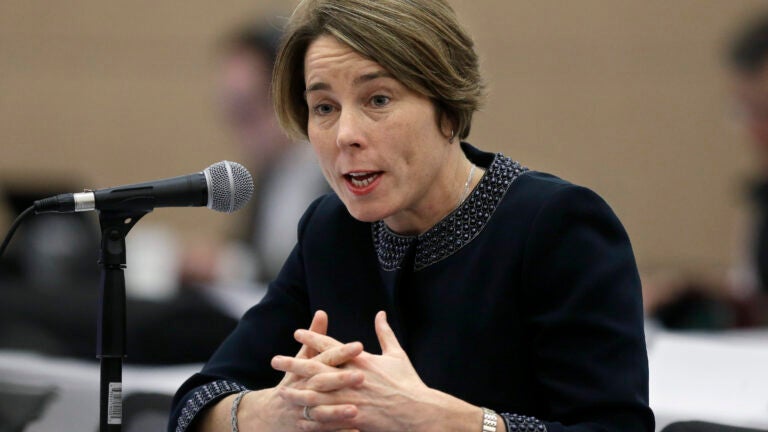 Five individuals were indicted on charges related to human trafficking after a collaborative investigation between local, state, and federal authorities uncovered three separate schemes that exploited vulnerable women across the state, Massachusetts Attorney General Maura Healey announced Thursday.
"No little girl grows up wanting to be involved in a life of sexual exploitation. They do not dream about a career selling their bodies as commodities," Healey said. "The victims of these egregious crimes have not chosen this path for themselves. Traffickers prey on vulnerable people who often have no other options."
The alleged human trafficking rings were uncovered in Lowell, Revere, Chelsea, and Hubbardston, authorities said. The individuals involved preyed on young women who were particularly vulnerable, offering them money to perform sexual acts for which they were never compensated, Healey said at a press conference.
Harold Jack Lucas, 61, of Lowell, is charged with three counts of trafficking in persons for sexual servitude, two counts of deriving support from prostitution, and possession with intent to distribute fentanyl, authorities said. He allegedly dropped women off in various locations where they would engage in sexual acts for a fee, sometimes requiring them to service a quota of buyers in one night. Authorities said Lucas then took payment from the women and gave them the highly-addictive drug fetanyl in exchange.
Courtney C. Nicholpoulos, 40, and John Lowell, 45, both of Hubbardston, were each indicted on three counts of trafficking of persons for sexual servitude and conspiracy to traffic persons for sexual servitude, according to the A.G.'s office. The pair allegedly recruited women to engage in sexual acts at hotels through online advertisements and promised to pay them between $5,000 and $12,000 to attend "swingers' parties," where they would have sex with multiple men. Authorities say the women were locked in a room and forbidden to tell the men they were being paid. These events were advertised to men as "gangbang parties," and attendees were charged an entrance fee, which was never given to the women as compensation, according to the A.G.'s office.
Lowell faces an additional three counts of sexual conduct for a fee for allegedly falsely promising to pay the women for sex, authorities said.
Elena Gaston, 61, of Revere, and Carlos Velasquez, 49, of Chelsea, were both indicted on a charge of trafficking in persons for sexual servitude, conspiracy to traffic in persons for sexual servitude, deriving support from prostitution, and money laundering. The two allegedly operated an online escort business known as Jass.inc, where they posted photographs of women after telling them they would be paid in exchange for sex, but kept the profits from any encounters and exploited the women for commercial purposes.
Since passing legislation in 2011, the Human Trafficking Division has prosecuted 25 individuals under the law, many of whom were initially discovered by local police departments and referred to the A.G. through various district attorney's offices, authorities said. Still, authorities acknowledged areas where local law enforcement and survivor resources can do better to combat the spread of such crimes.
Healey said that her office has been working with local communities to institute training programs with local law enforcement and medical professionals in hopes that they can better recognize instances of human trafficking and report them. She could not provide an estimate for the number of victims of such crimes in the state, but did note that issue was "pervasive," and that expanding counselling, educational, and financial services for survivors is a priority, as the state currently lacks adequate resources to provide victims with necessary care and information.
"We cannot keep up with the number of women brought to us at this time with our funding," Lisa Goldblatt Grace, director and co-founder of My Life My Choice, an organization that assists survivors of human trafficking, said. "We are only serving eastern Massachusetts. We do not have funding to serve Springfield to Worcester."
Healey said that her office is continuing to push for increased funding on the local, state, and federal levels for such services. As some of society's most vulnerable citizens, many of the survivors suffer from mental illness and drug addiction and come from childhoods marked by sexual abuse and other violence. While the crime takes victims of various backgrounds and ethnicity, Healey said all of the women have an experience that has made them susceptible to the acts of perpetrators.
"The common spread though is that something has happened to them in their life, particularly at a young age, that has set them up to be very vulnerable," Healey said. "To those who buy sex, I want to send a message: Human trafficking is not a victim-less crime."