Crime
Here's what Mass. Supreme Court justices asked about the suicide-encouragement case
The Mass. Supreme Judicial Court will decide whether the case against Michelle Carter will go forward. The 19-year-old is charged with involuntary manslaughter for encouraging her boyfriend to kill himself in July 2014.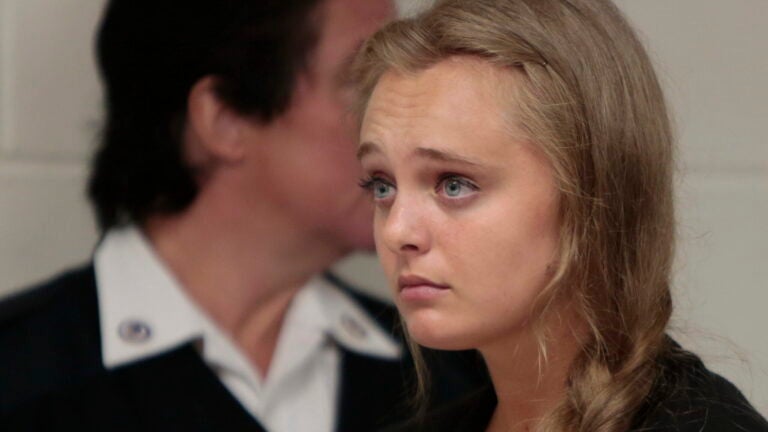 When does someone's guidance — or encouragement — about another's suicide cross the line? And did Michelle Carter's words cross it?
That's the "$100,000 question" at the center of the involuntary manslaughter case against Carter, 19, who was charged as a juvenile last year after police discovered text messages that showed her advising — or, prosecutors say, pushing — her boyfriend Conrad Roy III to kill himself.
Roy was found dead inside his truck in a Fairhaven parking lot on July 13, 2014, a generator running inside the cab. He was 18.
Carter's attorneys have appealed to the Massachusetts Supreme Judicial court, arguing that her words don't meet the threshold for involuntary manslaughter.
Here are the main lines of questioning from the seven justices in the 15 minutes they had with each side of the case. They will ultimately decide whether the case against Carter will go forward, a decision that could have broad implications when it comes to protected speech and the legality of talking to someone about suicide.
Is it a crime to talk to someone with a terminal illness — like ALS — about suicide? 
This question, posed by Chief Justice Ralph D. Gants to Bristol County Assistant District Attorney Shoshana Stern, was one of several that asked when talking to someone about suicide might be OK — and when it might be a crime.
Stern said, essentially, it depends.
"There's no bright line for wanton and reckless conduct," she said.
There's a difference between a terminally ill person, Stein said, and a clinically depressed teenager who hasn't found the right help yet.
What Carter did, Stern said, was push Roy to suicide. She counseled him not to worry about his family missing him. She kept asking when he planned to do it, and, ultimately, directed him to "get back in the truck" when he called her, scared that the carbon monoxide was working.
Stern said it might not be a crime when the ALS patient asks for the help. But it could be if another person convinces the patient to kill themselves to avoid the responsibility of caring for them.
Can words alone constitute wanton and reckless conduct — and therefore involuntary manslaughter? 
"They have to be words plus," defense attorney Dana Curhan said.
The "plus" is a falsehood or a threat, he said. Like yelling fire in a crowded theater, when there is no fire. Or telling someone to jump off a bridge, or they'll be pushed.
When Carter told Roy to get back in the truck, that wasn't what killed him, Curhan said.
"Mr. Roy inflicted the harm," he said. "He's the one who got the generator, who put it in the truck, who turned it on."
Does Carter's relationship with Roy have an influence on her culpability?
Despite the thousands of text messages exchanged after the pair met in Florida, Curhan said there was nothing coercive about their relationship.
"They had not physically seen each other for a year and a half," he said.
Though they rarely saw each other — Roy lived in Mattapoisett and Carter in Plainville — she was his closest confidant.
Did Carter wield any power over Roy, Justice Geraldine S. Hines asked, such as telling him to kill himself, or else?
"She made it clear in her conversations with him in prior discussions she'd be deeply disappointed and angry at him" if he didn't follow through with his suicide, Stern said. "And if you don't do this, I'm going to get you help."
For Roy, who didn't want help, that was a bad thing.
Stern noted that Carter could have taken the tack that another one of Roy's friends had, when he had previously attempted suicide. That friend called for help, and Roy survived.
"In this case, the friend told him to get back in the truck," Stern said.
When did Carter's words cross the line?
Justice Robert J. Cordy called it the "$100,000 question."
Curhan said they never did. Carter wasn't anywhere near Roy. She didn't force him into the truck. He got into it himself.
Stern said it's hard to draw a single line.
"We know she was way over the line when she told him to get back in the truck," Stern said.
But even without that directive, Stern said Carter still would be culpable. Starting at 4 a.m. the day he died, Carter was asking Roy when he was going to kill himself and why was he putting it off.
By that evening, Roy was dead.