Crime
Is encouraging someone to kill themselves a crime? Massachusetts' highest court will decide in texting case
The Supreme Judicial Court will hear arguments Thursday in the case of Michelle Carter, a teenager accused of involuntary manslaughter in her boyfriend's death by suicide.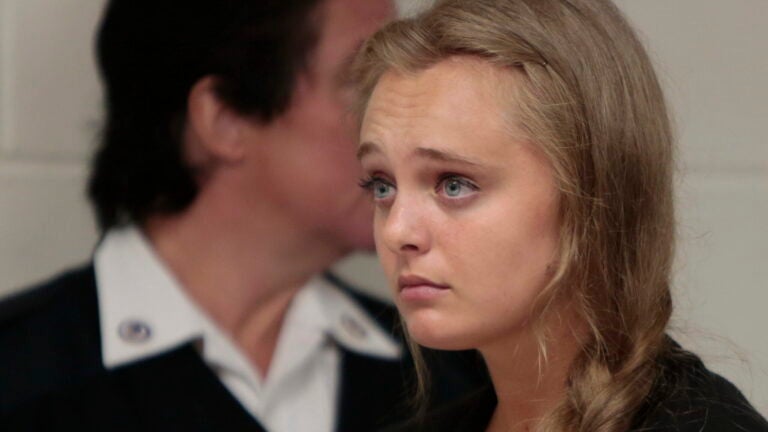 After the state's highest court hears the stomach-churning details of how Michelle Carter told her boyfriend to kill himself in the last days of his life, they'll be faced with a decision that goes beyond whether the legal case against the teenage girl should go forward.
They could effectively make encouraging — or not stopping — suicide illegal, a decision that could lead to prosecutions in other, less disturbing suicides, legal experts warn.
What about when a terminally ill loved one wants to end their life, asked David Rossman, a professor at the Boston University School of Law. What if that ill relative confides in you about their plan and you don't stop them?
"That could be construed as encouragement," Rossman said. "It could be something the court doesn't intend."
The facts in the case against Carter are much harder to swallow than a hypothetical dying grandma.
Conrad Roy III was 18 years old and severely depressed on July 13, 2014 when he parked his truck in a Fairhaven parking lot, turned on a generator inside the cab, and slowly died of carbon monoxide poisoning.
Carter, then 17, texted and talked with him up until the end, and at one point when Roy became afraid, according to prosecutors, she told him to get back in the truck.
The two had met in Florida years earlier, and Carter appeared to be Roy's closest confidant, though they rarely saw each other. Instead, their relationship was conducted over thousands of text messages.
Both teenagers had admitted mental illness. Roy talked of his social anxiety and depression; Carter about her eating disorder that led her to hospitalization.
In the last days of Roy's life, Carter stopped pressuring him to get help, the texts show, and began advocating for him to stop talking about ending his life and "just do it."
He took her advice, and now she's charged as a youthful offender with involuntary manslaughter in his death.
The Supreme Judicial Court Thursday will hear arguments in the case and eventually decide whether the case against Carter should move forward. Specifically, they'll weigh whether encouraging someone else to commit suicide constitutes "infliction or threat of serious bodily harm."
A lower court judge ruled against Carter, saying that her act of telling Roy to get back in the truck and counseling him on how and when to kill himself caused his death.
Joseph Cataldo, Carter's attorney, said nothing Carter did constitutes serious bodily harm.
"All she did is talk to someone," Cataldo said. "He got the generator. He took all the necessary steps. And he ignored her repeated attempts to dissuade him from committing suicide for a good month prior to him ending his own life."
What Carter said falls under the First Amendment, Cataldo said. And what prosecutors are doing is criminalizing speech surrounding suicide.
"In a state like Massachusetts where we don't have a law criminalizing the encouragement of suicide, they're trying to remove discussions of suicide as protected speech," Cataldo said.
A spokesman for the prosecution said he couldn't speak about the case in advance of the hearing because the Commonwealth's brief was sealed.
There are 39 states with laws on the books that make encouraging or assisting in a suicide illegal. Massachusetts isn't one of them. It should be up to the legislature to pass a law making it so, Cataldo said, if they want to start prosecuting people like Carter.
Free speech advocates have similar concerns. Yes, Carter's speech is abhorrent. But so is most speech that is challenged, said Ken Paulson, president of the First Amendment Center.
"Even deeply offensive and troubling speech is protected in this country as a matter of principle," he said.
"She had a clear moral duty to get help, but I'm not aware of any legal responsibility," he said. "Under the law, she's not required to be a good human being."
Read the defense brief arguing for dismissal
https://www.scribd.com/doc/307260480/Michelle-Carter-Appellant-Brief