Crime
Annie Dookhan, center of drug lab scandal, released from prison
She had been sentenced to 3-5 years in prison in November 2013.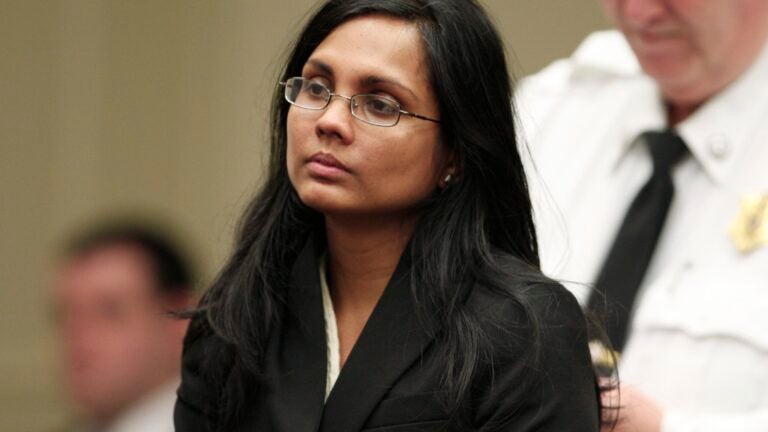 Annie Dookhan, the former state chemist whose faulty testing of evidence led to widespread issues in the criminal justice system, was released from prison last month, her attorney said.
Dookhan, who had worked at the Department of Public Health, pleaded guilty in November 2013 to charges including perjury, evidence tampering, and obstruction of justice for falsifying drug tests in criminal investigations.
Her actions may have affected up to 40,000 cases, officials said at the time. The state set aside millions of dollars for defendants who challenged the drug evidence used in their convictions. Several hundred people, colloquially known as "Dookhan defendants," have already had their convictions thrown out on appeal.
She was sentenced to three to five years in prison in November 2013.
The Boston Herald first reported the news of her release.
Nicolas Gordon, the attorney who represented her in court, said the decision to grant her parole was "entirely appropriate" given her lack of a prior criminal record.
"She is an extremely strong and resilient lady and she is adjusting back to normalcy now," Gordon said. "Based on how well I know her, I'm very confident she's going to have a very bright future ahead of her."
Gordon said Dookhan did not yet have her long-term plans settled.
"Whatever they are, I'm confident she's going to be a great success," he said.
At her sentencing, the judge detailed the "catastrophic" consequences of her actions.
"Innocent persons were incarcerated, guilty persons have been released to further endanger the public, millions and millions of public dollars are being expended to deal with the chaos Ms. Dookhan created, and the integrity of the criminal justice system has been shaken to the core," Judge Carol S. Ball said in the ruling.