Crime
Mother awaiting new trial on charge of withholding child's cancer drugs freed
Kristen LaBrie has spent five years in prison after she was convicted of attempted murder in the death of her cancer-stricken son. She was granted a new trial last month.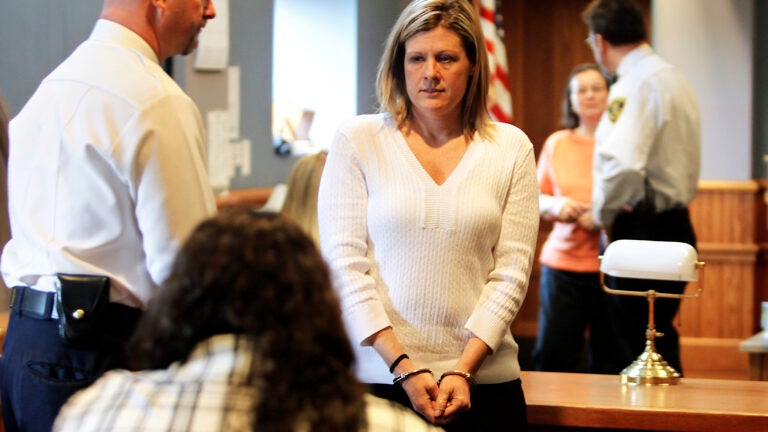 A mom convicted of trying to kill her son by withholding cancer treatment medications from him was freed Thursday as she awaits a new trial on the charge of attempted murder.
Kristen LaBrie won a new trial in March after the Mass. Supreme Judicial Court agreed that her trial attorney's decision to not bring in an outside oncologist was "manifestly unreasonable."
LaBrie's son, Jeremy Fraser, was 7 years old when he was diagnosed with a form of non-Hodgkin's lymphoma in October 2006. He was severely autistic and non-verbal, suffering from a seizure disorder.
Following a hospital stay, LaBrie was tasked with a complicated at-home treatment that she admitted she didn't follow for months. In some cases, she didn't pick up the prescriptions from the pharmacy. Still, Jeremy's cancer went into remission.
Two years after his diagnosis, Jeremy's cancer returned. He died more than a year later, on March 3o, 2009. Three months later, LaBrie was indicted on charges of attempted murder, two counts of permitting serious injury to a child and disabled person, and one count of reckless endangerment of a child.
Prosecutors said that LaBrie, who was separated from Jeremy's father, "seethed" with anger at him and intended to kill Jeremy as an act of retaliation. (Jeremy's father, Eric Fraser, died in November 2009 from injuries sustained in a motorcycle crash.)
A jury found her guilty of all the charges against her in April 2011, and she was sentenced to eight to 10 years in prison.
She appealed, and last month, after five years in prison, the SJC said her trial attorney, Kevin G. James, erred by not calling an independent oncologist to refute the testimony of the prosecution's witnesses, including Jeremy's doctor.
At a hearing on the motion for a new trial in 2013, a pediatric hematologist-oncologist testified that adherence rates for many long-term drug therapies are only about 40 to 50 percent. Dr. Paul Pitel offered several reasons why a parent might not give their child recommended medications, including immediate side effects of the medications, a lack of visible determents from withholding medications, and difficulties following the protocols.
"It was patently unreasonable for the defendant's counsel not to consult with a qualified pediatric oncologist to explore the disease, its treatment and, in particular, whether experience dealing with other catering parents might help to identify explanations other than an intent to kill the child," Justice Margot Botsford wrote in her opinion.
The justices also threw out the convictions on permitting bodily injury against a child and disabled person against LaBrie.
A Salem Superior Court judge released LaBrie Thursday on personal recognizance, allowing her to begin her five-year probation term on the endangering a child charge while awaiting her new trial.