Crime
Duxbury drive-by shooting suspect held for evaluation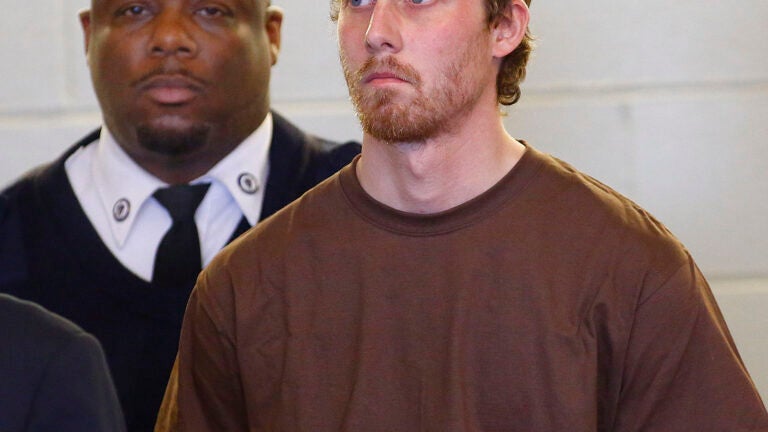 A Maine man accused of shooting at three people at random in Duxbury early Sunday morning will be held at Bridgewater State Hospital to help determine whether he's competent to stand trial.
Lucas McPherson, 25, faces three counts of attempted murder as well as charges of assault and battery with a dangerous weapon, resisting arrest, discharging a firearm, and assault and battery on a police officer. Prosecutors asked for him to be held pending a dangerousness hearing, which will be on hold as his competency is evaluated.
McPherson stood in a brown t-shirt with his hands cuffed behind his back and nodded at his court-appointed attorney, Dennis Scollins.
Police were called around 1:20 a.m. Sunday after a driver heading home to Marshfield from Plymouth on Rt. 3A heard a loud bang as a dark sedan passed by going in the opposite direction, Plymouth County Assistant District Attorney Kathleen Kramer told the court. The driver, James Gifford, 33, spun around to try to follow the vehicle, but noticed he was bleeding and drove to the Duxbury Fire Department.
From there, Duxbury police were called, Kramer said.
Within minutes, police spotted the dark sedan turning quickly onto Tobey Garden Street, the prosecutor said. As police tried to catch up to the vehicle, a bloodied man stepped out of a yard on the street waving his arms.
"What happened? What happened? I think I got shot!" Thomas Brayer shouted at police, Kramer said. Brayer, 51, had been out walking his dog in his front yard when he heard a loud bang as a car traveled down the street.
The police officer blocked in the sedan and McPherson jumped out of the car, Kramer said. Police told him to get on the ground, and he made a motion as if he was doing so, but then jumped up, with a black knife in his right hand.
The officer used his Taser, hitting McPherson in the chest and stomach, and McPherson fell on the ground and dropped the knife, Kramer said. He lurched back up and the officer used the Taser a second time.
As officers brought McPherson to the cruiser, he broke away and tried to run, but was caught by an officer, Kramer said.
Police said they found a shotgun in McPherson's vehicle, along with two shotgun shells on him and another in his car. A second knife was inside the vehicle as well.
A third victim, Michelle Hermanson, 37, told police the next day that she was driving near Tobey Garden Street around the same time as the other shootings and heard an "explosion" and her car shook. Police found significant damage consistent with a shotgun blast, Kramer said.
Both Gifford and Brayer were taken to South Shore Hospital for treatment. Gifford was recovering at home Monday. His father, Bill, said he was still shook up. A woman who answered the phone at Brayer's home said he was at work today.
Back at the Duxbury Police station, officers asked McPherson if he realized he shot anyone. Kramer said he replied that he didn't know, and that he was off his medication.
As police took him to make a phone call, he punched an officer, Kramer said, and police had to use a Taser again.
Police spoke to McPherson's father in Maine, who told officers his son was diagnosed with schizophrenia and was apparently traveling across the country, Kramer said.
Kramer said there was an "issue involving the defendant and his parents involving a shotgun" on April 14 in Maine, but that his parents didn't want to press charges.
A court clinician attempted to evaluate McPherson before his arraignment Monday, but he refused. Judge Brian Gilligan ordered McPherson  held at Bridgewater State Hospital for 20 days.