Crime
In argument for bail, attorneys include letter from professor comparing Owen Labrie to Joan of Arc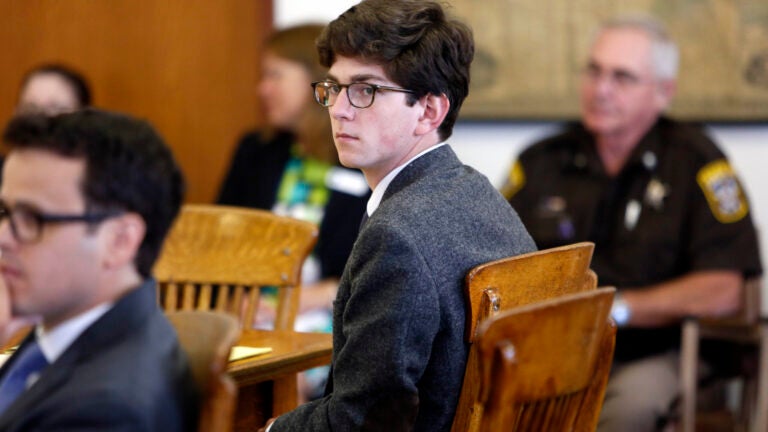 Just because Owen Labrie repeatedly violated his court-ordered curfew doesn't mean he should have had his bail on statutory rape charges revoked in March, his attorneys argued in a brief filed with the New Hampshire Supreme Court Friday.
As part of that brief, defense attorney Jaye Rancourt included a lengthy letter from a professor Labrie was studying with in which the professor talks about the "extreme affliction" God has put the now-21-year-old through, and compares his future to that of Joan of Arc.
Labrie was found guilty by a jury in August of three misdemeanor counts of sexual assault, a count of endangering children and a felony count of using a computer to contact his victim. Prosecutors say he took part in a ritualized sex game on the campus of St. Paul's School, luring a 15-year-old classmate to have sex in a secluded room on campus.
He was sentenced to a year in jail in October and forced to register as a sex offender. He was out on bail while he appealed his convictions.
Labrie says Merrimack County Judge Larry Smukler wrongly revoked his bail in March after prosecutors presented six dates when Labrie had taken a bus between Lebanon, New Hampshire — near where he lived in Vermont — and Boston. Labrie's attorneys argued that on a few of those occasions, Labrie thought he had permission to meet attorneys, while on the others, he was meeting with professors and attending seminars for his online classes.
The state statute says that the judge had to find not only that Labrie violated his curfew — which he admits he did — but also establish that he's unlikely to follow any bail restrictions.
"While Mr. Labrie admittedly violated conditions of his bail by traveling outside of the timeframe of his curfew on three occasions, the record does not support a finding that he is unlikely to abide by any condition or combination of conditions of release," his attorneys wrote in the brief arguing for the bail to be reinstated.
Labrie's attorneys also argued that his bail was more restrictive than others in Merrimack County. It "had set Mr. Labrie up for failure," with the 5 p.m. to 8 a.m. curfew, they wrote.
As part of the brief, Labrie's attorneys included a partially redacted note from an unnamed professor about Labrie's interest in Simone Weil, a French philosopher and activist. Labrie was urged to write a 150,000 to 200,000-word masters thesis on her life and thought, which could then be published as a scholarly book.
The thesis would be used to help Labrie gain entry to a PhD program at Oxford, according to the letter.
"This will not only move you towards developing greater intellectual and cultural competencies; but it will also give you a specific purpose for the next couple of years," the professor wrote.
The letter focuses on Labrie's legal issues, and how "God sees them."
"So, Owen, here you are now, twenty years old and having been put through (because of the extraordinary and generous providence of God) extreme affliction and malheur," the professor wrote. "And this is why you must continuously seek to understand why God has done this to you, and ask what His judgment is upon your past thoughts and behavior and His intentions for your future vocation."
"My own view," the letter continues, before several paragraphs of redaction.
"It's so amazing to me how much God loves you — because God doesn't usually bother to wizen up ordinary kids who get involved in teen-age sex play. He just lets them gradually outgrow it," the professor wrote. "But, obviously, God intends something more from you than a 'staged normal life.' God intends that you (like Joan of Arc and Simone Weil) take on a higher task. So God has afflicted you with the enormous suffering that you have had to bear (and that you will always have to bear). This suffering is your condemnation (better, your consecration!) to a higher calling." [Emphasis included by the professor.]
Prosecutors will file their response by May 6.