Crime
Judge delays decision on incompetent defendant charged with son's murder
Jay Procopio is functionally illiterate and unable to assist in his defense. He's still facing 26-year-old murder charges stemming from his infant son's death.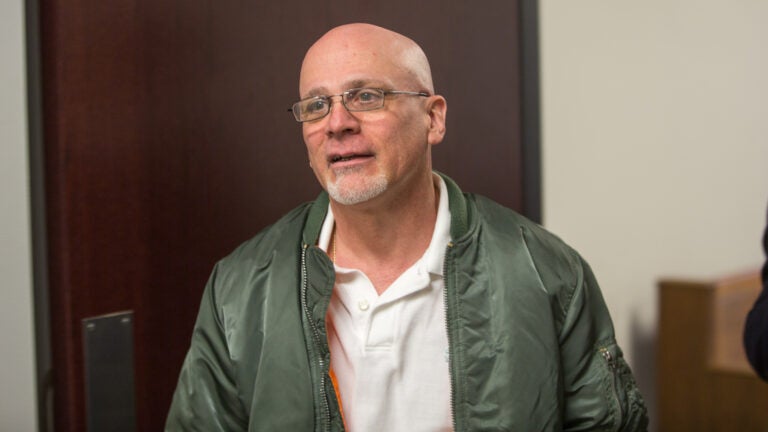 Jay Procopio will continue to wait to find out whether the 26-year-old murder charges against him will be dismissed.
Procopio, 56, spent 22 years in prison after pleading guilty in 1993 to throwing his infant son to the floor, killing him. In 2013, an appeals court said he should never have been allowed to plead guilty in the first place, and a year later, Middlesex County Judge Thomas Billings released him on bail.
Procopio, functionally illiterate with an IQ of 48, is not competent to stand trial, and there's no program in the state of Massachusetts that could help him. He has spent the last two years living with his mother and stepfather on the North Shore.
The first-degree murder charges in Eric Procopio's death are still pending. Procopio, his attorneys and the assistant district attorney were in in front of Middlesex Superior Court Judge Thomas Billings Monday morning as defense attorney Sandra Bloomenthal argued for the case to be dismissed.
"He is incompetent," Bloomenthal said. "Unable to assist counsel. Unable to understand the consequences involved. Unable to assist in his own defense. Unable to understand what his constitutional rights are. It's a situation where justice demands that this case be dismissed at this point."
Billings said he would have a written decision on the case within a week.
Prosecutors, however, warned of the lack of supervision for Procopio if the case was dismissed. Procopio not only is charged with throwing his infant son to the floor, cracking his skull, but also was accused of shaking his three-month-old daughter in 1991. She survived.
"To suggest there are no public safety concerns … is not a position anyone can rationally take at this time," Assistant District Attorney Kate Cimini said.
Currently, Procopio is restricted from being around young children unsupervised. He receives help from the Department of Developmental Services.
Prosecutors maintain that Procopio could someday achieve competency. But Billings noted that the Commonwealth has had had two years to figure out how to do that, with no results.
"My working assumption at the time is he's never going to be brought to competency," Billings said.
Procopio sat next to his attorneys as they explained how profoundly impaired he was — unable to read or do simple math. In the courtroom were his elderly mom, dad and stepfather, all of whom declined to comment after the hearing.
Procopio's ex-wife, the mother of Eric, did not attend the hearing.