Crime
SJC hears arguments on new trial for accused killer of Boston police detective
Sean Ellis was granted a new trial last year on first-degree murder charges in the death of a police detective in 1993 -- his fourth trial. Prosecutors are fighting that decision.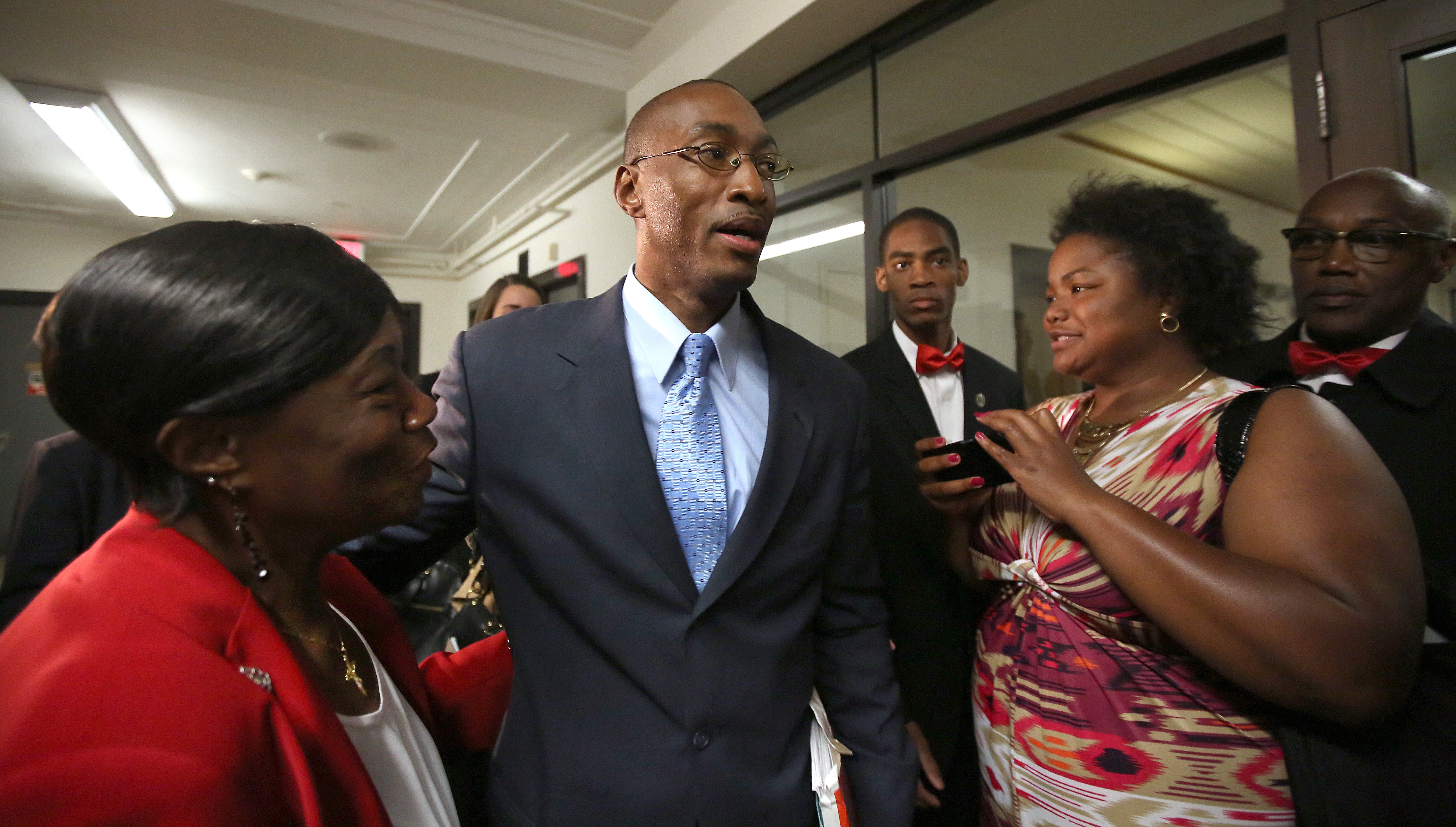 Sean Ellis unwittingly inserted himself into the murder investigation of a corrupt Boston police officer 20 years ago, making him the scapegoat for a crime he never committed, his attorney argued in front of the Massachusetts Supreme Judicial Court Thursday morning.
Prosecutors, however, told justices that the evidence against Ellis is overwhelming, as they argued to reverse a lower court's decision to grant Ellis a new trial.
Judge Carol Ball last year ruled that Ellis' initial prosecution was a "rush to judgement.'' Three Boston police detectives who later pleaded guilty to federal corruption charges played key roles in the 1993 investigation of Boston police detective Robert Mulligan's death. Mulligan was shot to death while he slept in his truck during a paid detail at a Roslindale Walgreens.
The detectives had motive to act quickly on the investigation, Ball wrote, to prevent their own crimes from being uncovered.
So when Ellis, who was 19 at the time, talked to detectives investigating the unrelated double killing of his cousins and volunteered that he was at the Walgreens crime scene that night, they jumped on it, defense attorney Rosemary Scapicchio said.
"He puts himself right in the middle of a homicide of a detective," Scapicchio told the justices. "Who would do that if they actually committed a crime? … Now  they have someone who they can hold out to the public who actually admits he was there."
After three trials, Ellis was convicted of first-degree murder and possessing both the murder weapon and Mulligan's service weapon. Ball granted a new trial last year only on the murder charge, and Ellis was subsequently released on bail. Suffolk County prosecutors appealed that decision to the SJC. A co-defendant, Terry Patterson, is already free after pleading guilty to manslaughter.
During arguments, Assistant District Attorney Paul B. Linn said Judge Ball's decision was "riddled with errors." Besides that, the evidence against Ellis is still there, he said.
"Once you have Ellis in possession of the guns, you have overwhelming evidence that the murder was committed by either Ellis or Patterson or both of them in combination," Linn said.
Scapicchio, though, said all the evidence is suspect because of the detectives' corruption. She pointed to questions detectives asked about a pearl-handled gun well before that murder weapon was ever found. She questioned the confession supposedly given by Patterson implicating himself and Ellis. And she condemned the withholding from Ellis' trial attorneys a trove of tips that named other suspects.
"It doesn't come down to guns," she said. "It comes down to the investigation the police did and the information they withheld from the trial attorneys."
Linn said the justices should rely on the SJC's 2000 decision to not give Ellis a new trial. But Chief Justice Ralph D. Gants said much had changed since then, including the discovery that Mulligan was part of a scheme to rob a drug dealer days before the detective was killed.
Linn said it doesn't matter.
"Despite all the motive to lie, there is still no evidence that any of the corrupt detectives procured false evidence in this case," he said.