Crime
SJC: Teen charged with encouraging boyfriend's suicide can stand trial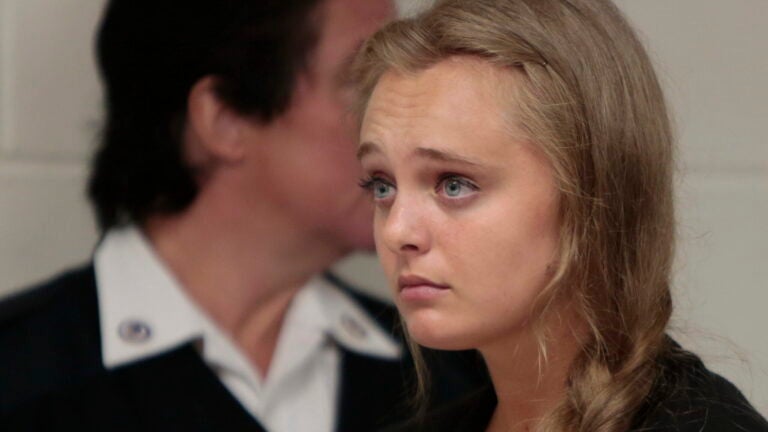 A teenage girl facing involuntary manslaughter charges for allegedly encouraging her boyfriend to kill himself can stand trial in his death, the Massachusetts Supreme Judicial Court ruled in a decision handed down Friday.
Michelle Carter's attorneys said her texts to Conrad Roy, sent before he poisoned himself with carbon monoxide in his truck on July 13, 2014, were nothing more than words. It was 18-year-old Roy, they said, that took the action to kill himself, not then-17-year-old Carter.
"The principal question we consider in this case is whether the evidence was sufficient to warrant the return of an indictment for involuntary manslaughter where the defendant's conduct did not extend beyond words," Justice Robert J. Cordy wrote in the decision. "We conclude that, on the evidence presented to the grand jury, the verbal conduct at issue was sufficient."
Carter, now 19, is charged as a youthful offender in Bristol County. Her attorney, Joseph Cataldo, did not immediately return a call seeking comment.
No date has been set yet for the case in Taunton Juvenile Court.
"We appreciate the court's thorough review of the law as it pertains to the facts of this case, and its decision to uphold the juvenile court's denial of the defendant's motion to dismiss, DA's spokesman Gregg Milliote said in a statement. "We will now focus our efforts on preparing for the upcoming trial in this case."
Carter exchanged thousands of texts with Roy, who she had met on vacation in Florida but hadn't seen often. In the weeks before Roy's death, she pivoted from encouraging him to seek help for his depression and anxiety, to helping him plan how he'd kill himself.
"The theme of those text messages can be summed up in the phrase used by the defendant four times between July 11 and July 12, 2014 (the day on which the victim committed suicide): 'You just [have] to do it,'" Cordy wrote in the decision.
Prosecutors told the SJC that Carter counseled him not to worry about his family missing him. She kept asking when he planned to do it, and, ultimately, directed him to "get back in the truck" when he called her from the Fairhaven parking lot, scared that the carbon monoxide was working.
"It is in those final moments, when the victim had gotten out of his truck, expressing doubts about killing himself, on which a verdict in this case may ultimately turn," Cordy wrote.
Carter understood what she did was wrong, the court wrote. She sought to have Roy delete the text messages between them before he died. She texted a friend that if the police read their messages "I can go to jail."
"I could have easily stopped him or called the police but I didn't," Carter wrote to a friend.
There are 39 states with laws on the books prohibiting anyone from encouraging or assisting in a suicide. Massachusetts isn't one of them. Free speech advocates had said the decision in the Carter case could have broad implications when it comes to protected speech and the legality of talking to someone about suicide.
In the decision, though, Cordy wrote that this case is not about someone trying to help a terminally ill person through their pain, or someone offering support to a mature adult who wants to end their life.
"These situations are easily distinguishable from the present case," Cordy wrote, "in which the grand jury heard evidence suggesting a systematic campaign of coercion on which the virtually present defendant embarked — captured and preserved through her text messages — that targeted the equivocating young victim's insecurities and acted to subvert his willpower in favor of her own."