Crime
Uber driver accused of sexually assaulting passenger released on $500 bail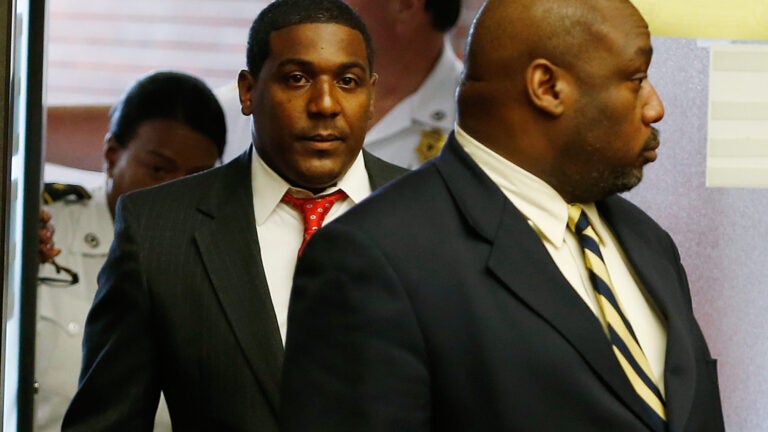 From the front seat of the Toyota Camry speeding down the highway early Saturday morning, the woman frantically texted friends and surreptitiously called her mother, investigators say, fearing that her Uber driver would rape her.
The harrowing ride was detailed in court documents filed by detectives in the case against the Uber driver, Junior Clarke. The 31-year-old barber appeared in Woburn District Court Thursday and pleaded not guilty to charges of indecent assault and battery, assault and battery, and accosting a person.
A judge released released Clarke on $500 cash bail and ordered him to return Aug. 30 for a pretrial hearing.
According to court records, Clarke repeatedly asked the woman about her sex life during the trip from Methuen to Norwood. He rubbed his hand on her bare arms and through her hair. He tried to kiss her, and she turned away to stop him from touching her breast.
The woman's mother called 911 while on the phone with her daughter, and police found the victim visibly upset in the driveway of her destination in Norwood around 5:45 a.m.
Clarke, of Lawrence, was charged in Middlesex County because of text messages the woman sent to a friend, detailing what Clarke was doing and saying. In one, she specified that she was in Wilmington, on the verge of tears.
"And now he's hitting on me," she wrote five minutes into the ride. ""He wants me to kiss him … I said no 5 times … make that 8."
"It's really not funny … he won't stop touching me," she wrote later. "He's gonna f—ing rape me dude … he's grabbing my arm."
She told her friend to call the cops, but he didn't. She told the trooper who later interviewed her that Clarke wouldn't stop touching her. He tried moving her hand closer to him, while asking her to touch his penis.
When he tried to kiss her, she told investigators, she tried to turn away toward the window. There was nowhere to go.
The victim said she then called her mother,  pretending she was talking to a friend. Her mother did call 911, leading investigators to meet her at her destination in Norwood.
During the ride, she took a screenshot of Clarke's Uber profile page, and showed police his Facebook and Snapchat profiles. Clarke had asked her to friend him on the social networks, she told detectives.
Hours later, when Clarke spoke to investigators, he denied that any of what the woman said had happened. He said she was drunk and just trying to get him in trouble, but detectives said the woman appeared sober and scared.
Detectives arrested Clarke on Saturday and he was released on $40 bail.
Uber has banned Clarke from driving and a company spokesperson said that they have been in contact with the woman.
Several cab drivers sat in the courtroom's gallery, looking on as Clarke stood in front of a judge. The cabbies wore bright yellow shirts reading "Fingerprints for Public Safety" on the front.
One of the drivers was Raymond "Buzzy" MacCausland, the cab driver made famous in the last few days for returning $187,000 in cash left in a backpack by a passenger in his cab.
Last week, the state Senate approved a bill that would regulate services like Uber and Lyft, mandating a state background check of drivers. An amendment requiring drivers to submit to fingerprinting by the companies failed.
Boston police, however, now fingerprint all cab drivers in the city.
Clarke has no criminal record, court officials said. So it's not clear whether the more stringent background check would have stopped him from driving for a ride-hailing service or even a cab company.
The cab drivers, though, said going through a more rigorous training process and registering with the police puts more responsibility on the drivers.
"When you do, you uphold your standards a lot more and have to answer to the police department," cab driver Steve Goldberg said.
It was the first time the woman had used Uber, she told investigators. As she got out of the car, detectives wrote, Clarke said one last thing to the woman. He seemed to be worried about his future Uber rating.
"Give me five stars," he told her.