Crime
What it would really take to stop the killing
According to a Northeastern law professor.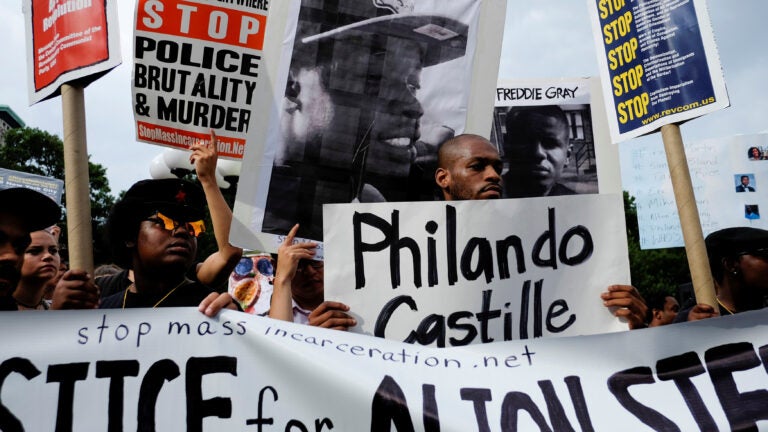 It's been a horrific week of gun violence in America. Police killed two more black men—Alton Sterling in Baton Rouge, Louisiana, and Philando Castile in suburban St. Paul, Minnesota—in circumstances that look like murder. Last night, five Dallas police officers were slain and five other officers and two civilians were shot in a cowardly response to those killings. The need for prompt action is imperative.
One wonders how much longer the justice system is going to maintain its reluctance to hold individual officers accountable for wrongdoing. There is no question that occasions arise where the police are justified in using force, including lethal force, to protect themselves and others. If that wasn't clear to all before the slaughters in Dallas, it should be now. Police officers generally have great discretion in carrying out their duties. At the same time, it's perfectly clear that the Constitution, especially the Fourth Amendment's guarantee of the right of persons "to be secure . . . against unreasonable seizures," prohibits law enforcement officials from using excessive force in the course of an arrest, investigatory stop, or other seizures.
The line between legitimate and illegitimate use of force depends on the facts and situation. Decisions often must be made quickly. Circumstances are usually unclear. For those reasons, the ultimate solution to the unjustified taking of lives will never be based on the promulgation of abstract legal rules by government, no matter how well-intentioned. Technological advances like body cameras, which have been adopted by some Massachusetts police (though not those in Boston, yet) may help, but real progress will occur only when law enforcement personnel are rigorously trained to understand that when bodily harm and death are possible, violent reactions should be truly a last resort.
With the horrible response in Dallas, prompt action is even more imperative.
On the other hand, court decisions, most prominently Supreme Court decisions, can help influence the legal responsibilities of the nation's more than 12,000 local police departments in schooling and disciplining officers, not to mention the important role of resolving particular cases—such as those in Ferguson, Cleveland, and New York—that have caused so much stress in minority communities. "Black lives matter" must be understood as a call for action, not as disrespect for all other lives.
So far, however, the Supreme Court—and this includes those thought to be liberal as well as conservative—doesn't seem to be listening. In a series of decisions spanning recent decades, the Court has upheld what Justice Sonia Sotomayor described in a November 2015 dissent as approving a "shoot first, think later" style of policing.
The Court has decided these cases in different ways but with the same result. Despite factual disputes, it has thwarted jury trials and recast the facts based on documents rather than witness testimony. It has ruled that, unlike ordinary citizens, police have "qualified immunity," meaning that if a legal rule was not absolutely certain before the officer acted, he or she could not be held responsible for violating it, even if the officer acted in a patently unreasonable way.
"Black lives matter" must be understood as a call for action, not as disrespect for all other lives. So far, the Justices don't seem to be listening.
Each of these cases involves wrangling about specifics, but a study of the Court's jurisprudence in this area makes it clear that, regardless of the facts, it is very difficult to win a case against a police officer. The sense that the rules are stacked against those alleging excessive force leads prosecutors to decline even to bring cases where there is any colorable defense. That's of even greater consequence than questionable decisions in individual disputes, and it's caused community outrage in those places like Ferguson, Cleveland, and New York.
Until the Court sends a message that bad acts—selling cigarettes illegally, driving too fast, trying to escape—don't justify a level of aggressive policing that too often produces lethal force, the Louisiana and Minnesota killings will be remembered as just two more disturbing events on a growing list, one that includes equally destructive revenge.
—
Michael Meltsner is the Matthews Distinguished Professor of Law at Northeastern and the author of The Making of a Civil Rights Lawyer.