Crime
Nephew of Benzino found guilty of assault and battery charge in funeral procession shooting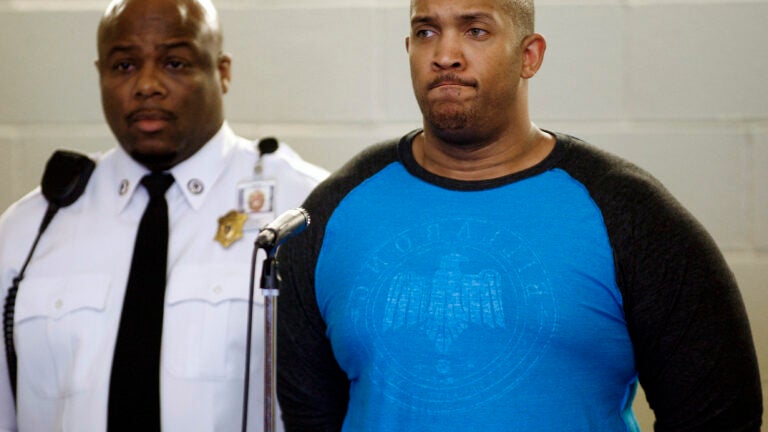 A Randolph man was found guilty Thursday of an assault and battery charge in the 2014 drive-by shooting of his uncle, Boston-born rapper Benzino, whose real name is Raymond Scott, Plymouth County District Attorney Timothy J. Cruz's office announced.
Gai Scott, 39, was convicted of assault and battery with a dangerous weapon but was found not guilty of armed assault with intent to murder after the jury deliberated for around 17 hours, according to the DA's office.
Around 11:54 a.m. on March 29, 2014, state police responded to several reports about a shooting on the southbound side of Route 3. Officers saw a red Dodge SUV in the middle of the highway with bullet holes and a reddish-brown substance inside, later established to be blood, according to authorities.
The DA's office said Gai Scott was driving in a funeral procession for his grandmother, Mary Scott, and heading to a Plymouth church when the shooting occurred. The two vehicles were driving side-by-side and Gai Scott fired several shots into the SUV, driven by his uncle, according to authorities.
Raymond Scott, 51, was struck by gunfire, suffering a gunshot wound to his right shoulder and an abrasion on his back. He pulled over and exited his car, before being picked up by a passerby and taken to Duxbury Police Department, the DA's office said. Raymond Scott was then transported to a local hospital for treatment of his non-fatal injuries.
Gai Scott was then arrested and charged, authorities said. The subsequent investigation revealed there was a "growing family tension" between the nephew and uncle, the DA's office said.
Gai Scott told investigators that he acted in self-defense, stating Raymond Scott had threatened to kill him and flashed a gun while they were driving side-by-side.
The nephew's sentencing has been scheduled for August 26.