Crime
Closing arguments set in Aaron Hernandez's double murder trial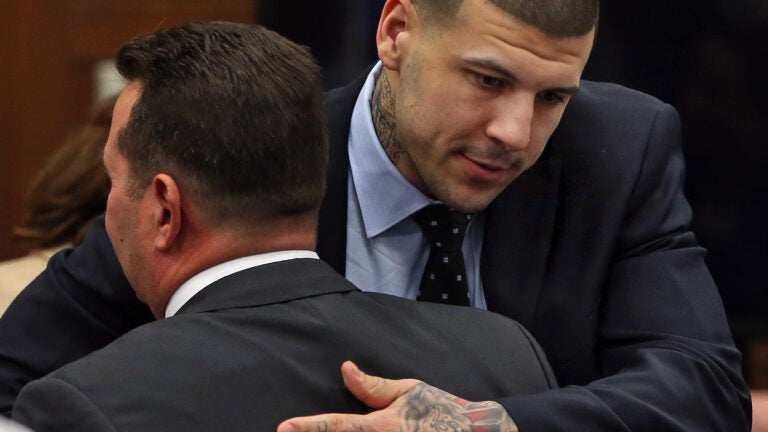 BOSTON (AP) — Jurors in the double murder trial of ex-NFL star Aaron Hernandez are set to hear closing arguments after more than a month of testimony about a crime prosecutors that say was fueled by anger over a spilled drink.
Closing arguments are scheduled for Thursday in Suffolk Superior Court.
The former New England Patriots tight end is charged in the fatal shootings of two men after a brief encounter at a Boston nightclub. Daniel de Abreu and Safiro Furtado were gunned down on July 16, 2012, as they waited in a car at a stop light.
A friend who was with Hernandez that night testified that Hernandez opened fire on the car about two hours after de Abreu bumped into Hernandez at the club and spilled his drink.
But Hernandez's lawyers say the friend — Alexander Bradley — shot the men over a drug deal. Bradley, who testified under a grant of immunity from prosecutors, is currently serving a five-year prison term for shooting up a Hartford bar in 2014.
Hernandez is charged with witness intimidation for allegedly shooting Bradley in the face months after the killings in an attempt to silence him as a witness.
Hernandez already is serving life in prison for the 2013 killing of semi-professional football player Odin Lloyd.
Hernandez, now 27, grew up in Bristol, Connecticut, and played for the Patriots from 2010 to 2012. About six weeks after Furtado and de Abreu were killed, Hernandez signed a five-year, $40 million contract with the Patriots and went on to play another season before Lloyd was killed. He was cut from the team shortly after he was arrested in Lloyd's killed in June 2013. He was not charged in the 2012 killings until 2014.