Crime
West Virginia man accused of listing stolen Gardner Museum paintings (which he didn't have) on Craigslist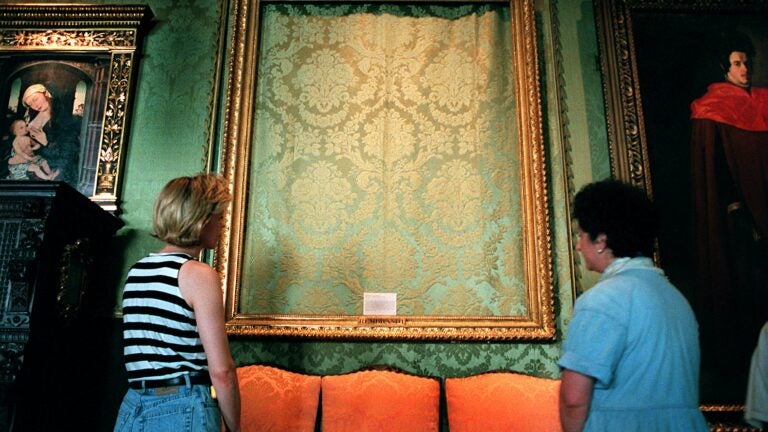 Even for Craigslist, $55 million for two legendary works from an infamous art heist would have been an unreal deal.
And it was.
A West Virginia man — who allegedly listed two rare paintings from the daring 1990 Isabella Stewart Gardner Museum theft on Craigslist, despite not possessing them — was arrested Monday afternoon at his home by law enforcement officials, according to the U.S. attorney's office in Boston.
Officials say Todd Andrew Desper, a 47-year-old Beckley resident, listed Rembrandt van Rijn's "Storm on the Sea of Galilee" for $5 million and Johannes Vermeer's "The Concert" for $50 million, a fraction of their estimated value. He was charged with wire fraud and attempted wire fraud, according to the office of William Weinreb, the acting U.S. attorney for the district of Massachusetts.
The 13 stolen Gardner Museum pieces altogether are estimated to be worth more than $500 million, but "The Concert" alone is valued at over $200 million. So it was perhaps unsurprising that Desper's asking price solicited buyers from as far away as Egypt, Venice, and London, officials said.
Desper, acting under the pseudonym "Mordokwan," allegedly posted foreign Craigslist listings and directed interested buyers to create an encrypted email account to communicate with him. Officials say they were alerted of the listings by individuals hoping to help recover the artwork, as well as some seeking the $5 million reward being offered for the stolen art's return.
Upon examining a photo Desper allegedly sent to an FBI tipster — purportedly a closeup of "The Concert" — officials doubted he actually possessed the stolen paintings.
"While the FBI had significant doubts that Mordokwan possessed or had access to The Storm or The Concert, given the means he was using to offer them for sale, the importance of these artworks, and this longstanding investigation we decided to thoroughly pursue this lead," wrote FBI agent Geoffrey Kelly in a federal affidavit.
Anthony Amore, the Gardner Museum's director of security, contacted Desper in January in the hopes of figuring out if he actually had the painting, officials said. At the direction of federal authorities, Amore sent Desper an encrypted email posing as an interested buyer for "The Storm."
"Let's make a deal," he wrote. "I'm in a position to make this work and I'm ready to get down to business. Get back to me asap."
In response, Desper allegedly told Amore to send a cashier's check for $5 million to an address later determined to be a UPS Store mailbox rented by Desper, located in a Beckley strip mall.
"I will wait 4-6 weeks to ensure check clears," he wrote, according to the affidavit. "Include where you want the painting sent. I will conceal it behind another painting and then ship it to whatever destination you choose."
Amore then pushed Desper to confirm the authenticity of the painting.
"Just to be clear, you're not going to send me some photograph of The Storm on the Sea of Galilee for $5m," he wrote. "My associates and I are expecting the painting taken from the Gardner Museum in 1990."
"Painting is real," Desper replied, according to the affidavit, later adding, "The one and only."
Upon researching the address Desper provided to Amore, Kelly said agents were able to track down his identity and home address. They also found that Desper had used email addresses containing the alias "Mordokwan."
Confronted with this information, Desper denied ever using his Craigslist account to sell stolen paintings or having any knowledge of the Gardner Museum heist, officials said. However, agents were able to match the Craigslist account claiming to sell the painting to Desper's personal IP address, according to Kelly's affidavit.
Based on their investigation, Kelly said officials concluded that Desper did not have the paintings and had deliberating devised a scheme to defraud potential buyers.
Following his arrest Monday afternoon, officials said Desper will be held in custody overnight, before appearing Tuesday morning in the U.S. District Court for the Southern District of West Virginia. He is set to appear June 9 in federal court in Boston.
Though theories abound, the Gardner Museum theft remains unsolved — and the paintings unrecovered.