Crime
'I'm rich, how much to take her out?' N.H. man allegedly said in attempt to 'buy' 13-year-old girl near Faneuil Hall
Police said they found the 20-year-old man with over $11,000 in cash.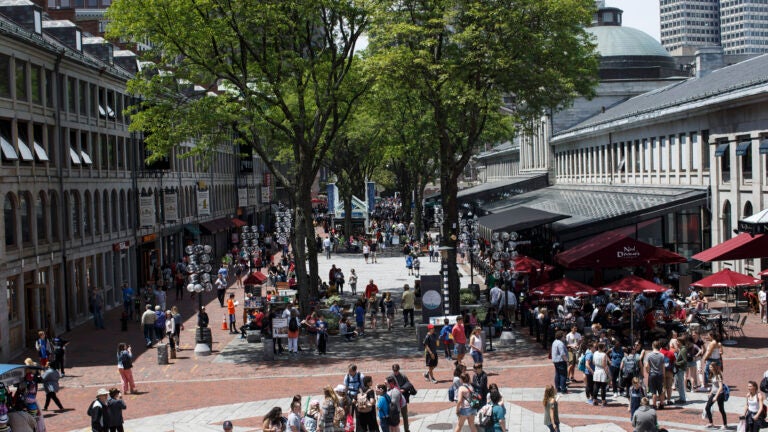 Authorities say a New Hampshire man who allegedly tried to "buy" and kidnap a 13-year-old girl near Faneuil Hall carried $11,000 in cash and asked her parents how much it would cost "to take her out," according to The Boston Globe.
Alfred Patterson, 20, of Raymond, was arraigned Monday in Boston Municipal Court where he was ordered to stay out of Massachusetts and away from the girl, her family, and witnesses, the newspaper reports.
Patterson, who was arrested Sunday evening, faces charges of attempted kidnapping of a child and enticement of a child under 16. Judge Lisa Grant set a $7,500 cash bail.
According to police, officers responded to a report of an attempted kidnapping near North and Congress streets at 4:41 p.m. Sunday.
A police report filed in court said Patterson approached the family and "pulled out a significant amount of money [and] offered to 'buy' their daughter by stating, 'I'm rich, how much to take her out?'" according to the Globe.
Patterson, later identified to police by the victim, her parents, and one of two men with him that day, then tried to grab the girl by her arm and attempted to pull her away, authorities allege.
This is 20 yr old Alfred Patterson of Raymond, NH. He was arrested after police say he tried to kidnap a 13 yr old from Faneuil Hall Sunday. Allegedly offered her parents cash & said "I'm rich, how much to to take her out?" @NBC10Boston @necn pic.twitter.com/Db2OsvN1oN

— Abbey Niezgoda NBC10 Boston (@AbbeyNBCBoston) September 10, 2018
The girl's father chased Patterson and the two other men away, "claiming he will get beat up," Patterson told police, the newspaper reports.
Patterson said he had asked for the girl's Instagram account and her mother said he had to speak with her first, according to the report.
"I'm rich, though," Patterson told the mother, according to the Globe.
Prosecutors said Monday Patterson was later found with over $11,000 in cash.
Prosecutors sought to impose a $50,000 cash bail and require that Patterson, who has a record of past offenses in Worcester, New Hampshire, and Arkansas, wear a GPS monitoring device, the Globe reports.
Patterson's attorney, Patrick Colvario, told Grant that Patterson has cognitive issues and likely did not know the girl was 13, according to an NBC Boston report.
"We expect that this (surveillance) video will in part exculpate my client on the issue of if there was any type of assault and battery," Colvario said.
Colvario, who said the past charges against Patterson were misdemeanors, asked that his client be released on personal recognizance or a maximum bail of $5,000, according to the Globe.
Patterson is scheduled to be back in court Sept. 26.