Crime
Roughly 150 pounds of marijuana found in luggage at Logan; 3 people charged
There was about 50 pounds of marijuana, separated into plastic bags, in each suspect's luggage, police said.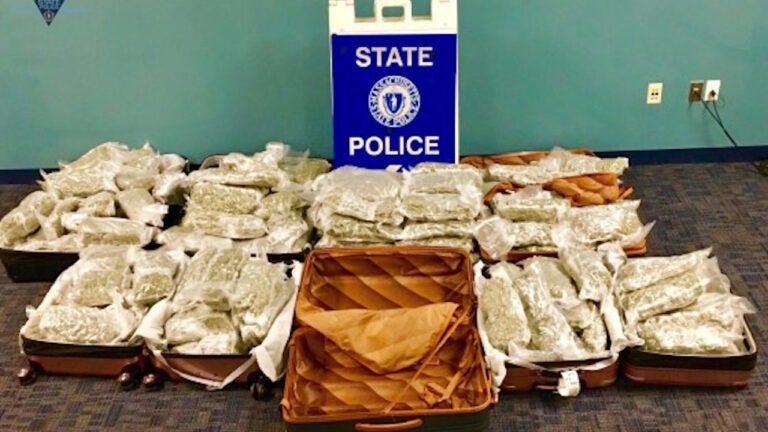 Authorities found roughly 150 pounds of marijuana in the luggage of three people from California at Logan International Airport on Saturday, according to Massachusetts State Police.
Jerry McNair, 48, Ladonna Hardman, 57, and Saudia Watson, 37, are all charged with marijuana trafficking and conspiracy to violate drug laws, police said. They were held at state police barracks and were expected to be arraigned Monday in East Boston District Court.
Police were told by officials in Sacramento County, California, that two suspects would be arriving at Logan's Terminal B around 6 p.m. Saturday with "a large quantity of marijuana in several suitcases."
Federal Homeland Security Investigations officials accompanied state police in surveillance at the arriving American Airlines plane's gate, while troopers also went to the baggage area, police said.
Police saw McNair and Hardman get off the plane and head to baggage claim, where police say they met up with Watson.
"Once the suspects retrieved their luggage, investigators approached and identified themselves," police said. "They also observed [Watson] retrieve her own luggage, which bore striking similarities in appearance to the luggage retrieved by the two known suspects. Based on those observations investigators approached [Watson] as well."
McNair and Hardman refused to allow police to search their luggage and were arrested for possession of a Class D drug with intent to distribute, according to police. Watson, however, did agree to be interviewed and allowed for her bags to be searched. Police said they found 51 plastic bags of pot inside her two pieces of luggage, estimating that it weighed more than 50 pounds. She was then arrested.
Search warrants were obtained for McNair's and Hardman's bags. Similarly, 50 plastic bags of marijuana were allegedly found in McNair's bags and 49 plastic bags of pot were found in Hardman's; each amount was also thought to be around 50 pounds, police said.