Crime
N.H. police: Trump mask, other 'suspicious' items found in suspect's vehicle after chase
Barnstead police said they were tipped off that Michael Martel, 30, may attempt a robbery or home invasion.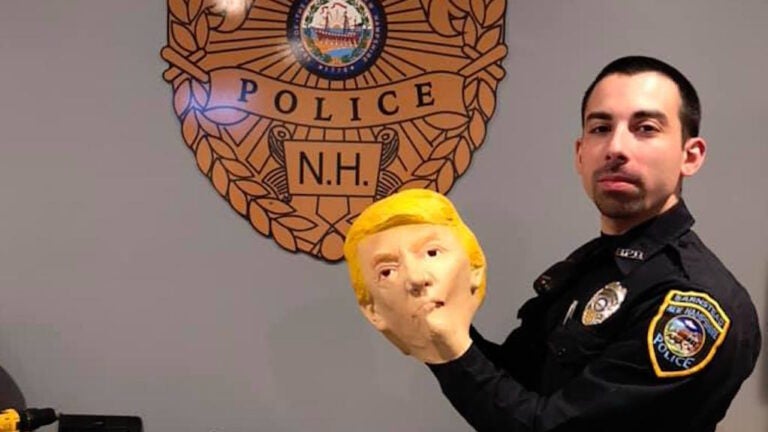 A New Hampshire man's alleged plan to commit a robbery or home invasion with a gun, potentially while wearing a rubber Donald Trump mask, was foiled by police Sunday evening after the Barnstead, New Hampshire department was tipped off, they said.
Michael Martel, 30, of Epsom, was arrested after police called in from a bunch of area departments chased the allegedly stolen pickup truck he was driving, it crashed into a snowbank in Chichester, and he took off on foot into the woods, according to police.
Martel was charged with felony receiving stolen property, resisting arrest, disobeying a police officer, reckless operation, and possession of burglary tools. He was held on $10,000 cash bail and was planned to be arraigned in Laconia District Court on Monday, police said. Martel was reportedly out on bail following an arrest by New Hampshire State Police for having a firearm with missing serial numbers.
Police said they were told Sunday evening that Martel planned to commit a robbery or home invasion in Barnstead to take back items reportedly used as collateral during a drug deal. Soon afterward, Barnstead Officer Derik Bettencourt saw a 2006 GMC pickup truck, reportedly stolen from Concord on Sunday, that matched the description of the vehicle Martel was said to be driving, on Route 28 headed for Pittsfield. Martel didn't obey when Bettencourt attempted to make a stop, police said. Officers the began to pursue the truck, but it reportedly took off and hit speeds faster than 100 mph.
Barnstead police called for backup as the truck continued into Chichester and then reportedly crashed into a snowbank at the intersection of Bear Hill and Center roads. Martel allegedly took off on foot, and Barnstead police, along with five other area departments, plus state police, searched for him. A state police K-9 team found Martel, and he was arrested, according to police.
In the pickup truck, police said they found a variety of items they deemed "suspicious," including the Trump mask, bullets, bolt cutters, bandannas, car stereos, and "an array of electronics."
https://www.facebook.com/barnsteadpd.org/posts/2267892540152686?__xts__%5B0%5D=68.ARBQqzTdxdu0U0ZieooAQ9WGZO6rr7sXickLIFJjXH8QtBxjimtAYn-3kmpZUS8OLJRg1fPI5gQo-ezpiq96ppRNTtssoiZUHrHlG6evumZr1OmcB6AcrK8m48lQ_tnMT9ipQMmYBGGvAOk7WI80TAyoZVXsg92ShwnokAUqoT88B5UaCxRRoKGGmhgPSay7gTlRVxWhTnc-DGNNicfg8npaSim6vu7aa0xh3w6GjVmNJCwQE4geFTXBb3fdy-outOFCu3w2Xb2vKrMTW8IcykZUWNLVvyzV9ui3Jd57xWAldgGFcjA32_jxn3vX9ixNjdh3g982JXjXkn0eyxYx3Ye35eda&__tn__=-R