Crime
Timeline: Here's what authorities allege happened in the Jassy Correia case
More details of the alleged kidnapping came to light as prosecutors filed federal charges against Louis Coleman III this week.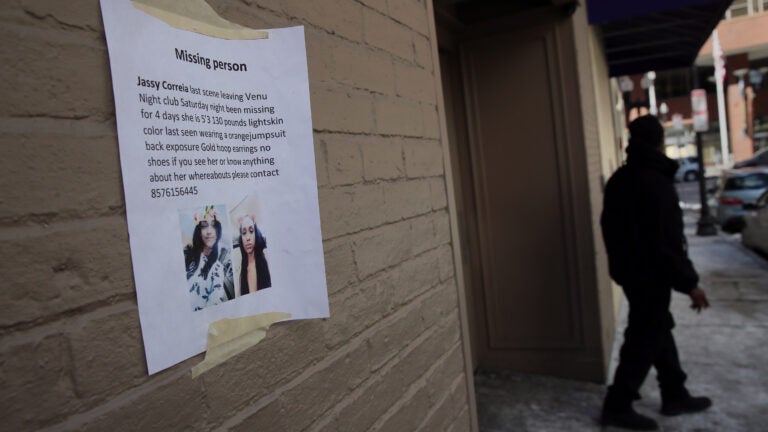 Louis Coleman III, the 32-year-old Providence man charged in the kidnapping of Jassy Correia, 23, allegedly carried her into his apartment building and dragged her limp body toward an elevator late in the night she was last seen alive.
It was one detail of a complex case made public by Massachusetts U.S. Attorney Andrew Lelling as he announced federal charges against Coleman Sunday, and as officials continued to unspool others surrounding Correia's disappearance early on Feb. 24.
Coleman, arrested in Delaware last week, was charged with kidnapping, resulting in death — a charge that carries a mandatory life sentence in prison and is eligible for the death penalty.
"Federal charges are being brought because of the multi-state nature of the crime and the penalties available in federal court, and they're being brought here because Ms. Correia was from here, was taken from here, and so justice should be done here," Lelling said at a press conference Sunday.
Coleman, who appeared in federal court in Delaware Monday, faces additional charges in Rhode Island that include kidnapping, failure to report a death, and mutilation of a dead body.
Still, as Correia's body was discovered with Coleman last week, authorities have yet to say where and when she died.
Here's what law enforcement officials have alleged happened, from the moment Correia left a Boston nightclub until Coleman stepped foot in court Monday afternoon:
Saturday, Feb. 23
Correia, the mother of a 2-year-old daughter living in Lynn, went out to celebrate her birthday with friends on the night of Saturday, Feb. 23, Suffolk County District Attorney Rachael Rollins told reporters Friday.
The group went to Venu, a nightclub in Boston's Theater District on Warrenton Street.
Sunday, Feb. 24
Later, in the early hours of Sunday, Feb. 24, Correia is seen on the sidewalk on Tremont Street near the nightclub, socializing with several people at 2:14 a.m., according to surveillance video footage reviewed by Thomas Zukauskas, an FBI special agent.
Minutes later, a man approaches her and the pair is seen leaving the area before entering a red sedan, Zukauskas wrote in an affidavit filed in Boston federal court.
Earlier that night, Coleman allegedly entered Venu and scanned his Rhode Island driver's license at the door, which showed his listed address as 95 Chestnut St. in Providence, according to the affidavit.
Authorities say Coleman has been determined to be the man seen leaving the area with Correia.
Missing Person Alert issued for 23-year-old Jassy Correia

Missing Person Alert: BPD Seek Public's Help in Effort to Locate 23-year-old Jassy Correia: The BPD is issuing a Missing Person Alert and asking for the public to review video of a person of interest in effort to locate 23-year-old Jassy Correia. Shortly after leaving the Venu Nightclub, Correia was seen in the area of 255 Tremont in Boston in the company of an unknown male (see video) at about 12:15AM on Sunday, February 24, 2019. Correia was later seen entering a motor vehicle, believed to be a red Nissan Altima, with the same male in the area of Tremont and Herald Streets. When last seen, Correia, who is approximately 5'7" tall, was wearing big hoop earrings, an orange jumpsuit and a jean jacket with an image of red lips and pink wings on the back of it. Anyone with information regarding the whereabouts of Jassy Correia, the identity of the unknown male or vehicle is asked and advised to contact District B-2 detectives at 617-343-4275.Community members wishing to assist this search anonymously can do so by calling the CrimeStoppers Tip Line at 1 (800) 494-TIPS or by texting the word 'TIP' to CRIME (27463). The Boston Police Department will stringently guard and protect the identities of all those who wish to assist this investigation in an anonymous manner.

Posted by Boston Police Department (Official) on Wednesday, February 27, 2019
Boston police have said Correia — who was wearing "big hoop earrings, an orange jumpsuit and a jean jacket with an image of red lips and pink wings on the back of it" — was seen entering the car near Tremont and Herald streets, which is just south of the Mass. Pike.
It is the last known moment Correia is seen moving, based upon the information authorities have released to date.
According to other surveillance video reviewed by the FBI, the red sedan entered the parking lot of Coleman's apartment building in Providence — some 50 miles and an hour's drive from Venu — about two hours later around 4:15 a.m.
Coleman allegedly parked the car, left, and returned with a "light-colored blanket," the affidavit says.
"A short time later, Coleman walked from the red sedan towards the front of the building carrying a body with long hair and orange pants …. I believe that this footage shows Coleman carrying the victim into his apartment building," Zukauskas wrote. "Video footage from the building's lobby shows that, at approximately 4:27 a.m., Coleman entered the building carrying a woman's body. I am familiar with the appearance of the victim and recognize the woman as the victim. Coleman put the victim on the floor and dragged the victim to the building's elevator. The victim was naked from the waist up and was wearing orange pants. The victim was not moving and her body was limp."
At 4:29 a.m., Coleman is allegedly seen on video dragging Correia off the elevator and toward his sixth-floor apartment.
Tuesday, Feb. 26
After not having seen Correia since she left Venu early Sunday morning, a friend accompanies Correia's father around 5:30 p.m. to report the 23-year-old missing to Boston police, according to Zukauskas.
As the two filed their report that day, unbeknownst to them, Coleman allegedly made a trip to Walmart, where receipts show he purchased three Tyvek suits, duct tape, two candles, electrical tape, a mask, surgical gloves, two pairs of safety goggles, a respirator; and "CLN Release Bleach bath," according to Zukauskas's report.
He was seen driving a red Buick sedan in the store's parking lot, Zukauskas wrote. Authorities later learn that Coleman does not have a vehicle registered to his name, but that a 2016, red Buick sedan is registered to his mother in California, the report says.
Surveillance video at Coleman's apartment shows him entering with Walmart shopping bags, officials said.
Wednesday, Feb. 27
On Wednesday night, Boston police posted a "missing person alert" for Correia. Included are photos of her and the man she was last seen with, as well as surveillance video.
Meanwhile, video taken at Coleman's apartment building shows him entering around 9:58 p.m. with "a large dark-colored suitcase with bright blue piping," Zukauskas wrote.
"The suitcase appeared to be in new condition with sales tags affixed," he wrote.
Thursday, Feb. 28
Hours later, at 1:15 a.m., Coleman allegedly wheeled the suitcase "from the direction of his apartment towards the building's elevator," the affidavit states.
"A few minutes later, Coleman exited the elevator and wheeled the suitcase across the parking lot and placed the suitcase into the trunk of the red sedan," Zukauskas wrote. "Coleman appeared to have difficulty lifting the suitcase into the trunk."
Between 2:44 and 4:02 a.m., Coleman is allegedly seen leaving the building several times with cardboard boxes, trash bags, a bottle of bleach, a computer tower, a black laptop case, and a small duffle bag, the report says.
Since she was last seen the morning of Feb. 24, Correia is never seen leaving Coleman's apartment, Lelling told reporters Sunday.
With a search warrant in hand, law enforcement officers collect evidence at Coleman's apartment later in the day.
They find two respirator masks, among other items, and notice the cover to one of four cushions on a sofa is missing, according to Zukauskas.
"In a dumpster outside of the apartment complex, white trash bags, a bag containing plastic sheets, men's jeans with bleach stains and a belt, a white nylon hooded coverall, an empty box of baking soda, clear safety goggles, a respirator mask, duct tape packaging, rubbing alcohol, Walmart bags, used plastic gloves, an empty package from a car air freshener, three empty packages of purifying charcoal and a sponge were recovered," a statement from Lelling's office reads.
Midday Thursday, Coleman's picture was posted by Boston police as a suspect in the kidnapping case.
A broadcast describing his vehicle was put out by the State of Rhode Island, and he was later found after 2 p.m. on Interstate 95 near Wilmington, Delaware, according to an affidavit filed by a Delaware State Police detective.
A state police trooper ordered Coleman out of the Buick and asked him if anyone else was inside the car, according to Zukauskas.
"Coleman stated words to the effect, 'She's in the trunk,'" he wrote in the report.
There, in the trunk, police found a "large dark-colored suitcase with blue piping," believed to be the same as the one Coleman was seen carrying the night before, Zukauskas said.
He wrote: "Law enforcement opened the suitcase and observed a black plastic bag inside the suitcase. Inside the black plastic bag was a light-colored sofa cushion cover. Inside the cushion cover was the body of a woman who appears to be the victim, who was deceased."
The body had blood on its face and "significant bruising" and was bound with duct tape, the report states. A "white powdery residue" — authorities believe to be baking soda — was found over the body.
"A duffle bag, a pair of new long-handled loppers, plastic garbage bags, clothing, a red plastic gas container, a green butane lighter, black gloves, charcoal air purifiers, air fresheners, tinted safety glasses, plastic Walmart bags, work towels, cloth work-gloves, a new set of DeWalt pliers, a laptop, a computer hard-drive/tower, and disinfectant wipes were also recovered in Coleman's vehicle," the statement from Lelling's office says.
Photos of the sedan reviewed by Zukauskas show that the sedan's windshield is cracked in two places on the passenger side, his reports says.
"Preliminarily, it does appear that (Correia) put up a struggle," Lelling said Sunday, adding it was not clear if the damage to the window was a result of that.
Lelling told reporters it appears Correia died due to blunt force trauma and strangulation.
When he was arrested, Coleman had "a large bandage on the right side of his face," Zukauskas wrote.
When asked about it, Coleman told a police trooper, "It's from the girl," the report states.
Friday, March 1
Coleman appeared in Justice of the Peace Court 11 in New Castle, Delaware, for arraignment as a fugitive from another state, court records show.
He was also formally charged in Rhode Island, although officials at the time said it was unknown when he would be brought back to appear in court there.
Sunday, March 3
Lelling announced federal charges against Coleman in Massachusetts during a press conference Sunday.
"The interstate kidnapping resulting in death is the most applicable charge and carries the highest possible sentence," he said when asked by a reporter why a murder charge had not been filed. "It's a mandatory life charge and a death eligible charge, so that seemed like the logical choice."
Lelling said investigators do not know for certain what Coleman allegedly planned to do with Correia's body.
Monday, March 4
Coleman appeared in federal court in Delaware Monday afternoon where he waived his right to detention and preliminary hearings there, according to a statement from Lelling's office.
He will be brought to Boston where he will face a judge at a date yet to be determined, officials said.