Crime
Worcester firefighter Christopher Roy died in a December fire. Now a man is facing a second-degree murder charge.
Authorities have announced charges, including second-degree murder, against Momoh Kamara, 21, of West Boylston.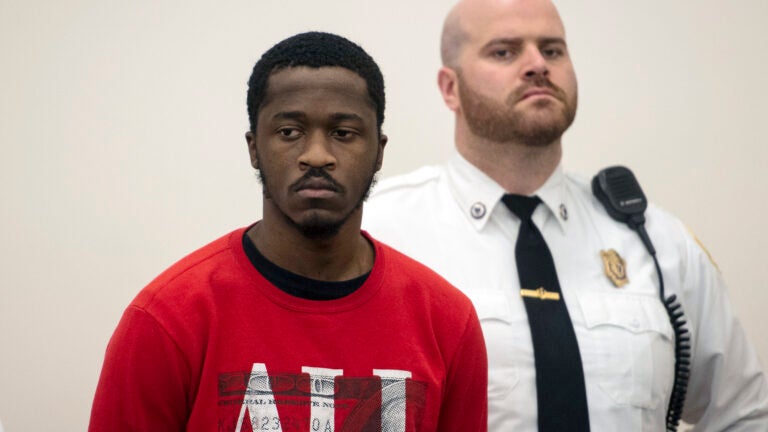 Early in the morning on Dec. 9, 2018, prosecutors say, Momoh Kamara called an Uber from his West Boylston home, traveled to Worcester, and deliberately set the 5-7 Lowell St. fire that would eventually claim the life of firefighter Christopher Roy.
And while Roy and other first responders rushed to tackle the blaze, Kamara, 21, allegedly fled the same way he came — calling for a car to meet him to shuttle him back home.
In the three months since, as a city and a family continue to come to terms with the loss of Roy, a single father of a 9-year-old daughter, a wide-ranging investigation came to a head last week with Kamara's arrest and grand jury indictment charging him with second-degree murder.
Worcester County District Attorney Joseph Early Jr. announced the charges Friday, telling reporters at a press conference local, state, and federal agencies worked in unison to build the case against Kamara and take him into custody.
"Great police work, great fire work, a great investigation, everybody working together, piece by piece, going where the facts led us, and that's what led us here today," Early said.
Kamara, arraigned Friday afternoon in Worcester Superior Court where he was held without bail, is also charged with arson of a dwelling, armed burglary, and malicious destruction of a motor vehicle, according to prosecutors.
Here's what we know about the case:
Roy died due to smoke inhalation, officials say
At approximately 3:58 a.m. on Dec. 9, a tenant of 5-7 Lowell St. called the fire department to report a blaze at the six-unit building, described by Assistant District Attorney Jeffrey Travers as essentially two triple-deckers.
Firefighters swept the building for people before working to suppress a raging fire in the basement. No injuries were reported from residents.
As one crew traveled into the depths of the 100-year-old structure, another group of six, Roy among them, headed for the second floor, Travers said in court Friday.
"Firefighters were confronted with low visibility and reports of a new active fire that was blocking egress through the front staircase, which they used to enter that building," Travers said. "Firefighters noticed that low air warnings were sounding on their air tanks. One firefighter reported he located a second-floor window at the front of the building and was assisted in getting out that window through the swift deployment of a pre-positioned ladder truck."
Four of the six firefighters were able to exit using that ladder, he said. Roy and another firefighter went to the rear of the building to get to a ladder there, but Roy wouldn't make it despite "intense and immediate layered rescue efforts," according to Travers.
Early told reporters Friday an autopsy performed on Roy's body showed he died from smoke inhalation and ruled that his manner of death was homicide.
Prosecutors say Kamara used Uber and Lyft to get to and from the house he set ablaze
Police collected footage from numerous surveillance cameras in the area to piece together Kamara's travels that morning, according to Travers.
One camera showed Kamara entering the Lowell Street apartment building at about 2:30 a.m. and later exiting it "within four to five minutes of the first responders arriving on scene" after 4 a.m., Travers said.
Investigators tracked Kamara's movements before the fire back to an area near Clark University, where he is seen on video exiting a vehicle, Travers said.
Authorities used the vehicle's registration information to identify the driver and obtain the driver's customer records, which showed he picked up someone in West Boylston.
Other videos showed Kamara was picked up in a Lyft vehicle around 4:30 a.m. after he left the Lowell Street building, according to Travers.
A search warrant was issued to obtain Kamara's bank records, which confirmed he paid for both ride-sharing businesses that morning, he said.
WATCH LIVE: Authorities announcing 'significant development' in probe of 5-alarm blaze that claimed the life of Worcester firefighter.

Posted by 7News – WHDH Boston on Friday, March 15, 2019
Kamara is a former resident of the building, officials say
According to prosecutors, Kamara, who lives with his mother on West Boylston's Hartwell Street, used to live at 7 Lowell St.
Travers said Kamara had been asked to leave at some point while he was living there after having some sort of disagreement with his roommates "over the disposition of property."
Officials have not stated a clear motive for Kamara in the case.
According to Travers, investigators from the federal Bureau of Alcohol, Tobacco, Firearms, and Explosives determined the fire was set in several places in the building's basement.
Early told reporters only that Kamara knew people in the building at the time of the fire and that the investigation remains ongoing.
Blake Rubin, Kamara's attorney, said Kamara had not lived in the building for months, according to The Boston Globe.
"This is clearly a circumstantial case as opposed to a case of direct evidence," Rubin said. "What I didn't hear was any forensic evidence, which I'm sure would completely change the character of this case."
Kamara, who was born in Sierra Leone, moved to Worcester around 2005, the newspaper reports.
Kamara has been held without bail
During Kamara's arraignment in Superior Court Friday, Judge William Sullivan ordered that he be held without bail at the state's request.
According to Rubin, Kamara, who pleaded not guilty, has no prior convictions and denies the allegations against him.
"He's obviously devastated by these charges." Rubin said, the Globe reports. "He's extremely upset."
Indictments charging Kamara with malicious damage to a motor vehicle stem from a March 23, 2018, incident in which Kamara allegedly slashed the tires and broke the windows of a 2005 Pontiac G6, according to the Globe.
Fire and police department officials said that the months since Roy's death have been difficult for the city, especially for his family.
"While we are heartened that Mr. Kamara will face justice, our department is still devastated by the loss of our brother firefighter Christopher Roy. The past three months have been extremely difficult for all of us as we continue to mourn his loss," Worcester Fire Chief Michael Lavoie said. "The Roy family remains in our thoughts and hearts as the investigation moves forward to the prosecution phase. We are humbled by their strength and courage."
Kamara is due back in court April 24.
https://www.facebook.com/7NEWS/videos/1703011673178504/