Crime
Man arrested on drug charges allegedly tells police they can keep money seized from underwear if they let him go
Adonis Armando Ruiz, 25, of Mattapan, allegedly had cocaine and marijuana when he was arrested.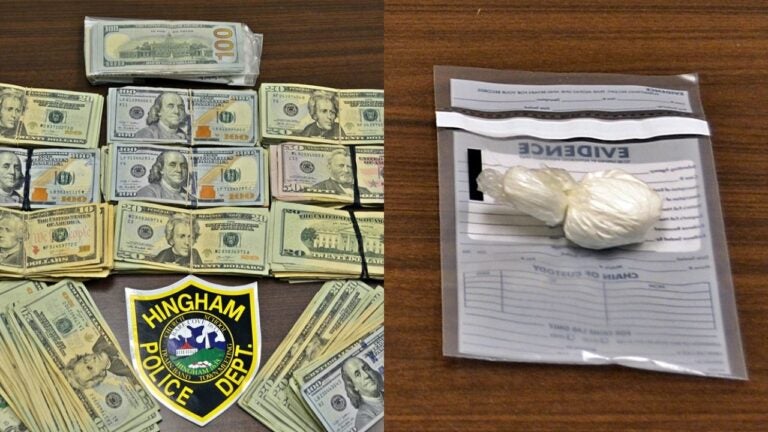 A Mattapan man accused of drug offenses allegedly told Hingham police they could keep the $9,000 in cash they found in his underwear if they let him go free after officers arrested him and were booking him at the police station.
Adonis Armando Ruiz, 25, was charged with possession of a class B substance (cocaine) with intent to distribute (subsequent offense), possession of a class D substance (marijuana) with intent to distribute (subsequent offense), operating under the influence of drugs — marijuana suspected, failure to obey a traffic signal, and a marked lanes violation, according to police.
Police stopped the Audi SUV that Ruiz was driving around 1:30 p.m. Saturday after an officer noticed the vehicle was stopped at a green light roughly five to six feet before the stop line and over the centerline, officials said; the SUV then allegedly pulled through a red light prior to the stop.
"The driver admitted to having smoked marijuana earlier in a parking lot but denied drinking," police said.
The driver underwent a roadside test, but failed, according to police. "The driver was unable to successfully complete the assessment, appeared lethargic and had difficulty focusing," police said. "Officers could see pieces of marijuana on the driver's floor, a rolled marijuana blunt in the center console and a partially open duffel bag on the rear seat with packages of gummies containing marijuana."
Along with the cash, police also found a bag of white powder they believed was cocaine, officials said.
"When the Officers removed the hidden cash from his underwear, the man told the Officers they could keep that cash if they let him leave," according to police. "The Officers removed a total of $9,000 in cash from his underwear. They found an additional loose $2,200 in cash in his pants pockets and another $1,428 cash in his wallet."
After police received a search warrant for the vehicle, they found three bags of marijuana in duffel bags, two cell phones, 200 small plastic baggies, boxes and packages of pot edibles, plus a digital scale, officials said. The cash police allegedly seized from Ruiz totaled $12,628, the cocaine weighed 16 grams, while the marijuana amounted to about 15 ounces. Police have asked the Registry of Motor Vehicles to suspend Ruiz's license.
https://www.facebook.com/hinghampolice/posts/2842877215938322?__xts__%5B0%5D=68.ARDvkMV62OfDYIxz3UmY9orjIdPA8Xix6cXvXw6Iy87VtDgyzzGnzMWiZyGCp1Z283Bs0WzItL_gAy7hNO0Z5liK-4OwjT01gESCfjsdCGgN8rTymQMH2ZP4ZYbebQXIIXRkvbVtvkBYC6ZVkP-LBc5eiEo-hlterhkY0jWJWTGe8eUWqMACBeEXH2yd6obFcue42NAgEYd-ubkhbI1xxU6-mXc9X2lj-KeY3XGMID7INxGXBzZQilj00aJzwWJmH_lUih8jelcB8NvoRQc1WEOVtUcuPdBbuWrw8JLJ9aF2mKSPGs1vZutyx0VS_fg52QxzLJ8tNYzHpqEkTy7fLv2UD6xa&__tn__=-R