Crime
Mass. truck driver charged in New Hampshire motorcycle crash that killed 7
Volodymyr Zhukovskyy, of West Springfield, was arrested at his home Monday morning, authorities said.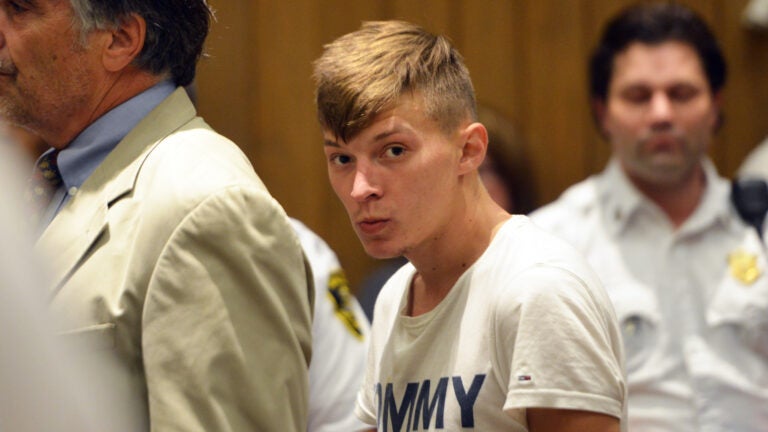 Authorities Monday arrested the 23-year-old driver of a pickup truck that collided with a group of 10 motorcycles in New Hampshire late last week, killing seven bikers and injuring three.
Volodymyr Zhukovskyy, of West Springfield, was taken into custody around 8 a.m. at his Newbridge Street home by the Massachusetts State Police Fugitive Apprehension Unit, according to a statement from the New Hampshire Attorney General's office.
An arrest warrant charging Zhukovskyy with seven counts of negligent homicide was issued Monday, officials said. He was arrested on a fugitive from justice charge based off the warrant, prosecutors said.
In Springfield District Court, Zhukovskyy waived extradition and was taken into custody by New Hampshire law enforcement officials. It was not immediately clear when he will appear in court again.
23-year-old Volodymyr Zhukovskyy has been arrested in connection to the crash that killed 7 people in New Hampshire. He is charged with 7 counts of negligent homicide. https://t.co/AcDz3jgMAx #boston25 pic.twitter.com/Mnndl56mKk

— Boston 25 News (@boston25) June 24, 2019
According to police, a 2016 Dodge 2500 pickup truck towing a flatbed trailer struck the bikers around 6:30 p.m. Friday on U.S. 2 in Randolph, New Hampshire. 
Officials said Zhukovskyy was traveling west and the bikers were heading east at the time of the crash, but authorities have not revealed details about a potential cause.
Zhukovskyy is an employee of Springfield-based Westfield Transport, according to the Associated Press. The company told a reporter Saturday that it's cooperating with investigators.
Zhukovskyy has multiple past infractions on his driving record, The Boston Globe reports.
According to files from the Massachusetts Registry of Motor Vehicles obtained by the Globe, he was arrested in June 2013 for operating under the influence in Westfield and his license was suspended.
He was later sentenced to a year of probation, with his license suspended for 210 days, according to a 2014 Westfield News report. 
Zhukovskyy was also involved in surchargeable accidents in April 2012 and June 2013; an equipment violation in June 2013; and an improper lane infraction as recently as February, the Globe reports.
In May, he was arrested in East Windsor, Connecticut, for alleged impaired driving, according to the newspaper.
On Monday, Zhukovskyy had his license suspended again, the Globe reports.
Zhukovskyy's criminal record includes a misdemeanor drug possession case last year, in which he pleaded guilty, as well as a 90-day suspended jail sentence in Connecticut stemming from a 2015 case of larceny in the sixth degree, according to the Globe.
His brother-in-law, who identified himself as Denis K., told the newspaper that Zhukovskyy "looked like a person who went through hell" in the days after the crash.
"The only person he talked to was his mom and his dad," he said. "They just prayed together. His mom was trying to calm him down."
According to Denis K., Zhukovskyy received his commercial driving license less than a year ago and was a new driver for Westfield Transport.
Company owner, Dartanyan Gasanov, told the Globe he could not reach Zhukovskyy over the weekend.
"He's still not answering my phone calls," Gasanov said Monday, before news of Zhukovskyy's arrest.