Crime
A unit dedicated to cold cases was established in the Middlesex DA's office. Here are 3 cases being looked at.
"We never give up on these cases."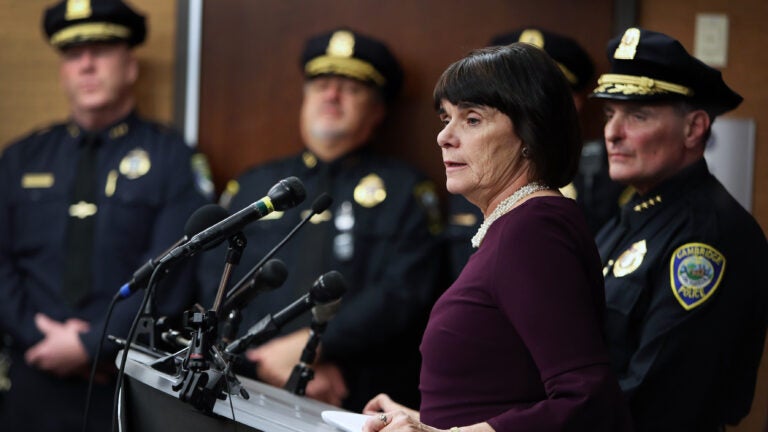 Last year, the Middlesex District Attorney's office brought to close the nearly 50-year-old homicide case of a 23-year-old Harvard graduate student, Jane Britton, who had been found dead in her Cambridge apartment in 1969. The murder was the oldest unsolved case for the county, and Middlesex District Attorney Marian Ryan told Boston.com being able to bring it to a close encouraged her to "finally make a decision" about creating a unit in her office dedicated to solving cold cases. 
In March, Ryan launched the new initiative, which is being helmed by former county prosecutor Dave Solet. The "Cold Case Unit" within the Middlesex District Attorney's office will examine unsolved homicides, missing person cases, and suspicious deaths where foul play is suspected.
"It's terrible to lose a family member or a loved one to a homicide or to have them disappear and you don't know whether they're dead or alive … that is traumatic and terrible enough on its own," Ryan told Boston.com of the unit's creation. "But then to never really know what happened — what their last hours might have been like, how were they targeted, was that random — those are the kind of things that we know really haunt loved ones. And it's our hope to be able to get to a point of knowing what happened and knowing who was responsible. And then, obviously if that person is still alive, to hold them accountable for what happened, to charge them, have that case go to trial."
Prior to the formation of the unit, the district attorney said prosecutors always continued to work on the "uncharged cases," pointing to her own experience working for 21 years on the murder of 32-year-old Patricia Clark, who was stabbed to death in 1985 and discovered on the floor of her Lowell apartment by her 11-year-old daughter. 
It wasn't until 2005 that evidence led to the arrest of Walter Emeny, with his conviction for first-degree murder following in 2007. 
"We have always done that, and we are fortunate to have a lot of attorneys with a lot of experience handling homicide cases that have those cases, who are always thinking about that," Ryan said. "But this is a big busy office. We handle about 35,000 [active] cases a year. So as in many situations, obviously you're working on those things, but you're also working on whatever's coming in the door every day. So it's harder to keep those cases moving forward."
The Cold Case Unit will be Solet's only focus, she said. 
Since the unit's launch, those assigned to it have been capturing an inventory of all the cases from the county's 54 cities and towns and looking over to make sure the office has applied all the latest investigative techniques and technology. 
Ryan estimated there are between 120 and 150 cases assigned to the unit. 
"We never give up on these cases," she said. 
If the new unit determines that no other steps can be taken forward in an investigation, prosecutors will make a file of the case public and available to the family of the victim. But even at that point, the case is never closed by the office, Ryan said.
"We could make a decision that a case is X years old, we've hit the end of the investigative leads that we had, and we are therefore prepared to release to the family and the public a treasure trove of documents about that case," she said. "Two weeks from now we could get a phone call that would get us a confession from someone or something like that and that case would instantly get activated again."
Below, three cases that are being looked at by the new Cold Case Unit. Anyone who believes they have information pertaining to the cases should contact state police detectives working with the DA's office at 781-897-6600.
Charlene Holmes

June 3, 2012, in Cambridge
Sixteen-year-old Charlene Holmes was shot and killed outside 34-36 Willow St. in Cambridge on June 3, 2012. The student at Cambridge Rindge and Latin High School was walking down a street near her home when she and another teen, a 17-year-old girl who was sitting on the porch of the residence, were shot in an apparent drive by shooting around 8:02 p.m. 
Holmes was pronounced dead at the hospital, while the 17-year-old survived her critical injuries.
Neither of the girls are believed to have been the intended target in the shooting, according to the DA's office. 
In the days after the shooting, Holmes's brother, who was 18 at the time, told The Boston Globe his sister loved fashion design and was planning for a career in the field. 
"Why would you want to kill an innocent 16-year-old girl? She had a future, and she never caused trouble," Kenyatta Holmes told the newspaper. 
At the time of the shooting, Holmes was walking home with her older sister, Shontae, when they stopped to talk to a friend sitting on the porch, according to the Globe.
"Joy. Nothing but joy came from this person," Cheryl Hall told the newspaper in 2017, speaking about Holmes. "She was the light of everything."
Hall, a neighbor of Holmes's, told the newspaper that she still remembered running to the teen after the gunshots sounded and held the girl's hand. 
The shooting occurred across the street from Donnelly Field, where softball and baseball games were being played at the time, meaning there were multiple people, besides those sitting on the porch, in the area. 
"We have interviewed numerous people, and it is possible that one of those people may have seen or heard something or may be able to identify the person or persons involved," the DA's office said in a recent statement to Boston.com. "We believe, should members of the public come forward, this case can be solved."
Anyone who believes they might have seen something or who recognizes the black, four-door sedan, which was seen circling the block in the moments before the shooting, is urged to contact authorities. 
On the 5 yr anniversary of the fatal shooting of Charlene Holmes we are asking the public's help. Call State Police (781) 897-6600 w/ info. pic.twitter.com/ZiyF2frio0

— DA Marian Ryan (@DAMarianRyan) June 3, 2017
Charline Rosemond

 April 7, 2009, in Somerville
Charline Rosemond had been missing for six days when her body was found on April 13, 2009, in a car parked behind 10 Webster Ave. in Somerville. 
"We believe that this case is solvable," the DA's office told Boston.com.
Rosemond's sister, Roserlie, told Boston 25 News earlier this year that her sister normally took the T each day to Brighton for work, but the day she went missing, April 7, 2009, was different. 
On that day, the 23-year-old left the home she shared with her parents in Everett around 7 a.m. in her father's car, according to the DA's office. She was last seen driving the gray Honda Civic around 5 p.m. when she left the Herb Chambers car dealership where she worked in Brighton. 
According to the DA's office, the 23-year-old had told her mother and a friend on the day that she went missing that she was going to buy a Lexus and had $4,000 in cash on her for that purpose. 
When she didn't return home, her parents and her then-21-year-old sister, Roserlie, reported her missing on the morning of April 8.
On Monday, April 13, around 6:30 p.m., Somerville police reported they'd found the vehicle. According to the DA's office, it is believed Rosemond was killed on or about April 7 with a single gunshot through the back of her head. 
"We believe that Charline Rosemond was set up, robbed and killed all because she wanted to purchase a car," the DA's office said in a recent statement. "Charline was the victim of a senseless and tragic crime."
10 years later, the family of Charline Rosemond is still looking for answers to solve the murder of Charline. If you have information about this murder, Pls contact Sgt. M.Perrone at 617-625-1600 Ext. 7237 & DA Office 781-897-6600. Pls help bring closure to the Rosemond Family. pic.twitter.com/dZA2LnAkZh

— SomervillePolice (@SomervillePD) May 21, 2019
Rosemond's sister told Boston 25 that 10 years later, she is still angry about her sister's death and committed to identifying the people responsible for killing her. 
"Charline didn't deserve to be killed, " Roserlie told the station. "She didn't deserve to be robbed. She didn't deserve any of it."
New NEUnsolved: The Murder of Charline Rosemond.
Young Everett woman found dead in her father's car in Somerville. I covered this case 10 yrs ago when it happened. Heartbreaking. Tonight @boston25 10P#truecrime pic.twitter.com/U1YpQfcui0

— Bob Ward Boston 25 (@Bward3) May 11, 2019
Mary Joe Frug

April 4, 1991, in Cambridge
Mary Joe Frug, a 49-year-old mother of two and professor at the New England School of Law, was walking on Sparks Street in Cambridge a short distance from her home when she was stabbed by an unknown attacker around 8:55 p.m. on April 4, 1991. 
The DA's office said Frug was able to flag down a driver who was able to call 911 for her after the attack. The 49-year-old was transported to Mount Auburn Hospital where she was pronounced dead. 
An autopsy found the professor and respected feminist scholar had been stabbed five times in "various areas of her body," according to the DA's office. 
"In the time since the murder of Mary Joe Frug, the Middlesex District Attorney's Office has continued to examine evidence and follow up on people described by witnesses who saw things in the area before and after the murder," the DA's office said in a statement to Boston.com. "We also continue to look into factors personal to Ms. Frug and her family. Although to date we have been unable to identify who killed Frug or what the motive may have been, we continue to try to answer those questions."
According to the Globe, Frug's purse was left behind in the attack. 
#TBT: Mary Joe Frug joined our faculty in 1981 and was a major contributor to a new curricular focus on women's issues in the law. Sadly, Frug was killed by an unknown assailant in 1991. She is remembered today for the great impact she had on our community #WomensHistoryMonth pic.twitter.com/eLrRZishEz

— New England Law (@newenglandlaw) March 28, 2019
Witnesses told authorities they'd seen a 5'10″ to 6'0″ white man, then in his late teens or early 20s, with brown hair, running from the scene down Brewster Street to Appleton Street, the DA's office said. The man was wearing dark clothing and high-top sneakers. 
 The murder weapon — an 11-inch military knife — as well as shoe prints, were recovered by authorities. Plaster casts of the prints were made, according to the DA's office.
"A team of investigators requested the victim's class records from the New England School of Law to determine if she had any problems with any current or previous students," the DA's office said. "An extensive investigation was initiated into the backgrounds of the victim and her family, including financial records and professional affiliations. Friends, relatives and colleagues were [interviewed] extensively for clue to a motive."
Her husband, Gerald Frug, wrote in the introduction to a special edition of the New England Law Review that was published on the 25th anniversary of his wife's death and celebrated her work that there was no such thing as closure following the "horrifying event" of his wife's slaying. 
"The murder left a permanent wound, one that our children and I had to learn to live with," he wrote. "That process takes a very long time. It is still ongoing."
While several anonymous tips came in, they did not lead to anything substantial, according to prosecutors. 
"Although to date we have been unable to identify who killed Frug or what the motive may have been, we continue to try to answer those questions," the DA's office said.