Crime
North Andover woman facing federal charges on allegations she provided illegal butt injections for years, endangering clients
She's accused of injecting her clients with silicone oil, which has been linked to multiple injuries and deaths.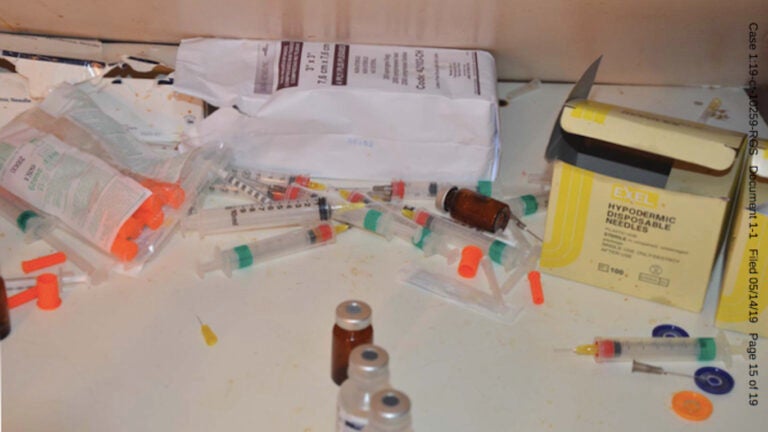 A 71-year-old North Andover woman is facing federal charges after a sting operation allegedly found she's been performing illegal buttock injections for years.
The following allegations are according to court documents filed by the Food and Drug Administration's Office of Criminal Investigations.
The case began in May 2016, when special agents from the FDA searched the Miami business of another woman, Irina Angel. They seized a slew of items related to unlicensed cosmetic procedures, including silicone fillers and other products for dissolving fat and filling wrinkles.
Agents also found records that indicated Angel had sent 16 priority mail packages to Lawrence, Massachusetts, over the previous year. All 16 were addressed to Gladys Araceli Ceron.
The FDA would later allege that Ceron had been performing illegal injections from the attic of a Grafton Street building for 15 years.
The agency paid an informant to pose as a customer of Ceron and record their conversations. Ceron told the informant she performed cosmetic procedures such as buttock enhancements and facial injections. On a recorded phone call, she said she could provide injections for the face, legs, and buttocks.
The informant used a hidden camera to record her consultation with Ceron in May 2018. In the footage, court documents say, Ceron leads the informant up to the attic of her business and takes them to a back room.
The recording also shows vials of unknown substances, syringes, cotton balls, and examination gloves.
Ceron told her faux customer she charges $60 for each wrinkle-filling injection and $500 for each buttock injection. She later told investigators the price is actually $800 per buttock for a total of $1,600.
After her business was searched, Ceron told FDA agents she had been purchasing her buttock injection materials exclusively from Angel for eight years. She said the clear liquid in her procedure room contained "hyaluronic acid and something else" and then said the material "probably is silicone."
A lab determined the liquid in most of the bottles was silicone oil. The agents also found syringes full of the anesthetic lidocaine.
The FDA issued a warning in 2017 saying silicone oil could block blood vessels, causing stroke or death. The oil can also harden, creating a gravel-like substance that stays under the skin forever. The substance is not FDA-approved for any kind of body enhancement, and the agency has recorded multiple deaths associated with its use.
Two Boston-area witnesses reported that Ceron told them the material they were being injected with was hyaluronic acid, a legal substance often used as a lip or wrinkle filler.
One of the witnesses told officials they paid Ceron around $300 for facial injections that later hardened. A medical specialist told them it would cost $4,000 to remove.
The other witness told agents Ceron said the injections were safe and showed them what she said was a medical certification to perform them.
Ceron was indicted Thursday on four counts of delivery for pay of an adulterated or misbranded medical device received in interstate commerce with the intent to defraud or mislead. She was also charged by criminal complaint in May and will appear before a federal judge in August.
She could face up to three years in prison, three years of supervised release, and a fine of $250,000, according to the U.S. Attorney's Office.