Crime
Here are the extortion allegations against Fall River Mayor Jasiel Correia
"In many ways, it's the perfect storm for corruption."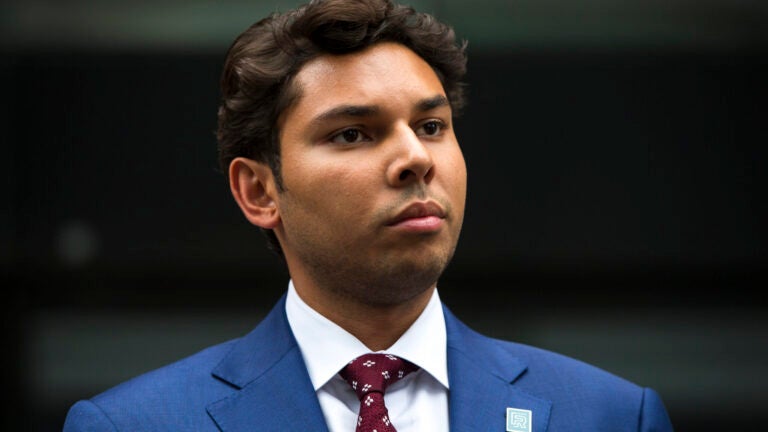 For the second time in less than a year, federal authorities arrested Fall River Mayor Jasiel Correia II on Friday amid new allegations the 27-year-old extorted hundreds of thousands of dollars in bribes from prospective local marijuana vendors with the help of close associates.
Prosecutors say Correia used his office to squeeze cash out of marijuana businesses looking to open in the city, granting them the non-opposition letters they required to operate their stores in exchange for hefty sums of cash, between 2016 and 2018.
At other times, he extorted a building owner for cash and a "Batman" Rolex watch in exchange for city permits and assistance with activating the water supply to a private property, officials say. Correia also demanded his chief of staff give him half of her $78,780 salary in order for her to keep her job, an indictment unsealed Friday in Boston Federal Court alleges.
"Despite Mayor Correia's public assurances to the City of Fall River, based on today's indictment, he has essentially run that town as a pay-to-play institution," Massachusetts U.S. Attorney Andrew Lelling said at a press conference Friday.
The 11 charges — which include extortion conspiracy and bribery — compound on other allegations brought last year against the young Democrat, who prosecutors allege defrauded investors in his SnoOwl mobile app and filed false tax returns.
In total, Correia, arrested at his home Friday morning, now faces two dozen charges in federal court.
Authorities have also charged several of his alleged co-conspirators, including his former chief of staff, Genoveva Andrade, 48, of Somerset, who was arrested in Boston Friday for extortion conspiracy, extortion, theft and bribery, and false statements, according to Lelling's office.
Antonio Costa, 51, of Fall River, Hildegar Camara, 58, of Fall River, and David Hebert, 54, of Westport, were each charged separately in informations with extortion, extortion conspiracy, and false statements "in connection with subsequent false statements to federal agents about their roles in assisting Correia obtain money and property from marijuana vendors," Lelling's office said in a statement.
All three will accept plea agreements, court records show.
Correia was arraigned Friday afternoon and pleaded not guilty to all charges.
"I've done nothing but good for the great City of Fall River … and I'm going to continue to do great things for our city and that's all I have to say," he told reporters outside the courthouse.
@fallriver_ma Mayor Jasiel Correia addresses the media after being arraigned for allegedly extorting marijuana shops. pic.twitter.com/tZk6GEwFWK

— Stefan Geller (@StefanGeller) September 6, 2019
Correia was released on a $250,000 bond and is required to pay 10 percent of that amount by Tuesday.
His attorney, Kevin Reddington, said Correia looks forward to taking the case to trial.
Andrade, who stepped down from her post in December to become Correia's campaign manager, also made an initial appearance in court Friday and was released on a $150,000 bond.
Genoveva Andrade here for initial appearance, Correia's chief of staff. She's charged with extortion, extortion conspiracy, theft and bribery, & false statements. She will not be held. Conditions: $150k unsecured bond, restricted travel to MA & RI, no contact with victims. @ABC6

— Amanda Pitts (@APittsABC6) September 6, 2019
The charges, which come six months after Correia was recalled and re-elected as mayor on the same night, also arrive on the heels of another controversy for Correia, who was criticized last month for awarding two of the 14 non-opposition letters he has issued to date to his girlfriend's brother.
"The optics are poor by those that are detractors, but the reality is there's nothing wrong with what we did," he told The Boston Globe at the time. "I wouldn't do anything that I feel puts Fall River in a bad light because of the scrutiny and microscope that I'm currently under."
Here's are the allegations against Correia:
Correia took 'between $100,000 and $200,000 in cash, campaign contributions and mortgage discharges' from marijuana vendors, officials say
As Fall River's chief executive, Correia has the responsibility of issuing non-opposition letters to prospective marijuana businesses — a necessary step in making any retail shop or medical dispensary a reality.
The letters essentially state that each proposed facility's location is in a permissible zoning district and that the location has been verified by the mayor, officials said.
Business owners must also negotiate a host community agreement with the city in which a company agrees to give the government up to three percent of its total sales and an annual payment of up to $50,000
"The system under which the local head of government has sole and complete discretion in the granting of non-opposition letters, I think it's easy to predict that would be an area that would invite this kind of petty corruption, and that's something that we're concerned about," Lelling told reporters.
Joseph Bonavolonta, special agent in charge of the FBI's Boston branch, said the three-year investigation "brought to light certain revelations of the marijuana industry in Fall River."
"In many ways, it's the perfect storm for corruption," he added.
In the superseding indictment unsealed this week, authorities allege Correia extorted at least four marijuana vendors starting in July 2016.
While arrangements with each business varied, prosecutors say Correia scooped up "between $100,000 and $200,000 in cash, campaign contributions and mortgage discharges — in return for non-opposition letters and host community agreements," according to Lelling's office. "Marijuana was also exchanged for resale."
"In one instance, the vendor agreed to have his friends and family make donations to Correia's mayoral campaign, amounting to over $12,000," Lelling said. "In another, Correia allegedly simply showed up at a vendor's place of business with his chief of staff and asked for $250,000 in exchange for a non-opposition letter."
According to the indictment, when the vendor asked why the payment was so expensive, Correia allegedly said the money was for his legal fees. After the price was negotiated, Andrade allegedly told the vendor, "You're family now," files show.
Correia also said he would halve the company's $50,000 host community agreement payment if the company gave Correia another $25,000 on top of their negotiated $150,000 bribe, prosecutors allege.
"Several days later, on or about July 5, 2018, Correia came to (the vendor's) business in his official vehicle and instructed (the vendor) to get inside," the indictment says. "Once inside, (the vendor) gave Correia $75,000 in cash in a contractor's clipboard. Upon receiving the cash, Correia handed (the vendor) a non-opposition letter."
Correia got a Rolex watch and cash for activating the water supply to a commercial building, prosecutors allege
In January 2017, Correia was given a "Batman" Rolex watch — a reference to its blue and black bezel — valued between $7,500 and $12,000 by a Fall River property owner and friend of Correia that prosecutors refer to as "Middleman #1."
Authorities allege the watch was compensation for Correia "directing Fall River public employees to approve and pay for permits and excavating work to activate the water line for the sprinkler system at Middleman #1's commercial property," Lelling's office said.
In July 2017, Correia's campaign, which rented office space from Middleman #1 at another location, provided Middleman #1 with a $3,900 check for rent and in turn received the money back in cash, according to the indictment.
"Middleman #1 understood that this cash payment to Correia was a part of the stream of benefits he agreed to pay to Correia in exchange for favorable officials action and assistance from the Mayor," the indictment says.
About two months later, the excavator who completed the work was paid $7,950 by the City of Fall River, prosecutors said.
Correia allegedly required his chief of staff to kick back half of her salary to him
In November 2017, Correia brought on Andrade as his chief of staff with a salary of approximately $78,780 for a one-year term, officials say.
But in exchange for doing so, the two agreed Andrade would kick back half of her salary, while also receiving a $10,000 city-funded "snow stipend" that Correia planned to kick back to her, the indictment says.
Ultimately, Andrade gave back much of the stipend to Correia as well as her paychecks — a pattern that lasted eight months, according to the indictment.
In August 2018, when she met with a marijuana vendor who was upset at her that Correia also gave a non-opposition letter to a nearby business, she said, "in sum and substance, 'That's bull****, there are lots of sleazy things the mayor has going on," the indictment says.
"You want to hear something even more f***** up … I have to give (Correia) half of my salary," Andrade allegedly added.
Lelling, whose office has brought two high-profile corruption cases in the last three weeks alone, said prosecutors will continue their investigation in Fall River.
"If you're looking for a theme there is one: Public officials even in seemingly minor roles can have tremendous power over the lives of private citizens," he said. "If you have that power and you use it to exploit private citizens or to line your own pockets, we will prosecute you."