Crime
A BC student killed himself the day of his graduation. Now his girlfriend has been charged with manslaughter.
"She was aware of his spiraling depression and suicidal thoughts brought on by her abuse. Yet, she persisted."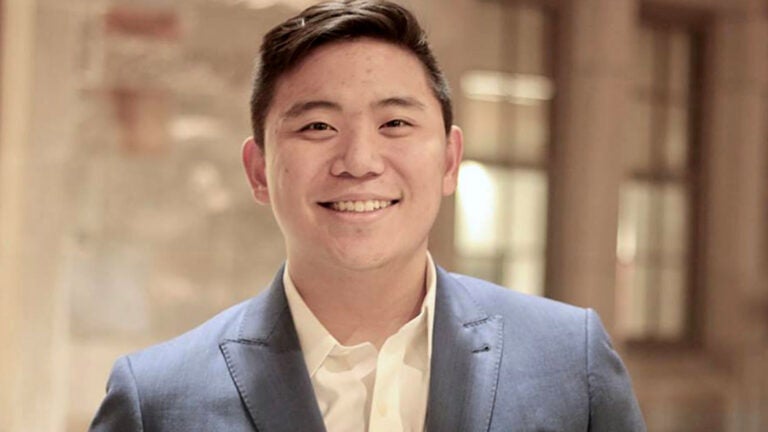 Alexander Urtula's family had traveled up from New Jersey this past spring to watch the 22-year-old receive his diploma from Boston College.
He never made it to the stage.
Roughly 90 minutes before the May 20 commencement ceremony, Urtula killed himself. Now, prosecutors are charging his girlfriend, a 21-year-old from South Korea and then-fellow BC student, in his death.
Suffolk County District Attorney Rachael Rollins announced involuntary manslaughter charges Monday against Inyoung You, after she said investigators found evidence that You was "physically, verbally, and psychologically abusive" toward Urtula during their 18-month relationship — and that the "abuse became more frequent and more powerful, and more demeaning, in the days and hours leading up to" his death.
The "barrage" of tens of thousands of text messages allegedly included numerous instances in which You urged Urtula to kill himself, evoking another recent texting suicide case in Massachusetts. But in this case, Rollins said the abuse was witnessed by their classmates and family. You was allegedly even present when Urtula leapt to his death from the roof of the Renaissance Parking Garage by Northeastern's campus.
"The investigation revealed that Ms. You used manipulative attempts and threats of self-harm to control him," Rollins said during a press conference in Boston. "It also found that she was aware of his spiraling depression and suicidal thoughts brought on by her abuse. Yet, she persisted."
Rollins told reporters Monday that Urtula and You exchanged more than 75,000 texts during the two months leading up to his death. She estimated that You explicitly told Urtula to kill himself hundreds, if not thousands, of times.
"There were many, many instances in which she instructed him to do so," Rollins said.
According to Boston College officials, Urtula had completed his coursework last December and had begun work at a New York hospital, but returned to Boston for his school's Monday morning commencement ceremony in May. Rollins said Monday that his family was in town to see Urtula — a biology student and native of Cedar Grove, New Jersey — walk across the stage at the 10 a.m. event. However, they learned of his suicide plan through a "series of correspondences" while waiting for him to arrive, she said.
Caitlin Grasso, an assistant district attorney in Rollins's office, said Monday that You had used her iPhone to track Urtula's location and was on the roof when he jumped around 8:30 a.m. MBTA Transit Police Superintendent Richard Sullivan personally responded to the tragedy at the time.
Rollins said Urtula's family is asking for privacy, but released a photo of the couple. In a letter to the BC community at the time of his death, the school said Urtula was "a gifted student who was involved in many activities while at BC, including the Philippine Society of Boston College."
According to Rollins, the text messages sent by You — 47,000 over the course of the two months — revealed that she had an "understanding that she had complete control over Mr. Urtula, both mentally and emotionally." She was indicted by a Suffolk County grand jury on Oct. 18. Rollins said the indictment alleges You's behavior was "wanton and reckless" — referring to the legal threshold for a manslaughter conviction — and created life-threatening conditions that she "had a legal duty to alleviate, which we allege she failed to do."
Rollins said more details would be presented at an arraignment. However, when that will happen remains unclear, as You is currently back in South Korea. Rollins said her office has been in contact with someone representing You in the hopes that she will voluntarily return to face trial, but is prepared to escalate efforts to secure her return.
"If she does not, we will utilize the power we have to get her back," Rollins said, adding that there are "a number of ways" to seek You's extradition from South Korea, as well as the possibility of issuing an Interpol Red Notice requesting her arrest.
Rollins said her office is "cautiously optimistic" that You will return on her own. But either way, she said prosecutors are "moving forward with this case."
The charges echo the case against Michelle Carter, the 23-year-old Plainville woman serving a 15-month sentence for pressuring her then-boyfriend, Conrad Roy III, over the phone to follow through on his plan to take his own life in 2014. Carter was convicted of involuntary manslaughter in 2017. Earlier this year, the Massachusetts Supreme Judicial Court upheld the ruling, determining that her actions met the legal threshold of "wanton and reckless conduct."
Carter's lawyers are currently appealing the decision to the U.S. Supreme Court, and Massachusetts lawmakers are considering legislation to make suicide coercion a crime punishable by up to five years in prison.
Rollins acknowledged Monday that there are similarities between the two cases; both occurred in Massachusetts and allegedly consisted of emotionally abusive behavior by a girlfriend. That said, she noted that, unlike the new case, there was "very limited physical contact" between Carter and Roy leading up to his suicide in a parking lot in Fairhaven.
"We have — quite frankly, I would say — the opposite of that," Rollins said. "We have a barrage of a complete and utter attack on this man's very will and conscious and psyche by an individual to the tune of the 47,000 text messages in the two months leading up and an awareness, we would argue, of his frail state at that point."
Rollins added that the tragedy is an example of a "systemic" domestic violence epidemic that "does not discriminate" when it comes to age, economic status, sexual orientation, gender, race, religion, or nationality — and that manifests in both physical and nonphysical ways.
"Domestic violence is not perpetrated by one type of abuser; a perpetrator is not limited by their gender, or the gender or their partner," she said. "Domestic violence may not always look the same, but it's always about power and control."