Crime
Four arrests 'related to sexual conduct for a fee' at four Watertown massage parlors
Authorities said they did not find any evidence of human trafficking at the spas.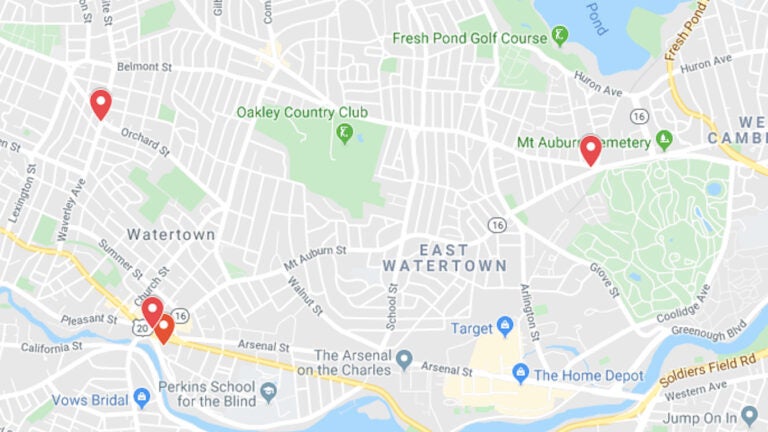 Four people were arrested Friday at four different massage parlors and spas in Watertown, according to police. All are reportedly facing charges "related to sexual conduct for a fee."
Detectives from the Watertown Police Department teamed up with the FBI's child exploitation and human trafficking task force to conduct an undercover investigation of the massage parlors.
"The goal of the operation was to identify establishments that do not comply with local, state and federal regulations, as well as to identify potential minor and adult victims of human trafficking," a statement from police said.
Authorities did not find any evidence of human trafficking, according to the statement.
The following face charges:
Worarat Soontronwatee, 30, of Malden, arrested at Season Therapy and Spa, 12 Belmont St.
Sandy Ferchiou, 51, of Boston, arrested at Sukhothai Wellness Spa, 8 Riverside St.

 

Jifen Zuo, age 46, of Arlington, Pennsylvania, arrested at Nuu Spa, 2 Mount Auburn St.
Xunlan Zhang, age 38, of Flushing, New York, arrested at Orange Tree Body Works, 220 Waverley Ave.
https://www.facebook.com/WatertownPoliceDepartment/posts/10157756210037250?__xts__[0]=68.ARCIaxXK9lYVsR83xyMMbztMUIyKbwaNYZRpOrkggztEFq5IdaVHqonlmtfsvsV9yJB_DN8-l48FbAchU2a_0ZLwYFVy846zDEqzUL-gvH68A_Vey2OJT1JHJEw_lYOuyONPX8A2j8PxH6fYDwAkKq82UGbgqgM6j8lYJfdbD1VT7ypDAobXrSNHw508rVVMdweORebUidN-tKMsxkyMTZ0O0bstAiIYeaob7D6pcwPEB_jeR9tBcd4dmAx4DGLcpEpxYcHW1_DFfLpVwy8_pNBnc4KgWeK9OaPN78O7TFTJ-p6SF_OO3nryacX2UBw_qXW7AajEKKlZJrFa4O6X&__tn__=-R