Crime
Revere man sentenced to life in prison for murdering his wife
"The only thing that gives me peace of mind is knowing that Andrew is behind bars."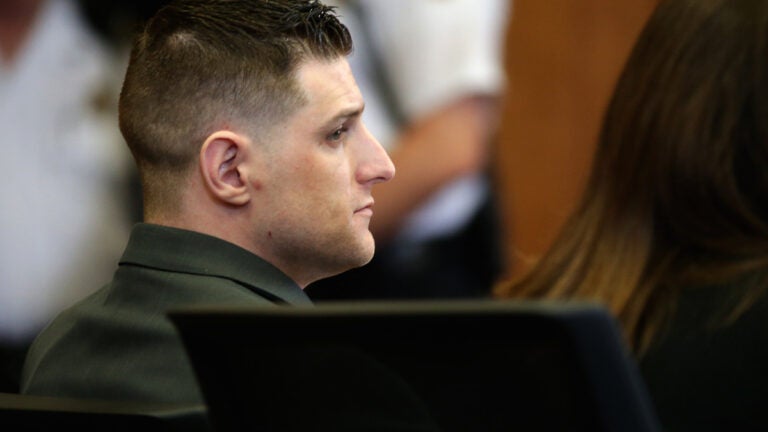 A Revere man was sentenced to life in prison Monday for murdering his wife, a 30-year-old Lynn elementary school teacher, in their home in 2017.
Andrew MacCormack, 31, was sentenced in Suffolk Superior Court after a jury found him guilty last month of killing his wife, Vanessa Masucci, The Boston Globe reports.
MacCormack was convicted of first-degree murder, a charge with a mandatory life in prison sentence without the possibility of parole, according to the newspaper.
"She was my only sister and my best friend," Angela Masucci said of her sister in court Monday. " … The only thing that gives me peace of mind is knowing that Andrew is behind bars."
At trial, prosecutors said MacCormack strangled, beat, and stabbed his wife on Sept. 23, 2017, before calling 911, all while the couple's 1-year-old daughter was in another room.
"Andrew did not just murder my daughter," Karen Masucci, Vanessa Masucci's mother, said Monday, according to the Globe.
She told the court who MacCormack killed was also a sister, niece, friend, and a mother.
Still, MacCormack, whose lawyer had maintained his innocence in the case, said he "sure as hell" did not kill his wife, the newspaper reports.
"I will not rest until this injustice is corrected," MacCormack said. " … Vanessa, I know you are turning over in your grave right now."
"I did not murder her." Andrew MacCormack addressed the court claiming his innocence before being sentenced to life in prison for the stabbing death of his wife Vanessa . Her family shared in court how Vanessa's murder has changed their lives. https://t.co/U6kR3x2G9r #Boston25 pic.twitter.com/IFjWqf2XQF

— Boston 25 News (@boston25) December 2, 2019
Suffolk County Assistant District Attorney Ian Polumbaum told the jury last month that MacCormack committed the murder after stealing from his wife to support his cocaine habit, amid other problems he inflicted on their relationship.
Months before her murder, Vanessa Masucci sent MacCormack a text message that said she felt like she was "at the end of my rope in this marriage" and later told him she had plans to sell their home and said he should "look into divorce lawyers."
Officials said MacCormack cleaned the crime scene with bleach. "Not even a speck" of his wife's DNA was found on him, despite him saying he checked her body when he discovered her, Polumbaum said.
Since her death, authorities have asked media outlets to use Vanessa Masucci's birth name, although initial reports identified her by her married name, the Globe reports.
John Hayes, MacCormack's attorney, told jurors that his client was not a good husband, but insisted he did not kill her.
Physical evidence could not place MacCormack at the scene and his client did not have any injuries that would have come from the confrontation, Hayes said.
According to the Globe, MacCormack's conviction will be automatically looked over by the Supreme Judicial Court.