Crime
Man found guilty of killing 2 doctors in their South Boston condo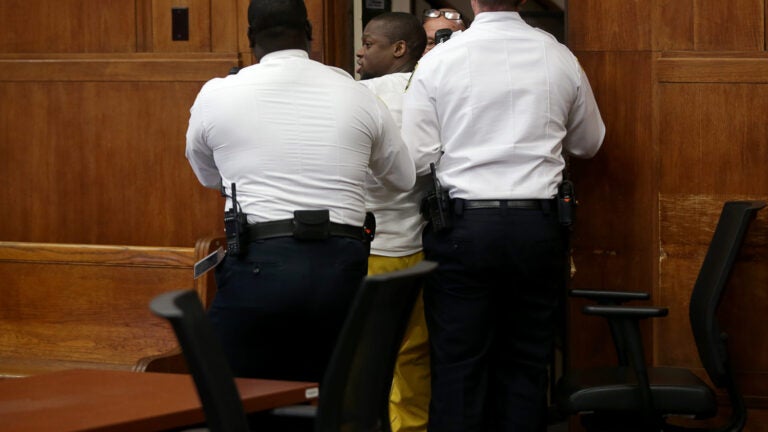 Bampumim Teixeira was found guilty Tuesday of killing doctors Richard Field and Lina Bolanos in their South Boston condo in May 2017 after a trial that stretched on for several weeks.
A jury convicted the 33-year-old of all the charges he was facing, including two counts of first-degree murder, as well as counts of kidnapping, armed robbery, and armed home invasion.
He's set to be sentenced on Friday and is facing life in prison without the possibility of parole.
Teixeira was not in the courtroom when the jury presented the verdict Tuesday afternoon — an outburst, his second of the day, led court officials to remove him.
"Do you want to know his last words?" Teixeira can be heard saying, surrounded by court officials, in a video of the incident.
Earlier in the day, Teixeira was pulled from the courtroom when he appeared to address prosecutor John Pappas, a Suffolk County assistant district attorney.
"Hey, yo, Pappas, you better hope I never get out of jail," Teixeira can be heard saying moments before he's pulled from the room.
"You better hope I never get out of jail." The man accused of killing two South Boston doctors in their condo had an outburst in court directly addressing Suffolk County ADA John Pappas. https://t.co/1MZ4ptYeXl #boston25 pic.twitter.com/acBRD0nQ5R

— Boston 25 News (@boston25) December 10, 2019
District Attorney Rachael Rollins had said in a statement that she was reviewing the initial outburst to see if additional charges would be brought against Teixeira.
During the three-week trial, the jury heard from witnesses, including Matthias Heidenreich, who received text messages from Field, telling him there was a gunman in the home. There was also a recording of a 911 call that Bolanos made before she was killed. Field and Bolanos, who were engaged and both anesthesiologists, were stabbed to death.
Teixeira, who had previously worked as a concierge in the condo building, claimed he killed Field in self-defense, and that he and Bolanos were having an affair. He said Field stabbed Bolanos when he returned home, and that he then, in turn, stabbed Field. Pappas reportedly called Teixeira's claims "utterly absurd and ridiculous."