Crime
A well-known surgeon allegedly confessed to killing his wife. Here's what we know about the case.
Kathleen McLean, 45, was found dead in a pond near her Dover home. Ingolf Tuerk, 58, is now charged with murder.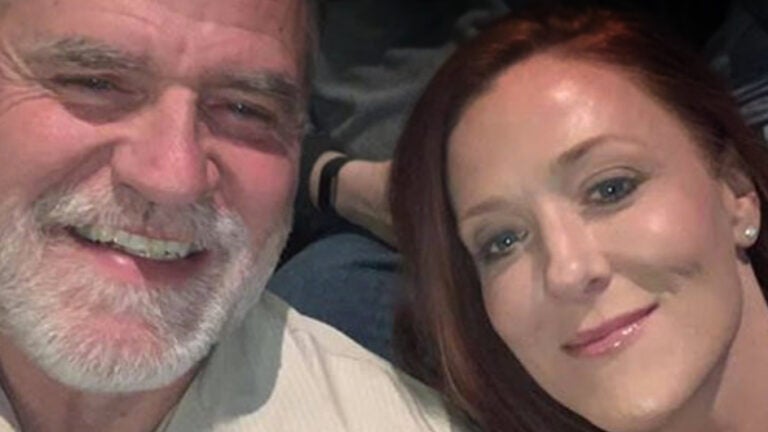 Just after 4:30 a.m. on Friday morning, a friend of Kathleen McLean and her husband, Ingolf Tuerk, received a text message from Tuerk: "I am sorry brother but she is a vindictive devil, she played us all, I am really sorry brother, but she manipulated us all love you Harry."
The recipient shared the text with other friends of McLean, and McLean's ex-husband contacted police later that morning to report that she was missing. The last time she'd been seen was with Tuerk, who used the nickname Harry and was once a well-known surgeon in the Boston area recognized for his use of robotic surgery, around 1 a.m. in their home at 29 Valley Road in Dover.
The following day, police allegedly received a confession from Tuerk, that he had strangled McLean to death and dumped her body in a pond near the home.
Now, Tuerk is being charged with murder. He pleaded not guilty during his arraignment on Monday. He's being held without bail with his next court date set for June 10, according to the Norfolk district attorney's office.
The death of McLean, who operated a Reiki massage therapy business in Sudbury, comes after months of alleged domestic abuse. Tuerk allegedly repeatedly physically attacked her, at one time choking her until she almost lost consciousness, according to a Dover police report.
The alleged confession
Dedham police learned Friday morning that both of the couple's vehicles were parked at the Residence Inn in Dedham, and that Tuerk had a room booked there from May 8 to 17, according to a police report.
After obtaining a key to the room from hotel management — there was no answer when officers knocked — police reportedly found Tuerk "unresponsive" in the hotel bed. There were cuts on his forehead and wrist, and there were several cuts on his arms and legs that "were consistent with walking through heavy brush or the woods," the report says.
Tuerk was brought to a hospital. From Friday until Saturday, when police learned Tuerk was awake in the hospital, officers attempted to find McLean to no avail.
When police spoke with Tuerk in the hospital on Saturday, he allegedly told them that he and McLean had been together in the Valley Road home Thursday night. They'd been drinking, and an argument broke out, he said. That carried over to their upstairs bedroom, and he told police that McLean had hit him in the head with what he believes was a glass.
"Harry stated that he reacted to that aggressive situation and choked Katie," the report says, referring to both by their nicknames. "Harry explained that Katie was fighting at first and he continued to choke her. Harry stated that Katie then passed out and he realized he went too far."
Tuerk reportedly realized that McLean was dead. He then "panicked and needed to put her someplace," he allegedly told police. According to the report, Tuerk said he carried McLean's body to her vehicle and drove her to a pond nearby and dumped her in the water. He noted that "he may have put a rock on top of her."
Tuerk reportedly told police how to get to the pond, and a Dedham officer passed that information on to state police, the report says. Authorities found McLean's body in the water, and a state police dive team was called in to retrieve her remains. McLean wasn't wearing a shirt, and authorities found rocks in her pants.
Tuerk's professional career and downfall
In past discussions with police, McLean had said Tuerk became violent after his medical career began to crumble.
For years, Tuerk was recognized for his medical contributions, and had worked as the chief of urology for St. Elizabeth's Hospital in Brighton.
A video posted to YouTube from March 2012 shows Tuerk talking about the benefits of robotic surgery for patients. In it, Tuerk pulls up to the front of the medical center riding a motorcycle. He's tall, fit, and throughout the clip wears a Harley Davidson head covering. The video also references his time spent on the German decathlon team.
In 2009, The Boston Globe took a photo of a billboard on the Mass. Pike advertising the medical center that featured an image of Tuerk. A simple Google search of his career shows glowing reviews, and that he'd been asked to speak at medical conferences in the past.
But more recently, things had fallen apart. A Dover police interview with McLean on Feb. 3 included her mentioning that he had lost his job and no longer left home much. She noted that he was "becoming more possessive and abusive" since that happened.
Officials with Steward Medical Group, which operates St. Elizabeth's, confirmed to the Globe that Tuerk had been officially let go in February, and that he hadn't had patients in over a year.
His job loss came after the state attorney general's office and Tuerk settled in November on him paying $150,000 after he allegedly had the hospital bill MassHealth for portions of procedures that didn't occur, as well as for office visits he didn't attend or supervise.
"Dr. Tuerk must also implement a multi-year compliance program at his own expense if he continues to practice medicine in Massachusetts after 2019," Attorney General Maura Healey's office said in a release at the time.
On Monday, Tuerk's attorney, Howard Cooper, told the Globe that his client's former patients had reached out to him in support after news of his arrest.
"Dr. Tuerk has long had a reputation as an extraordinary physician and surgeon," he said. "The number of people he has helped and whose lives he has saved over the years include people from every background, every nationality, every religion and race. I have had people reaching out to me, telling me that Dr. Tuerk saved their lives."
An alleged history of abuse
The Feb. 3 interview with police included McLean telling them of incidents that had happened several months prior.
The two had recently married after being together for roughly 2 ½ years, she told authorities; Tuerk had "surprised her" in Las Vegas with a marriage license on Dec. 14. McLean was the mother of three children who lived with them. The Globe reported that Tuerk also has two teenagers.
Prior to the nuptials, the couple had had an argument while in bed sometime in December, she told police. Tuerk allegedly smacked her head against the headboard, and then began choking her with one hand and covering her nose and mouth with the other. She thought she was going to die, she told police, "and 'everything went black.'" One of her children heard her; Tuerk told her he loved her afterward, according to the police report.
An incident on Jan.11 allegedly included Tuerk calling her multiple times while she was out getting a massage. He allegedly picked her up and threw her. 
"After the incident Tuerk told her that she 'had slipped' and he did not throw her to the ground," the report says, noting that Tuerk again told her he loved her.
The night before she spoke with police, McLean said the couple had company over to watch the Super Bowl. She was telling family that she might be moving out. Tuerk overheard, and after their guests left, he allegedly pushed her out of his lap and said "she could not be trusted." He had called his son into the room to witness it.
McLean told police that Tuerk owned guns and that while they were arguing one time, she believed she heard him unlocking the safe where the firearms were kept — the buttons made a beeping noise. She told police she hadn't seen Tuerk pull out a gun.
The day of the interview, McLean obtained a restraining order against Tuerk. She planned to file for divorce and "did not know what he would do" when he learned of it.
The conversation led to multiple domestic assault-related charges against Tuerk, the report shows. However, in early May, McLean had asked for the charges to be dropped, along with the restraining order. The two had planned to attend couple's therapy, and McLean said Tuerk planned to have his own therapist as well, according to the Globe.
'One of the most amazing people'
Among her friends, McLean is being remembered as someone who had a passion for Reiki — she operated her own business, Birch Tree Energy Healing — and who loved helping others.
"Anyone you can ask; she was one of the most amazing people," Danielle Boland, one of McLean's friends, told MassLive. "She spent days of healing and helping people. That was her full-time career."
Boland told the news site she thought it was strange when she texted McLean last week and didn't hear back from her.
Another friend, John Delima, told the Globe that McLean had opened up about Tuerk's alleged abuse in the past, noting that he heard Tuerk "was angry and very controlling and that he put hands on her in the past."
For Boland, she said she wants others to know that "we've lost an angel."