Crime
Peter Manfredonia, UConn student who police say killed 2 in Conn., is in custody. Here's what we know about the case.
Manfredonia was apprehended Wednesday in Hagerstown, Maryland.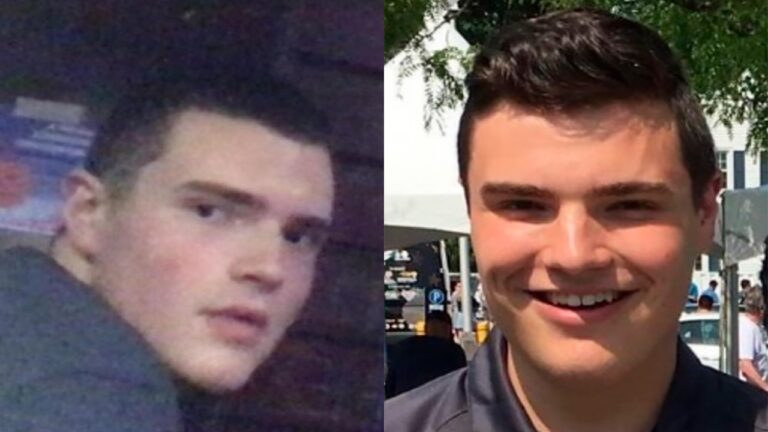 Update: Peter Manfredonia was found and taken into custody in Hagerstown, Maryland, Connecticut State Police said Wednesday night.
"No injuries to any law enforcement personnel or Manfredonia" police said, adding more information would be provided Thursday.
**UPDATE**Suspect, Peter Manfredonia has been found & is in custody. CSP Eastern District Major Crime are on scene in Hagerstown, MD. No injuries to any law enforcement personnel or Manfredonia. More info will be provided on Thurs, May 28 @PAStatePolice @FBINewHaven @FBI @MDSP pic.twitter.com/QFnUDuOqn0

— CT State Police (@CT_STATE_POLICE) May 28, 2020
___
Initial story below:
The manhunt for a University of Connecticut student accused of killing two people and injuring a third entered its sixth day on Wednesday.
Peter Manfredonia, 23, was last seen on Wednesday in Chambersburg, Pennsylvania, according to Pennsylvania State Police. A witness notified authorities when they saw someone that looked like him in Sheetz, a convenience store. A review of surveillance footage helped authorities identify the suspect, and a reportedly stolen Hyundai Santa Fe, which was potentially linked to Manfredonia, was found nearby. He was picked up by an Uber and headed for Hagerstown, Maryland, police said.
Manfredonia was wearing red sneakers and still had a black duffle bag with him.
🚨UPDATE🚨

New Tip puts MANFREDONIA in Hagerstown, Maryland.
The stolen Hyundai Santa Fe WAS recovered in Chambersburg, Pennsylvania.

If seen, DO NOT APPROACH, HE IS CONSIDERED ARMED & DANGEROUS, CALL 911 IMMEDIATELY!

— Trooper Petroski (@PSPTroopNPIO) May 27, 2020
Since Connecticut authorities were called to Mirtl Road in Willington around 9 a.m. Friday and found his first alleged victim, Manfredonia has allegedly killed again and forced the girlfriend of that victim into her vehicle, ultimately leaving her unscathed in Paterson, New Jersey. His run has extended from Connecticut to New Jersey and Pennsylvania and now apparently Maryland.
On Tuesday evening, authorities pleaded with Manfredonia, who was a senior at UConn studying finance and engineering, to turn himself in, stating that they want this to end peacefully.
"Please call 911, let us know where you are," Connecticut State Police Lt. John Aiello said in a press conference. "We want to resolve this in a safe way. Please call us, we are waiting here to listen to you."
Here's a timeline of everything that has happened so far, and what we know about the victims:
Friday
Around 9:01 a.m., Connecticut State Police were called to a reported disturbance on Mirtle Road in Willington. When troopers arrived at 9:08 a.m., they found Theodore DeMers, 62, dead and another man injured; he was brought to a nearby hospital. By 9:50 a.m., police had identified Manfredonia as the suspect using "various leads," according to state police.
Manfredonia had allegedly attacked DeMers, known as "Ted," with a machete.
Cyndi DeMers, who was married to Ted Demers for 42 years, said Manfredonia was walking down their road Friday morning. He reportedly said he knew one of the couple's neighbors, which led her husband to trust him. The 23-year-old, who was wearing a helmet, said his motorcycle had broken down, she said, and her husband offered to give him a ride back to it.
Cyndi DeMers said the family of the female neighbor Manfredonia mentioned later told her that they had thought of getting a restraining order against him — he had allegedly visited their home before.
When Ted DeMers was attacked after giving Manfredonia a ride, another neighbor tried to help him, Cyndi DeMers said. That neighbor received serious injuries to his hands, but is expected to live.
"It could have been anybody who offered him a ride," she said. "It could have been any of my neighbors' husbands. It just happened to be mine."
Ted DeMers was about to become a grandfather in June — one of the couple's sons is expecting a baby boy with his wife. He is also survived by another son, a sister, and many other family members, in addition to his wife, his obituary says.
62-year-old Ted Demers was brutally attacked and killed outside his home on Friday by a suspect still on the run. Hear from his family on what they think happened that early morning.. COMING UP @ 10/11pm @FOX61News pic.twitter.com/s3rxcNvahP

— Zinnia Maldonado (@ZinniaDee_TV) May 26, 2020
Ted DeMers was described as "larger than life" and "a gentle, loving, gregarious man," in his obituary. He enjoyed spending time outdoors, being around his family, and "was looking forward to becoming a grandfather."
"On a bright Friday morning in May, Ted was doing something he had done a million times before and would have done a million times more if not for a simple and cruel twist of fate — he simply offered a hand to a stranger in need," the obituary reads. "For this good deed, his life was taken from him and his Earthly presence from all of us."
A GoFundMe fundraiser has been set up to benefit a college fund for Ted DeMers's grandson. As of just after 1 p.m. Wednesday, it had raised over $61,000, well past the goal of $10,000.
Saturday
The search for Manfredonia continued, according to Connecticut State Police. Authorities interviewed witnesses and obtained search warrants.
**WILLINGTON HOMICIDE SUSPECT**
May 22, 20, Peter Manfredonia was seen leaving the scene of a homicide & serious assault on Mirtl Rd., Willington. Wearing dark clothing, considered ARMED & DANGEROUS. If seen do not approach, call 911. Anyone w/info, contact [email protected] 860-896-3200 pic.twitter.com/O03ad6rr7F

— CT State Police (@CT_STATE_POLICE) May 23, 2020
Authorities updated Mafredonia's wanted poster with his birthday. They noted that he was "considered armed and dangerous."
Sunday
Manfredonia was suspected of a home invasion on Turnpike Road in Willington, according to a state police news release. During the incident, he allegedly stole long guns and pistols. He also allegedly took off in the resident's truck, driving it to Derby and leaving it in Osborndale State Park.
State police went to the home of one of Manfredonia's acquaintances on Roosevelt Drive in Derby. There, they found Nicholas Eisele, 23, said to be a friend of Manfredonia's from high school, dead in the home, the release said. Authorities figured out there may have been someone else in the home and were about to put out an alert when they heard from Paterson, New Jersey, officials, who said they found the person in question. Eisele's 23-year-old girlfriend said she was forced into her 2016 Volkswagen Jetta by Manfredonia. He left her, uninjured, with the vehicle at a Paterson, New Jersey, rest stop.
***BE ON THE LOOKOUT***
Vehicle related to Willington Homicide/Derby incident. Call 9-1-1 if seen. pic.twitter.com/BcWx9pzUlX

— CT State Police (@CT_STATE_POLICE) May 24, 2020
Eisele's girlfriend, who hasn't been publicly identified, told authorities it was Manfredonia who abducted her, Connecticut authorities said. The drive between Derby and Paterson is about an hour-and-a-half.
Eisele was a 2016 graduate of Newtown High School and worked with his father doing landscaping and irrigation. A GoFundMe has been set up to cover Eisele's funeral expenses. As of around 1:30 p.m. Wednesday, it had raised over $33,000. Eisele loved unique clothing, and while he didn't have pets, he loved spending time with Trooper and Sandy, his mom's German shepherds, the campaign says.
After allegedly abandoning Eisele's girlfriend at the rest stop, Manfredonia took an Uber to the Walmart in East Stroudsburg, Pennsylvania, around 2 p.m., authorities said. He was seen, via surveillance footage, carrying a duffle bag while walking along train tracks behind the store. East Stroudsburg is just over 60 miles west of Paterson.
***WILLINGTON HOMICDE UPDATE***
Most current photos of the suspect, Peter Manfredonia. Last seen in East Stroudsburg, PA. PA law enforcement agencies are actively looking for the suspect. Do NOT approach, he is ARMED AND DANGEROUS, call 911 immediately. pic.twitter.com/cOnvHh9EiQ

— CT State Police (@CT_STATE_POLICE) May 24, 2020
Around 6:14 p.m., Connecticut authorities said Pennsylvania law enforcement officials, as well as the FBI, were working to find Manfredonia. When last seen, he was wearing a white T-shirt and dark-colored shorts.
Monday
The lawyer for Manfredonia's family made a public plea for the suspect to turn himself in, noting that the 23-year-old had mental health concerns and had gone to multiple therapists for treatment.
"Peter, if you are listening, you are loved," attorney Mike Dolan said during a press conference. "It is time to let the healing process begin. It's time to surrender. You have your parents' and your sisters' and your family's entire support. So, Peter, from your parents, we love you, please turn yourself in."
Connecticut authorities also took to social media to dispel rumors that Manfredonia had been taken into custody in New Jersey. They again urged residents to call 911 if they saw him, noting that he remained considered armed and dangerous.
***DISPEL RUMOR THAT WILLINGTON HOMICIDE SUSPECT CAPTURED***

CSP confirmed suspect, Peter Manfredonia, HAS NOT been captured in New Jersey. CSP and law enforcement partners are still actively searching for the suspect. Please call 911, do NOT approach, he is ARMED AND DANGEROUS

— CT State Police (@CT_STATE_POLICE) May 25, 2020
Tuesday
Pennsylvania State Police put out a "be on the lookout," or BOLO, alert for an allegedly stolen 2012 black Hyundai Santa Fe. Authorities said that they couldn't confirm Manfredonia stole the vehicle. The vehicle was taken from nearby where he was last seen around 9 p.m. Monday.
🚨UPDATE🚨

Stolen Vehicle, Black Hyundai Santa Fe bearing Pennsylvania registration KYW-1650.
NOT CONFIRMED that Peter Manfredonia stole the vehicle, but it was taken from the area where he was last seen.
Anyone with information should call 911 immediately and DO NOT APPROACH! pic.twitter.com/EBqFtRF7XX

— Trooper Petroski (@PSPTroopNPIO) May 26, 2020
Connecticut state police held a press conference around 4:30 p.m. giving a timeline of the events since Friday, and the plea for Manfredonia to come forward. Aiello noted that Manfredonia's behavior and actions were "not who you are," stating that authorities had spoken with his family and roommates.
"Peter, I want you to know that we are continuing our investigation," he said. "The one thing that we are missing right now is you. We want you to be able to tell your story. We are here to listen to you. Your parents, your friends, all of us back here in Connecticut want a peaceful end to this. Your family has hired an attorney on your behalf, and your rights will be safeguarded. We are waiting to hear from you, we want to hear from you."
Wednesday
Pennsylvania authorities were able to confirm that Manfredonia stopped at Sheetz in Chambersburg, before taking off in the Uber bound for Hagerstown, Maryland.
The update, released just after 2:30 p.m., said Manfredonia is still considered armed and dangerous.