Crime
A man paddled a canoe from Maine to N.H. with bad intentions, police say
Christoph Berger, 24, allegedly set a fire within Portsmouth Middle School, authorities said.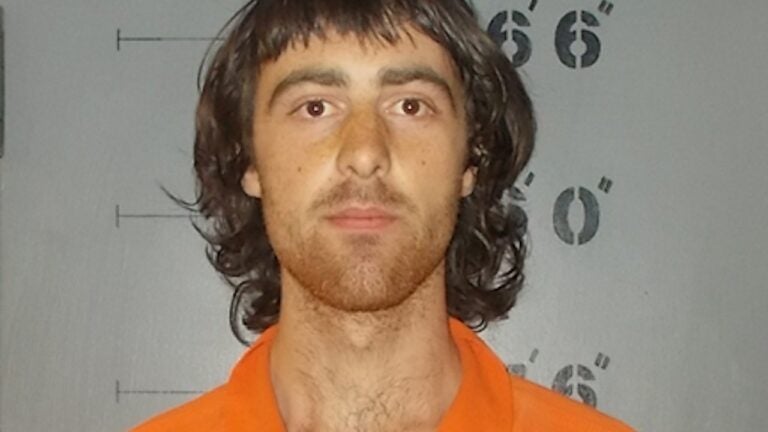 A man with ties to Portsmouth, N.H. is being charged with arson, among other crimes, for allegedly setting the city's middle school on fire late last month.
The alleged arson isn't the only incident Christoph M. Berger, 24, who doesn't have a fixed address, is facing charges for. Not even 12 hours prior to him allegedly paddling to the school on a canoe to commit that crime, Berger allegedly was the subject of a car chase that began in Portsmouth and ended with him being tased in the Macy's parking lot a the Fox Run Mall in Newington. 
The alleged arson could have caused a "violent explosion" that could have killed responding firefighters, Portsmouth Fire Chief Todd Germain said in a press conference with Portsmouth police on Monday, noting that luckily the propane tank's pressure relief system worked and prevented that from happening.
Berger has been in jail ever since May 23, Portsmouth authorities said, though the arson-related charges were just announced Monday. Hours after he allegedly set the middle school fire, there was an incident in Rye. He has since been found dangerous, and is awaiting his next court date. While he doesn't have a current address, Berger is reportedly from the area originally, and was visiting family.
The car chase, which happened on May 22, began after Berger allegedly smashed the window of Bennett's Sandwich Shop on Congress Street in Portsmouth between 5 and 6 p.m., and fled in a Ford Ranger, according to the Portsmouth police log. He crossed into Newington, and allegedly crashed the Ford into another vehicle, took off on foot, and was tased near Macy's at the Fox Run Mall after police allegedly gave several commands for him to get on the ground, according to the Newington police log. 
For the incident, Berger is facing charges in Portsmouth of criminal mischief (vandalism), disobeying an officer, misuse or failure to display plates, driving while intoxicated, and aggravated driving while intoxicated. In Newington, police have charged him with conduct after an accident, resisting arrest or detention, and possession of 3/4 ounce or less of marijuana, the Newington log shows.
Hours later, police believe, via their investigation, that Berger allegedly paddled in a canoe from Kittery, Maine, "sometime after midnight" on May 23 to the South End pier in Portsmouth, according to a news release from Portsmouth authorities. Berger allegedly headed to Portsmouth Middle School, at 155 Parrot Ave. on foot, and was carrying a 20 pound bottle of propane, and a flammable liquid authorities believe to be gasoline.
Around 3 a.m., surveillance video shows a man, who authorities believe was Berger, smashing the school's front window, and putting the propane bottle and bucket of flammable liquid into the lobby. He then allegedly sets them on fire, and takes off in the canoe.
City Fire Chief Todd Germain said that the school's sprinklers kept the fire under control and when the flames were out, authorities found the "burned up" propane tank. 
"We know by surveillance video that that happened, that it did release the pressure, so it kept it from exploding fortunately for our incoming crews," he said. "The first arriving units would've been there around the time the tank would've exploded if that mechanism had failed."
Surveillance video showed a man who appeared to be working by himself to set the fire, according to Portsmouth police Capt. Darrin Sargent. A couple of officers who watched the video said the man in the footage resembled Berger, who they had just arrested following the window break and car chase.
"Although the video wasn't clear enough to see facial [appearance], he was running, his physical characteristics and some other things led the officers to believe that that was a gentleman who we had just arrested the day before," Sargent said.
Police appealed to the public, and residents and businesses submitted their own surveillance footage, which helped them to piece together the timeline for the incident.
After he allegedly set the blaze and paddled away in the canoe, authorities said Berger was noticed by people in Hampton, who said they saw a canoe just off the beach and that "he had capsized a few times," Sargent said. Police there confiscated the canoe, and Berger turned to another form of transportation – a skateboard, police said.
Berger allegedly skateboarded on Route 1 and proceeded to Rye, authorities said. Police there arrested him at 2:17 p.m. that day following a reported complaint, the town police's log shows. Berger was charged with criminal trespass, disorderly conduct, and breach of bail. "A man paddled a canoe from Maine to N.H. with bad intentions," the police stated.
Berger was arrested on the new charges while in jail on Monday, Sargent said. He's expected to be arraigned on them on Tuesday through a video conference with the Rockingham County Attorney's Office, the release said.
Watch the full press conference:
https://www.facebook.com/wmur9/videos/385684242367906/