Crime
Weston school official shot to death at her Braintree home, former neighbor taken into custody
Laurie Melchionda also served on Braintree's Board of Health.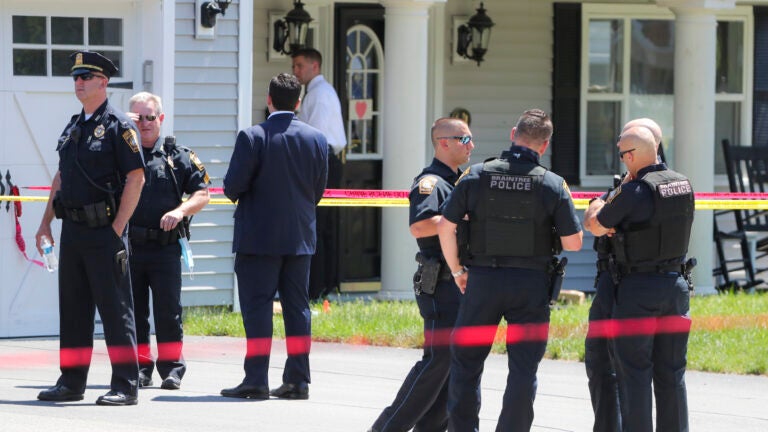 A Braintree woman, who was said to be well known in town and worked for Weston Public Schools, was shot to death at her home Wednesday morning, and her former neighbor was arrested.
Laurie Melchionda, 59, was found suffering from gunshot wounds in the entrance area of her 64 Howie Road home following multiple 911 calls reporting a shooting at 11:44 a.m. Melchionda was rushed to South Shore Hospital where she later died, according to Norfolk District Attorney Michael Morrissey in a press conference.
On scene, police also encountered 61-year-old Robert Bonang, who used to live in the neighborhood but hasn't for about six years. He was arrested following some commands from Braintree police, Morrissey said. Bonang, who now lives in Marshfield, was expected to be arraigned on murder and firearms-related charges Thursday. He is to remain in custody overnight, authorities said.
"It is believed that this is a targeted event," Morrissey said, noting that the two knew each other.
Melchionda had worked as a nurse for over 30 years, according to a statement from Midge Connolly, superintendent of Weston Public Schools. She most recently served as the district's Director of Health Services and Field School Nurse. She also was the clerk for the Braintree Board of Health.
"She's extremely well thought of in town," Morrissey said.
Melchionda worked for the Weston schools since 2018, according to Connolly's statement.
"In her two years at Weston, she made a tremendous impact in supporting the health and well-being of all of our students, working closely with her nursing staff, educators, families, service providers, and town leaders," Connolly wrote. "Most recently, Laurie was the primary liaison between the schools and the Weston Board of Health throughout the COVID-19 crisis and was instrumental in guiding and supporting the school and the town. We are suffering a tremendous loss."
Grief counselors will be made available to staff and students in following with the district's regulations under the COVID-19 pandemic — protocols that Melchionda had created.
"We are reeling from this shocking and devastating news," Connolly wrote.