Crime
A man disguised as a UPS driver allegedly shot and killed a Braintree woman at her door. Here's what we know about the case.
A witness reportedly saw Robert Bonang holding a box with a UPS sticker and "shooting from the box."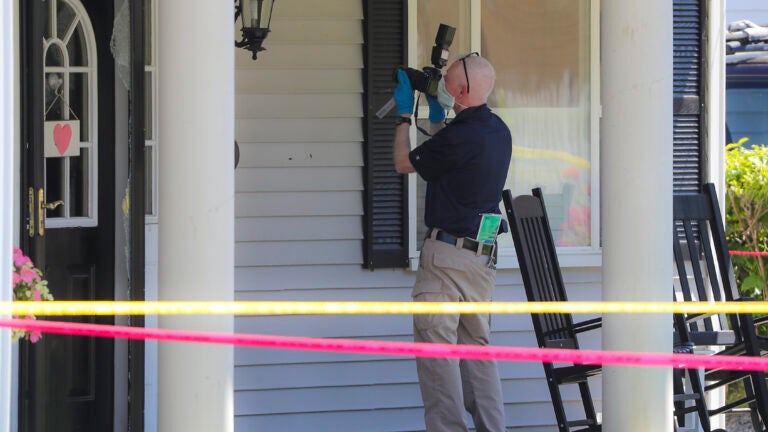 When Braintree police located Robert Bonang — who has been charged with the murder of Laurie Melchionda, a 59-year-old Weston school official — Wednesday morning outside her home, they reportedly found a large box with a UPS envelope taped to it.
And officers could see the barrel of a gun sticking out of the front.
Bonang, 61, of Marshfield, is facing murder and gun-related charges in Melchionda's death. He's pleaded not guilty and is being held pending his next court date set for July 17 following his arraignment Thursday morning.
The police report from Braintree police, obtained by Boston.com, shares in detail how, to a witness, Bonang appeared to be dressed as a UPS driver. He allegedly "frantically" rang Melchionda's doorbell before shooting her multiple times in the head and back.
A wig, a handgun, and a 'UPS box'
When police were called for a reported shooting at 10:47 a.m. Wednesday at Melchionda's 64 Howie Road home in Braintree, they were told the potential suspect could be dressed to look like a UPS worker. An officer soon arrived on scene, and Bonang reportedly waved at him. Bonang complied with the officer's commands to drop to the ground and gestured toward the house when asked where the gun was, according to the report.
Upon looking in the area where Bonang had pointed, an officer found a police scanner, a brown shirt similar to what a UPS driver might wear, and a gray wig. There was also a handgun and a surgical mask, the report says.
The "UPS box" was next to Bonang's feet. Inside was a rifle that officers believed to be loaded, according to the report.
"[A Braintree officer] described the box as a large brown box with a hole cut out for the muzzle of the rifle and another hole cut in the area where a hand could fit inside to manipulate the rifle," the report says. "A UPS mailing envelope was also taped to the front of the box."
Police rendered medical care to Melchionda, who was soon taken away in an ambulance. She was rushed to South Shore Hospital and pronounced dead at 11:24 a.m., the report says. A doctor told police he believed Melchionda was shot three times in the head and possibly four times in the back.
Witness says she saw Bonang 'shooting from the box'
An unidentified female juvenile was interviewed by police, the report says. She told them she had been babysitting two young children. They were out for a walk and were near the intersection of Acorn Circle, Howie Road, and Acorn Street. As they continued to the intersection, that's when she said she saw Bonang, who appeared to be dressed as a UPS driver.
"[The juvenile] stated that she thought the male was dressed as a 'fake UPS driver' due to the fact that he was wearing a long brown coat, brown pants, and was carrying what [the juvenile] described as a 'weird' UPS box," the report says.
The box, she said, didn't look like it was packed normally, even though it had a UPS sticker stuck to it. Bonang was also wearing a mask that someone would wear during the COVID-19 pandemic, she said.
The man made her "uncomfortable," she told police. She let him walk ahead of her and the kids. She said she saw him "frantically" ring the doorbell and she and the kids continued walking. Then, she heard screaming.
"[The juvenile] then looked back in the direction of the male dressed as a UPS Driver and observed the male, 'shooting from the box,'" the report says.
She and the kids ran toward Walnut Street, and she called 911. Bonang reportedly looked like he was going to walk toward Acorn Circle but then paused and stood on Melchionda's front lawn. Police then began to show up.
A neighbor told police they thought the gunshots were fireworks. Approaching the area from the sidewalk, the neighbor said he saw Bonang, who appeared to be dazed, begin shooting about six rounds into the ground.
Via investigation, police found out Bonang had lived across the street from Melchionda "for several decades." His parents had lived there, and, when they died, the house was sold and he moved away about five years ago. In the past, he had allegedly accused neighbors of "watching and following him," which was found to be untrue, the report says.
Police had dealt with Bonang twice, once in June 2014 when he was "sectioned," or detained over mental health concerns. The other time was in 2009, when he and his sister had an argument. She reportedly told police at the time that he "had been 'institutionalized' on more than one occasion."