Crime
A former Emerson College professor was arrested for allegedly sexually assaulting teens in Minnesota
Jefferson Fietek, 46, is barred from the college's campus.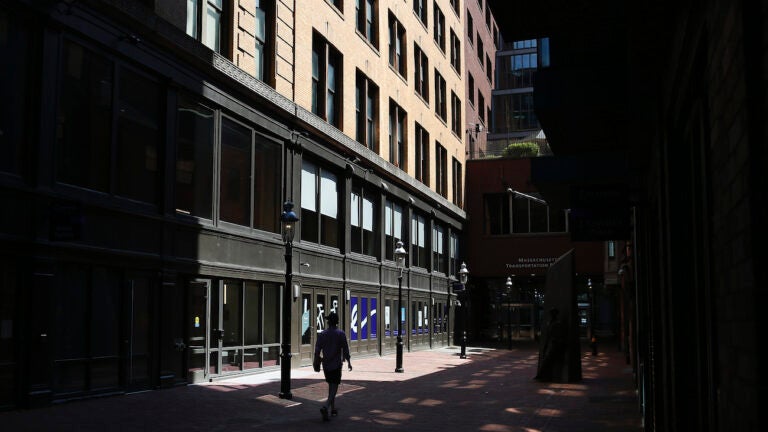 A former assistant professor in Emerson College's Department of Performing Arts has been arrested on seven counts of criminal sexual conduct for alleged abuse during his time employed at a Minnesota middle school.
Jefferson J. Fietek, 46, was arrested in Malden following an investigation by the Anoka County Sheriff's Office, which found Fietek allegedly sexually assaulted four juvenile boys before he left his job at the Anoka Middle School for the Arts a year ago, the sheriff's office announced Friday.
He was slated to be extradited to Minnesota.
"Fietek is no longer an active faculty member at Emerson College, and he is prohibited from being on campus," Emerson College said in a statement. "The college has notified him that the college will not renew his contract, and he will no longer teach at Emerson, now or in the future.
"According to news reports, Fietek was taken into custody Thursday by law enforcement officers," the statement continues. "While we are not aware of any reports of misconduct that occurred while this individual was a faculty member at Emerson, we have taken additional steps to preserve the safety of our community."
On June 26, the college announced it was made aware of allegations that an employee — who was not named at the time — was involved in "serious misconduct" prior to being employed at Emerson and said that the person was no longer an active member of the faculty.
According to the Anoka County Sheriff's Office, authorities received a report of a sexual assault on June 25 that occurred approximately nine years ago involving Fietek and a juvenile victim.
Officials were also given a second sexual assault report that included Fietek and a different juvenile regarding incidents said to have happened in 2019, the sheriff's office said. Two other victims from alleged incidents were also identified during the course of the investigation, authorities said. All victims were juveniles during the alleged assaults.
Please follow the link for updated information on a criminal complaint issued on a sexual assault investigation on a former staff member at the Anoka Middle School for the Arts.https://t.co/wkq4anKDku

— Anoka County Sheriff's Office (@AnokaCoSheriff) July 17, 2020
In a June 24 Facebook post, Jacob Tighe, now 24, wrote that he was sexually assaulted by Fietek while he was in high school. He described Fietek as a role model and his former theater teacher while he was a student in the sixth, seventh, and eighth grades.
Tighe wrote he was "groomed," and saw similarities between his experiences and those described in the 2019 documentary, "Leaving Neverland," which focuses on the accounts of men who say they were sexually abused by the late pop musician Michael Jackson as children.
"Jefferson Fietek used me," he wrote in the post, which has been shared over 350 times. "He took me as a young man and used his influence over me to get what he wanted most. That's his thing, and he probably has done it to more young boys than just me. The guilt still eats me up."
Marcus Bouley, in a separate Facebook post, wrote he was between 14 and 16 years old when a faculty member of the Anoka Middle School for the Arts — who he confirmed to be Fietek — found him on an online app and messaged him before the two met up.
"I never stopped him, and I still feel guilty to this day about allowing him to have this power over me," wrote Bouley. "I continued to see him and eventually it came to an end when I didn't offer/accept his invitations to his house."
Bouley wrote he spoke with other victims who had similar stories.
"I want people to know that we will get justice and that none of this was our fault(s)," Bouley told Boston.com after sharing his story late last month. "We will see change and this is a big step forward in the right direction."
According to a warrant filed against Fietek, three of the victims met Fietek through theater programs while a fourth met him online.
The victims referenced in the filing are now 25, 24, 21, and 15 years old, and incidents reported to police span from 2009 through last year.
One victim recalled Fietek telling him he could never tell anyone about what the two of them did together, the warrant says.
"'But even if you did, there is nothing that can be done,'" he remembered Fietek said to him once. "'You're old enough to consent, right?'"
In an email Monday, Jim Skelly, a spokesperson for Anoka-Hennepin Schools, said the district notified law enforcement and the Minnesota Department of Education about allegations after learning about them through a Facebook post on June 25.
The district had received three complaints against Fietek — who resigned in June 2019 — while he was employed there and each was investigated, according to Skelly.
He said the information contained in the complaints is private under Minnesota law because the complaints did not result in discipline against Fietek.
However, Skelly said he could confirm that "the district would have immediately contacted law enforcement and the Minnesota Department of Education with any allegation of criminal sexual activity."
He added that there was "no information in Mr. Fietek's employee file that would have alerted Emerson" to the type of allegations Fietek now faces.
Fietek was charged with four counts of criminal sexual conduct in the first degree; two counts of criminal sexual conduct in the third degree; and one count of criminal sexual conduct in the second degree.
It was unclear Monday whether Fietek had an attorney. Fietek could not be reached for comment by Boston.com last month after allegations against him first surfaced online.
The sheriff's office's investigation is ongoing, and authorities are encouraging victims of sexual assault to come forward.
Tighe, in an interview after writing his Facebook post last month, said he wants others who suffered abuse to know they are not alone.
"This is not an easy thing to come forward about," he said. "It took months and months of preparing myself for this moment, and now that it's here I'm so glad I spoke up. I feel like a weight has been lifted off of my chest, and I can finally talk about what has been hurting me for so many years."