Crime
Boston man faces federal charges after allegedly firing 11 shots at police during June 1 unrest
No one was injured by the gunfire.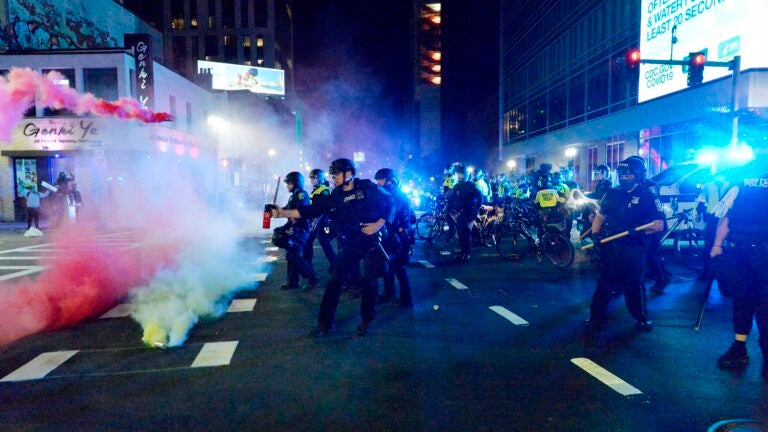 A Boston man is facing federal charges after he allegedly fired at least 11 shots at law enforcement officers early on June 1 while in the Back Bay.
The alleged incident happened during the civil unrest that occurred in the city following peaceful protests on May 31 for the killing of George Floyd.
John Boampong, 37, is being charged via criminal complaint with assaulting a federal officer, interfering with a law enforcement officer during the commission of a civil disorder, and being prohibited from possessing a firearm and ammunition due to being under a felony indictment, according to a news release from federal officials.
Boampong has been in custody since June 3 due to the outcome of a dangerousness hearing, Suffolk District Attorney Rachael Rollins said in the release. He had been charged by her office with 21 counts of armed assault with intent to murder. Boampong was one of 53 people charged following the unrest that injured nine police officers and damaged more than 21 police vehicles.
The violence and destruction came hours after thousands participated in peaceful protests on Sunday, May 31, calling for justice for Floyd, the Black man killed while in Minneapolis police custody on May 25.
"On May 31, 2020, while people were expressing their First Amendment rights, others unfortunately turned to violence directed toward our city, its residents, and my officers," Boston Police Commissioner William Gross said in the release.
The federal complaint alleges that around 3 a.m. while law enforcement officials were near Arlington and Boylston streets, officers told Boampong, who was driving a Hyundai Elantra with three passengers inside, to leave the area. The people in the vehicle allegedly "became combative" and "failed to leave the area."
Boampong allegedly put the car in reverse, and officers began yelling for him to stop as some of them were standing behind the vehicle. When Boampong didn't, a Boston police officer reportedly hit the vehicle's roof or windshield with a baton. Boampong then drove away toward Charles Street, the complaint says.
The vehicle then returned to the area, first driving on Arlington and Boylston streets, then to Providence Street. Gunfire then broke out, according to federal authorities.
"Multiple officers took cover by bracing or ducking behind cars and other objects, believing they were being shot at," the complaint says.
Eleven 9 millimeter shell casings were later found in the area, authorities said. Pieces of bullets were reportedly found in a building close to where Boston police had been standing, and two of the bullets, at least, had gone through windows. No one was injured. Authorities believe the shots were made from where Boampong had parked his car, across Arlington Street, and toward the law enforcement officials in the area.
Boston police followed Boampong's vehicle and made a traffic stop. After Boampong and his passengers got out of the vehicle, authorities spotted a semi-automatic firearm in the vehicle and a black holster hanging from beneath the driver's seat, the complaint says.
Initially, Boston police reportedly found two bottles of liquor, a bathing suit, and a pair of glasses with price tags still on them. An occupant later said the items had been taken during the looting, according to the complaint.
On June 3, authorities used a search warrant for the vehicle. Along with the 9 millimeter Sig Sauer P230 gun police saw the night of the arrest, officials also found a magazine with a capacity of 15 rounds, a live round of 9 millimeter ammunition, around 20 bottles of unopened liquor with price tags from a store that had been looted, three red bathing suits with anti-theft security tags on them, three pairs of sunglasses, one pair of eyeglasses, and an earring, the complaint says. The gun was allegedly found to have Boampong's fingerprint, according to federal officials.
While being interviewed by authorities, Boampong allegedly admitted he was the one who shot the gun and that "he was upset that law enforcement officers had broken his windshield," the complaint says.
Boampong already had charges against him, including assault and battery on a police officer and resisting arrest, from a prior incident, according to the complaint.
"Mr. Boampong's behavior was egregious, violent and unacceptable and he will be held accountable," Rollins said in the release.
Get Boston.com's browser alerts:
Enable breaking news notifications straight to your internet browser.