Crime
What to know about the child sexual abuse charges against the former Boston police union president
"This is an extremely serious case."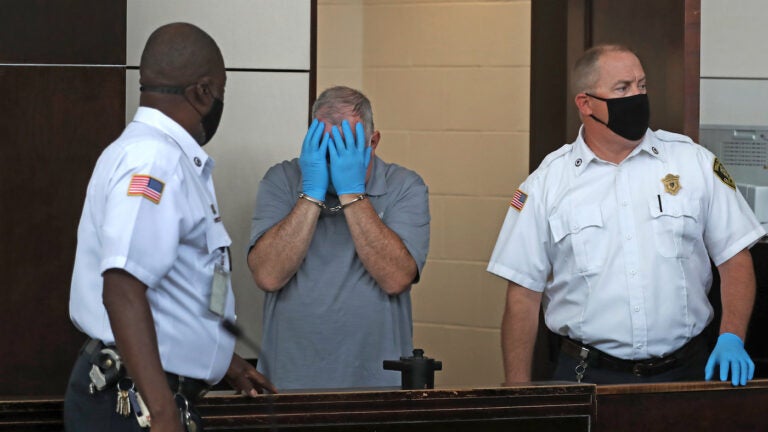 A former president of the Boston Police Patrolmen's Association allegedly sexually assaulted a family member in a series of incidents from the time the girl was 7 through 12 years old, prosecutors said Thursday.
Patrick M. Rose, Sr., 66, faces a slew of charges, including rape and abuse of a child aggravated by age difference; enticement of children; disseminating obscene matter to a minor; open and gross lewdness; and five counts of indecent assault and battery on a child under age 14, according to a criminal complaint on file at the West Roxbury Division of Boston Municipal Court.
Rose pleaded not guilty.
Judge Kathleen Coffey ordered Rose held on $100,000 bail and set several conditions for his release, should he post bail, which require him to stay away from the victim; surrender his firearms and license to carry; surrender his passport; wear a GPS monitoring device; and have no unsupervised contact with children under the age of 16.
Here's what to know about Rose and the case so far:
Many of the alleged incidents occurred at Rose's West Roxbury home, police say.
According to a Massachusetts State Police report filed in court, the victim and another family member contacted Boston police regarding the alleged abuse on Aug. 2.
Given Rose's background as member of the Boston Police Department, prosecutors opted to have the investigation conducted by another law enforcement agency, Suffolk County District Attorney Rachael Rollins told reporters.
On Aug. 12, the victim participated in a Sexual Abuse Intervention Network interview, during which she "disclosed that on multiple occasions on diverse dates" Rose molested her, Trooper Russell Lloyd wrote in the report. The series of alleged incidents "took place almost exclusively" at Rose's West Roxbury home, although "there was also one assault that occurred at an unidentified drive-in movie theater that occurred in another county," Lloyd wrote.
In addition to assaulting her on several occasions, Rose allegedly showed the girl pornography multiple times and exposed himself to her, among other allegations, Lloyd wrote.
The investigation into the allegations remains "active and ongoing," according to authorities.
'This is an extremely serious case': Prosecutors sought to impose a higher bail amount but were denied.
Prosecutor Audrey Mark requested Rose be held on $250,000 with certain conditions set for his potential release.
"There is a need for high bail," Mark told the court. "This is an extremely serious case."
Prosecutors were concerned by Rose's recent behavior over the past 11 days, Mark said. Rose left his home and told his family he was going to be an inpatient at a facility in Arlington and would have to turn off his cell phone, Mark said, according to The Boston Globe.
Rose was actually at a Needham hotel, Mark said.
"We only know that he was not being necessarily truthful with his family about where he was," Mark said.
Rose's lawyer, who declined to give his name to reporters as he left court but was identified by the court clerk's office as Michael McKinnon, requested bail set at $5,000.
McKinnon told Coffey that Rose, a U.S. Army veteran who served for 24 years in the Boston Police Department, had no objections to the conditions for his release.
Coffey, who called the matter a "sad and serious case," set bail at $100,000, which she said was "fair and reasonable under these circumstances."
Rose is due back in court on Sept. 10.
Rollins told reporters the allegations against Rose raises questions about his conduct as a member of the department, particularly his encounters with children and teens and the arrests he conducted, the Globe reports.
Rose retired in 2018.
"We don't want any preferential treatment," Rollins said. "We are going to be looking deeply into this because this is a broken trust."
"We don't take this lightly. We have our best Assistant District Attorney on this case."@DARollins speaks to the media after the arraignment of retired @bostonpolice officer Pat Rose on numerous charges, including rape & abuse of a child.#Boston25 pic.twitter.com/4RVWJ334JS

— Capturegirl (@jenyp) August 13, 2020
The Boston Police Patrolmen's Association did not immediately return a request for comment after Rose's arraignment Thursday. The union declined comment to the Globe on Wednesday following Rose's arrest.
Mayor Marty Walsh told the newspaper a full investigation of the allegations against Rose is needed.
"I am deeply disturbed by these horrific allegations, which must be investigated to the fullest extent of the law," he said.
Rose served for 2 decades in the Boston Police Department before helming the police union.
Rose joined the city's police force in 1994 and became the president of the BPPA in 2014, according to the Globe.
The union was able secure a $68 million, four-year contract with Walsh's administration under Rose's leadership in 2017, the newspaper reports. The agreement was the first time in almost a decade that both city officials and union voluntarily settled.
In 2016, Rose and the BPPA sought to delay the city's planned police body camera pilot program in Suffolk Superior Court, but the court ultimately sided with the city.
Get Boston.com's browser alerts:
Enable breaking news notifications straight to your internet browser.