Crime
New details emerge in Braintree murder involving accused former neighbor posing as UPS driver
Robert Bonang, 61, is accused of shooting his former neighbor, Laurie Melchionda, 59, as she stood in her doorway.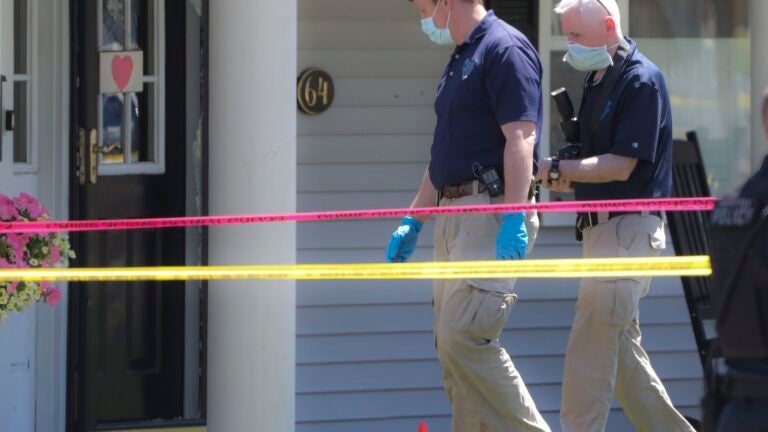 In the weeks since Laurie Melchionda was shot to death in June, allegedly by her former neighbor who posed as a UPS delivery driver, authorities have obtained search warrants for Robert Bonang's home, as well as the vehicle he allegedly used to drive to Braintree that day.
And what they've found suggests that Bonang believed the Melchiondas were involved in his family's business dealings following the death of his parents, and he allegedly went all the way to Idaho to purchase the weapons used during the murder.
Bonang, 61, of Marshfield, pleaded not guilty in Norfolk Superior Court to murder, two counts of possession of a large capacity firearm or feeding device, and one count each of carrying a firearm, and possession of ammunition. He was ordered held without bail per Judge William Sullivan. A pre-trial conference is scheduled for Oct. 28.
Bonang was indicted by a grand jury in August in connection with the June 17 murder of Melchionda, who was shot as she stood in the doorway of her Braintree home. Melchionda, 59, was a nurse for the Weston school district. 
Bonang, allegedly dressed as a UPS driver – a getup that included a wig, a police scanner, and a brown shirt similar in color to the ones UPS workers wear – shot Melchionda multiple times through a box with a rifle concealed inside around 11:44 a.m. on June 17, prosecutors say. Melchionda was rushed to a nearby hospital where she died.
Thursday's arraignment shed some light on Bonang, and what authorities found when searching his property.
Norfolk Assistant District Attorney Greg Connor told the court that when authorities searched the Nissan Pathfinder Bonang had rented and allegedly drove to Braintree that day, they found about 400 rounds of ammunition that fit the handgun and rifle authorities found at the scene.
Back in Bonang's Marshfield home, they found multiple CDs and spiral-bound notebooks, said Connor. The Melchiondas were mentioned by name, according to Connor. These revealed that Bonang believed the Melchiondas were involved in the sale of Bonang's late parents' house, which was across the street from theirs. Bonang also allegedly believed the Melchiondas were working with his sisters to ensure he would not have access to a retirement account with his father's name on it.
Authorities also found out that Bonang had purchased firearms in Idaho, where gun laws aren't as strict as in Massachusetts.
Robert Bonang is being held without bail. He was walked past the victim's family as he was taken out of court. His next court date is Oct. 28th, he does not have to appear. #boston25 pic.twitter.com/8I9DDIUDJ3

— Nicole Oliverio (@NicoleOliverio) September 10, 2020
Get Boston.com's browser alerts:
Enable breaking news notifications straight to your internet browser.