Crime
A former Harvard fencing coach is facing federal bribery charges after students' parent bought his house
Prosecutors allege Peter Brand, 67, received payments from Jie "Jack" Zhao, 61, a Maryland businessman, to recruit Zhao's sons for the fencing team.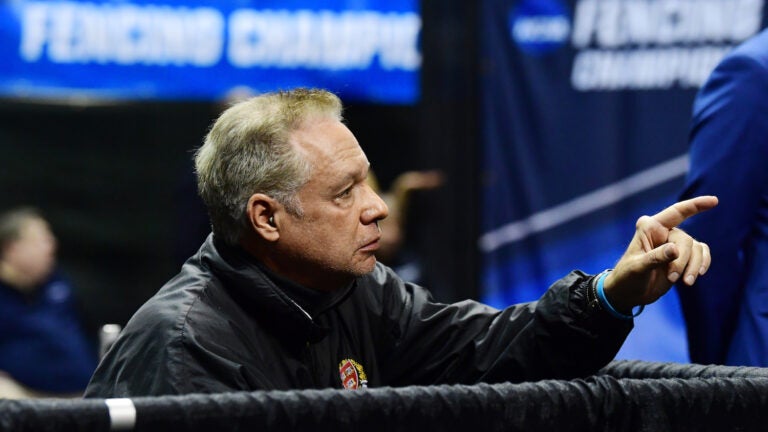 Federal prosecutors say a former Harvard College fencing coach received $1.5 million in bribes — including payments for a car, his previous Needham home, and renovations for a pricey Cambridge residence — from a Maryland businessman in exchange for recruiting the latter's two sons to the team.
Peter Brand, 67, of Cambridge, and Jie "Jack" Zhao, 61, of Potomac, Maryland, were arrested and charged Monday with conspiracy to commit federal programs bribery.
"This case is part of our long-standing effort to expose and deter corruption in college admissions," Massachusetts U.S. Attorney Andrew Lelling said in a statement. "Millions of teenagers strive for college admission every year. We will do our part to make that playing field as level as we possibly can."
Both men were slated to appear in court Monday, with Brand appearing in federal court in Boston and Zhao in federal court in Greenbelt, Maryland.
Brand, the former head coach of men's and women's fencing at Harvard, and Zhao, the chief executive of iTalk Global Communications, a telecommunications company, conspired to have Zhao's sons admitted to the Ivy League school by recruiting them to the men's fencing team with a series of bribes, prosecutors allege.
Court officials allege Brand told an unnamed co-conspirator sometime in or around May 2012, "Jack doesn't need to take me anywhere and his boys don't have to be great fencers. All I need is a good incentive to recruit them. You can tell him that."
Zhao later made a donation of $1 million to a fencing charity managed by a co-conspirator in February 2013, prosecutors said. His older son was admitted to Harvard as a fencing recruit that December and began school at Harvard in the fall of 2014.
"Shortly thereafter, the charity passed $100,000 on to the Peter Brand Foundation, a charitable entity established by Brand and his spouse," officials said. "Thereafter, Zhao began making payments to, or for the benefit of, Brand."
Prosecutors allege Zhao paid a total of $1.5 million to Brand or through payments benefitting Brand as the coach recruited Zhao's younger son to the fencing team. Zhao allegedly made college tuition payments for Brand's son, paid for Brand's car, paid the mortgage of Brand's former Needham house, and later bought that property for "well above its market value," officials said.
The transaction was at the center of a Boston Globe report in April 2019, which detailed that the home was purchased for close to a million dollars in May 2016, despite its assessed value of $549,300 — a move that perplexed the town's chief assessor.
Zhao, speaking to the newspaper at the time, said the purchase was an investment and a favor for Brand, who he said was his friend.
"I want to help Peter Brand because I feel so sorry he has to travel so much to go to fencing practice," Zhao said. Brand's daily commute was approximately 12 miles.
Zhao sold the home 17 months later for $665,000, the Globe reported.
With cash in hand from the sale to Zhao, Brand was able to buy a more expensive residence in Cambridge, prosecutors said. Zhao, whose younger son started studies at Harvard in 2017, paid to renovate the new home, they allege.
Brand did not disclose the payments to Harvard officials when he recruited Zhao's two sons, according to court officials. Brand was fired from the college in July 2019 for violating Harvard's conflict-of-interest policy.
A Harvard spokesperson said Monday the school did not have any comment regarding the arrests.
If convicted, Brand and Zhao each face a prison sentence of up to five years, three years of supervised release, and a fine of $250,0000 or "twice the gross gain or loss, whichever is greater," officials said.
"The actions of both Brand and Zhao created an unfair playing field," Acting Special Agent in Charge Joleen Simpson, of the Internal Revenue Service's Criminal Investigation Division, said in a statement. "I hope that the announcement of today's charges against Brand and Zhao demonstrates to others that cheating to gain an unfair advantage will not be tolerated."
Get Boston.com's browser alerts:
Enable breaking news notifications straight to your internet browser.