Crime
FBI arrests 2 Mass. residents for alleged roles in Capitol riot
Mark G. Sahady, of Malden, and Suzanne Ianni, of Natick, were taken into custody Tuesday morning.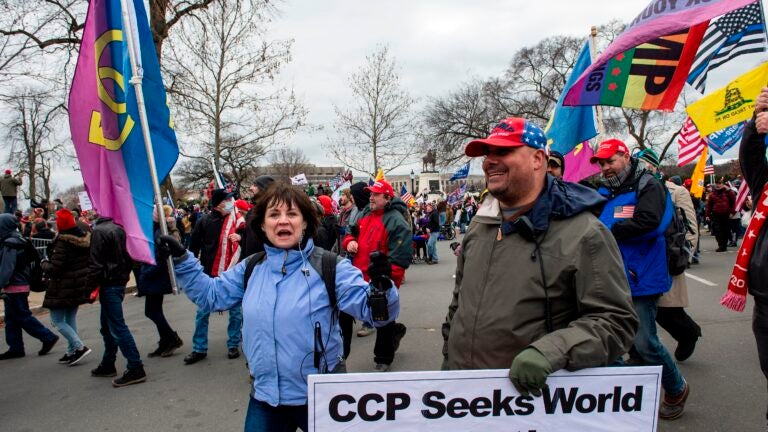 A leader of the group behind Boston's 2019 "Straight Pride Parade" and a Natick Town Meeting member were arrested Tuesday morning by FBI agents for their alleged roles connected to the riot at the U.S. Capitol building on Jan. 6.
Mark G. Sahady, of Malden, and Suzanne Ianni, of Natick, were taken into custody without incident by special agents and officers assigned to the bureau's Boston-based Joint Terrorism Task Force, officials announced.
#BREAKING: This morning, special agents and officers assigned to #FBI Boston's Joint Terrorism Task Force arrested without incident Mark G. Sahady, of Malden, MA, & Suzanne Ianni, of Natick, MA, for their alleged roles in connection with the riots at the U.S. Capitol.

— FBI Boston (@FBIBoston) January 19, 2021
According to court records, both Sahady and Ianni are charged with knowingly entering or remaining in any restricted buildings or grounds without lawful authority and disorderly conduct on Capitol grounds.
Sahady is identified in an affidavit as the vice president of Super Happy Fun America, the organization that put on the so-called Straight Pride Parade and has led right-wing political rallies over the past year.
Ianni is a Natick Town Meeting member, who is also listed in legal filings as an "actively involved" member of Sahady's group. Last week, Ianni's presence at the violent attack on the Capitol, which left five people dead, sparked local controversy and petitions to remove her from her public post — requests that the town's Select Board said it could not meet.
In an initial appearance on Tuesday afternoon in Boston federal court, Sahady was held pending a detention hearing scheduled for Thursday.
In a separate court hearing, Ianni was released on personal recognizance and ordered to avoid all contact with any potential victims, witnesses, or — unless an attorney is present — defendants related to her case.
Additionally, Ianni cannot leave Massachusetts except for travel to Washington, D.C., for court appearances and is prohibited from attending any rallies or demonstrations, among other conditions, Judge Jennifer Boal said.
Assistant U.S. Attorney William Bloomer also requested Ianni be ordered to stay away from the Massachusetts State House.
"We anticipate there will be different demonstrations there over the next week or so," Bloomer said.
Authorities have feared violence could erupt at state capitols in the days leading up to and during Wednesday's presidential inauguration in protest of President Donald Trump's loss in the 2020 election.
Crowds of Boston police officers descended on the State House on Sunday, although authorities had not received any credible information on specific threats.
Boal ordered Ianni to stay away from the capitol building in Boston "for the foreseeable future."
According to affidavits by an FBI special agent filed in federal court, Super Happy Fun America posted a photo online on Jan. 5 showing both Sahady and Ianni among a group of people said to be on a bus heading to Washington, D.C.
Bus 1 of 11 coming to Washington DC. See you there! pic.twitter.com/66ktWpwZKL

— SuperHappyFunAmerica (@SuperHappyFunA) January 6, 2021
"SHFA will be in DC once again on January 6th to get wild," a tweet from the account posted on Dec. 29 reads.
A law enforcement review of Sahady's personal Twitter account found he made "multiple statements evincing a belief that the 2020 election was stolen and that people need to gather in D.C. to respond to this theft on January 6, 2021," filings say.
"January 6 – Washington, DC – It begins," Sahady wrote in one tweet posted on Jan. 4.
Sahady's account as cited in court records has since been suspended by Twitter for violating the social media platform's rules.
Ianni organized 11 buses to transport people to the capital city on behalf of the organization, an affidavit says. The filing cites media interviews Ianni gave following the insurrection, in which she declined to say whether she entered the Capitol building.
However, Ianni and Sahady were also identified in two photos: one taken inside and another taken outside the Capitol that day and published in the news media, according to court documents.
"Based on my training and personal experience, I know this photo was taken inside the Capitol building based on the background and, specifically the decorative elements on the walls," the special agent wrote.
Super Happy Fun America did not return a request for comment.
In court Tuesday, Bloomer requested Sahady be held in custody, adding that Sahady poses "a serious risk of obstructing justice" if he is released.
But two attorneys for Sahady, who objected to the request, argued there is no evidence of such a risk, and pointed to Ianni's release after facing the same charges as reason Sahady should not be detained.
"They probably have issues that he's a member of Super Happy Fun America," said attorney Rinaldo Del Gallo III.
Jane Peachy, another defense attorney, said Sahady, a veteran, "acted peacefully at all times" on Jan. 6 and that there is no evidence he encouraged violence.
Del Gallo said his client went only to public areas within the Capitol building and was not present in any part of the facility that was cordoned off.
Sahady, Bloomer alleged, was part of the "organized horde" that stormed the Capitol, which is collectively responsible for the violence that ensued and therefore are more likely to obstruct justice.
What differentiates Sahady's case from Ianni's is that Sahady holds a leadership position within Super Happy Fun America, and he was a "driving force" in shepherding people to Washington, Bloomer said.
The prosecutor also pointed to witness intimidation and assault and battery charges against Sahady dating back to 2000 that were ultimately dropped. 
Additionally, Bloomer referenced remarks Sahady made to his mother during his arrest.
Sahady allegedly told her not to retrieve and hand over his cellphone to authorities and instructed her not to go into or let agents into his room unless they have a warrant, Bloomer said.
"That's what any person who's charged with a crime should do," Del Gallo said.
The defense attorney alleged Sahady was being punished for using his First Amendment rights and for his political affiliation as a Trump supporter.
Bloomer responded: "Absolutely not."
According to the affidavits, Sahady and Ianni allegedly violated a federal law that makes it a crime to "knowingly enter or remain in any restricted building or grounds without lawful authority to do; and knowingly, and with intent to impede or disrupt the orderly conduct of government business or official functions, engage in disorderly or disruptive conduct in, or within such proximity to, any restricted building or grounds when, or so that, such conduct, in fact, impedes or disrupts the orderly conduct of government business or official functions; or attempts or conspires to do so."
The first charge carries maximum penalties of up to a year in federal prison, a  $100,000 fine, and one year of supervised release, according to Bloomer. Under the subsequent charge, both Ianni and Sahady could serve up to six months in prison, pay a fine of no more than $5,000, and undergo supervised release of no more than one year.
The documents also say there is "probable cause to believe" Ianni and Sahady violated a federal statute that prohibits uttering "loud, threatening or abusive language, or [engaging] in disorderly or disruptive conduct at any place in the Grounds or in any of the Capitol Buildings with the intent to impede, disrupt, or disturb the orderly conduct of a session of Congress or either House of Congress."
Ianni, who did not comment to reporters as she left court on Tuesday, is anticipated to appear in federal court in Washington, D.C., later this month.
Suzanne Ianni of Natick said nothing as she was released on personal recognizance from Federal Court this afternoon. #CapitolRiot #Boston25 pic.twitter.com/1qAO728GEq

— Adam Liberatore (@bostonTVguy) January 19, 2021
Get Boston.com's browser alerts:
Enable breaking news notifications straight to your internet browser.