Crime
A New Hampshire man told a local TV station about how he 'chugged' wine during the Capitol riot. Then he got arrested.
"I had to see it."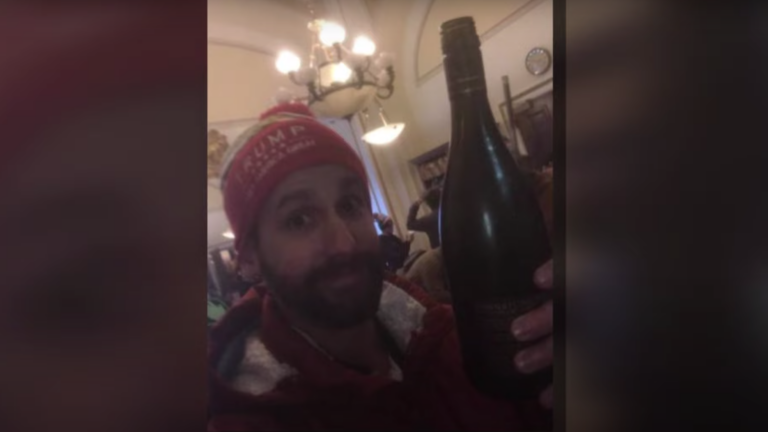 Like many of the people involved in the Jan. 6 breach of the Capitol building, Jason Daniel Riddle wasn't particularly shy about his role.
The 32-year-old Keene, New Hampshire, resident said he followed rioters into the Capitol, found an open bottle of wine inside an office, poured himself a glass, and "chugged it" as he watched the violent mayhem. In an interview several days after the riot, Riddle told NBC10 Boston that he had no regrets.
On Monday afternoon, he was arrested by FBI agents.
The agency's Boston division announced that they had taken Riddle into custody with the assistance of local Keene police without incident and charged him with illegal entry, theft of government property, and violent entry and disorderly conduct on Capitol grounds. No attorney was listed for Riddle in online court documents Tuesday afternoon.
The theft of government property charge, however, is not necessarily for the glass of wine. While the FBI's criminal complaint does say that Riddle admitted to pouring himself a glass from a wine bottle he found "on or in a refrigerator" in what officials later confirmed to be the Senate parliamentarian's office, prosecutors say he also admitted to stealing a book from inside the office and selling it outside the Capitol to an unknown male individual for $40.
According to the FBI, an employee who works in the Office of the Senate Parliamentarian confirmed that the book — titled "Senate Procedure" — belonged to their office.
FBI agents also say that Riddle admitted to stealing a small Fox News-branded football from inside the same office, but tossed it after leaving the Capitol.
The 12-page complaint says that FBI agents were first alerted about Riddle's involvement by tips from individuals who saw his NBC10 Boston interview.
Riddle told the outlet he went to Washington, D.C., to join the protests against President Donald Trump's loss in last fall's presidential election. While Riddle said he never intended nor did he engage in any violence or property destruction, he did admit to entering the Capitol and provided NBC10 Boston with videos and photos that he took both outside and inside the building, including one inside the Senate parliamentarian's office holding the aforementioned bottle of wine.
"I had to see it," Riddle said, when asked why he decided to enter the Capitol.
After reviewing the footage, investigators executed a search warrant on Riddle's address in Keene, during which he agreed to an interview. He said that he and two friends went to where Trump supporters were gathering near the Washington Monument to hear the president speak, repeating his unfounded and repeatedly debunked claims of widespread voter fraud in the 2020 election.
When the crowd moved toward the Capitol, Riddle said he followed, while his two friends did not want to proceed past the barriers and left to get food. According to the complaint, Riddle described the increasing heated and violent scenes outside the Capitol and said he spent a half hour on a grassy patch taking pictures and making phone calls. When he realized the Capitol had been breached, he said he followed a group that rushed inside after one man broke a window and reached through to open a door.
"There he saw papers everywhere, people breaking things, and he saw a man smashing printers and computers with what appeared to be a fence pole from the barriers outside," the complaint says.
FBI agents say Riddle subsequently entered the office where he stole the book and drank wine until a police officer asked him to leave. Instead of leaving the building, he said he stayed for another half hour.
According to the complaint, Riddle also decided to delete a number of messages, photos, and videos of the trip from his phone in what he called a "delete frenzy."
Still, the photos that he provided to NBC10 Boston to be broadcast throughout New England, in addition to other photos that agents recovered from his phone, helped amount to enough "probable cause" to charge him on the three counts, according to the FBI. Riddle is the sixth person arrested by the FBI's Boston division in connection to the Jan. 6 riot.
After the charging documents were first filed last week, Riddle was apparently less willing to talk publicly. According to NBC10 Boston, he wouldn't agree to another interview without conditions.
Get Boston.com's browser alerts:
Enable breaking news notifications straight to your internet browser.