Crime
'Reign of terror': Authorities charge 24-year-old suspect for series of unprovoked Waltham attacks
Clauvens Janvier, of Waltham, was arrested on Dec. 11 in connection to an assault at a parking garage, prosecutors said.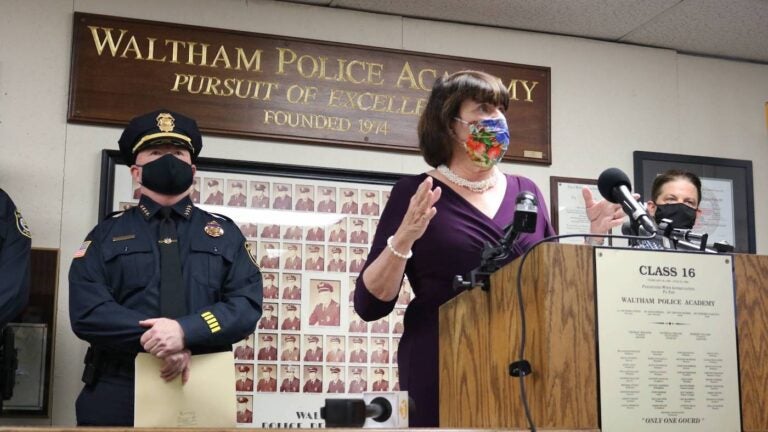 A months-long probe of cell phone records and video surveillance recordings, search warrants, forensic testing, and witness and victim interviews has culminated in charges against a 24-year-old Waltham man, who prosecutors allege perpetrated nearly a dozen, unprovoked attacks last year that put the city on edge.
Clauvens Janvier was arrested on Dec. 11 and charged with two counts of assault and battery with a dangerous weapon for an attack on an 18-year-old man in a Turner Street parking garage a month earlier, Middlesex County District Attorney Marian Ryan announced Thursday.
Janvier allegedly struck the victim with the non-blade side of a machete. He has been held without bail since his arrest.
According to Ryan, investigators later determined through their probe that Janiver is allegedly responsible for a series of 10 additional attacks on men in the city during the month of November. She didn't detail how exactly officials reached that conclusion, but told reporters more information about Janvier would be revealed when he is arraigned on the new slate of charges.
"These attacks, which appear to be random, caused the community of Waltham to be in fear for several months," Ryan said at a press conference Thursday afternoon. "We hope that today's charges will bring a greater sense of safety with the news that we have identified that alleged perpetrator responsible for the attacks."
In November, as the number of incidents grew and authorities searched for a suspect, police said victims were often attacked from behind after dark and sometimes struck with a blunt object.
Ryan said none of the victims were robbed. A specific motive remains unclear.
"There does not appear to be, at this point in the investigation, any particular connection either between the victims and the defendant or the victims to each other," Ryan said. "… And given the wide range of ages of victims as well as the demographics of the victims they appear to be random."
The first reported attack occurred at the Gardencrest Apartments on Middlesex Circle. Another was an assault on a U.S. Postal Service mail carrier who was on the clock, according to prosecutors. 
Ryan said there were "several incidents where victims were knocked unconscious and several where victims required hospitalization as a result of their injuries." She did not know the current conditions of victims on Thursday.
Acting Waltham Police Chief Kevin O'Connell said authorities were left with few initial leads, but were "relentless in the pursuit of the perpetrator."
"They were wreaking havoc across the city," O'Connell said of the suspect. "There was no doubt in my mind that at some point, the person or persons involved would be brought to justice."
Janvier also faces firearms charges related to a Nov. 24 incident in which authorities allege he fired a gun at a motor vehicle leaving a Willow Street gas station after he had a "verbal altercation" with a man in the vehicle in the gas station's parking lot.
Authorities were able to connect Janvier to the shooting after discovering a machete, ammunition, and a stolen firearm in his car while executing a search warrant in connection to the Nov. 11 assault at the parking garage, according to prosecutors.
"This was really an example of a methodical, thorough investigation that involved information on a lot of fronts," Ryan said.
A Waltham District Court judge found Janvier to be dangerous at a hearing following his initial arraignment in December. 
In total, Janvier faces 24 additional charges separate from that incident, Ryan said. Prosecutors expect he will be arraigned on those charges during his next court appearance on March 24.
Ryan praised witnesses and the victims in assisting with the investigation.
"We are grateful to the victims who have come forward, who have waited patiently as we've done this investigation, and particularly to the city residents, who have cooperated with us, who have taken extra precautions, and have waited throughout this process to bring this really reign of terror to an end," she said.
Get Boston.com's browser alerts:
Enable breaking news notifications straight to your internet browser.